Castium Revelio: It's Just a Little Crush!
In this week's MuggleNet Casting News, Potter and Fantastic Beasts alum are bringing us ALL the drama! From vampires in love and behind-the-scenes crushes to Shakespearian tales and murderous plots, we have all the information you'll need to help you decide which film or play to watch next. Let's dive in!
Ciarán Hinds (Aberforth Dumbledore) is currently starring in a theatrical production of Hamlet, which was announced to be airing on NT Live starting on March 8 in select cinemas. The production also stars Benedict Cumberbatch. Take a look at the trailer for Hamlet here!
In addition, Hinds has joined the cast of Translations at the National Theatre starting May 22. Lighting for the production will be handled by Neil Austin, who also designed the lighting for Harry Potter and the Cursed Child. Not much is known about the role Hinds will be playing but here is a very brief plot summary:
The play explores the fraught relationship between England and Ireland through the lens of one community.
Zoë Kravitz (Leta Lestrange) has been confirmed to return for the second season of Big Little Lies. Zoë is slated to continue her story arc as Bonnie Carlson in the HBO drama that took home eight Emmy awards and four Golden Globes. Below is the description of what the upcoming second season will tackle.
Season two will explore the malignancy of lies, the durability of friendships, the fragility of marriage and, of course, the vicious ferocity of sound parenting. Relationships will fray, loyalties will erode … the potential for emotional and bodily injury shall loom.
Zoë was also featured in the poster for mystery-thriller Gemini, in which she stars as Hollywood starlet Heather Anderson.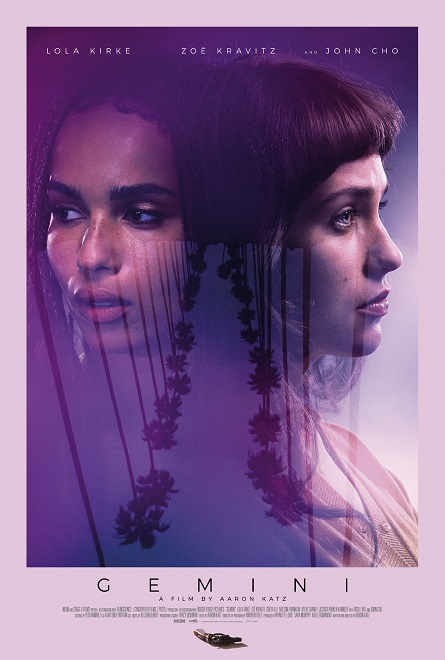 Here's a brief synopsis based on the trailer, which you can also see below! Gemini is due to premiere in NYC on March 30, with nationwide dates to follow.
The trailer for New York filmmaker Aaron Katz's 'Gemini' paints a dark and surreal picture of a Hollywood starlet (Kravitz) and her dangerously co-dependent relationship with her dedicated assistant (Kirke). But this is more than just a narcissistic tale of female friendship, as something more malicious lurks under the surface. Kravitz as Heather Anderson, a hot young actress plagued by paparazzi and her own ego. But her best friend and assistant Jill (Kirke) offers a grounding presence, and unwavering loyalty, to Heather. But despite her best efforts, Heather seems more than a little unhinged, resulting in a death (or accident?) that Jill horrifyingly discovers. Embroiled in a crime investigation led by John Cho's strapping police detective, Jill finds herself questioning her relationship with Heather, and possibly her own reality.
We previously hinted at the involvement of Matthew Lewis in the upcoming thriller Terminal, and while we are still trying to get full confirmation of his role, we found out that another Potter actor has been cast! Nick Moran (Scabior), one of our special guests at MuggleNet Live: Expo Patronum, has joined the project according to Film News. Terminal is slated to debut in the UK and Ireland this summer, but no date for a US premiere has been given. Check out the synopsis below!
In the dark heart of a sprawling, anonymous city, TERMINAL follows the twisting tales of two assassins carrying out a sinister mission, a teacher battling a fatal illness, an enigmatic janitor and a curious waitress leading a dangerous double life. Murderous consequences unravel in the dead of night as their lives all intertwine at the hands of a mysterious criminal mastermind hell-bent on revenge.
Speaking of Matthew Lewis, the actor, who is scheduled to appear March 1–4 at Seattle's Emerald City Comicon, just appeared as a guest on the podcast Inside of You with Michael Rosenbaum. Matt discusses his crush on Emma Watson and his biggest regret from the Potter films. You can listen to the entire interview here!
The trailer for Jim Broadbent's (Horace Slughorn) new film Black 47 was just released this week, which you can view below, along with a summary of the film's plot. Broadbent will portray Lord Kilmichael in the film, which premiered in Ireland on February 21.
Set in Ireland during the Great Famine, the drama follows an Irish Ranger who has been fighting for the British Army abroad, as he abandons his post to reunite with his family. Despite experiencing the horrors of war, he is shocked by the famine's destruction of his homeland and the brutalization of his people and his family.
David Bradley (Argus Filch), James Phelps (Fred Weasley), and Oliver Phelps (George Weasley) are set to appear on March 8 at the Pride of Birmingham Awards to hand out honors. The annual event recognizes community members who have demonstrated courage, caring, compassion, and community during the year. The event is private, so fans won't be able to attend the event without an invite. We'll keep our eyes open for pictures from the event and report back soon!
Cursed Child writer Jack Thorne has a few new projects in the works! Radioactive, which follows the life of Marie Curie and was based on the novel Radioactive: Marie & Pierre Curie: A Tale of Love and Fallout, began filming this month in Budapest and stars actress Rosamund Pike. No word on when it will debut to audiences, but we will continue to follow any news.
It sounds like we've covered this before, perhaps because a number of new adaptations of Disney's Pinocchio are being tackled, but this is another to add to the list. Thorne is said to be writing a live-action version of Pinocchio, which brings the new adaptation count to three. Cursed Child director John Tiffany is currently overseeing a West End production, and Nick Dudman, who previously created creature make-up for the Potter films, joined the crew for an Italian adaptation of the fairy tale. Thorne's film is slated to begin filming this fall under director Paul King, of Paddington fame.
Finally! The second season of the Netflix series Jessica Jones is nearly here, and we finally have our first look at the new season. A trailer starring David Tennant (Barty Crouch, Jr.) was released last week, and we are so excited to see how on earth they are keeping his character, Kilgrave, in the mix considering how the first season ended. We won't spoil it for you, in case you haven't been watching, but we suggest you add it to your queue right now! Here's the trailer:
A trailer for Final Portrait, starring Clémence Poésy (Fleur Delacour), was released this week and is set to have its US debut on March 23.  While her role is still somewhat mysterious, Clémence portrays a woman named Caroline in the film. Here's the trailer and the plot info:
In 1964, while on a short trip to Paris, the American writer and art-lover James Lord (Armie Hammer) is asked by his friend, the world-renowned artist Alberto Giacometti (Geoffrey Rush), to sit for a portrait. The process, Giacometti assures Lord, will take only a few days. Flattered and intrigued, Lord agrees.
The first images from Timothy Spall's (Peter Pettigrew/Wormtail) Mrs. Lowry & Son have been released this week courtesy of Variety, after filming wrapped in Manchester. The film follows the relationship of artist L.S. Lowry and his mother, who "doubts his ability but remains a driving factor in his desire to forge a successful career as a painter." No release date has been announced at this time. Take a look at the photo here: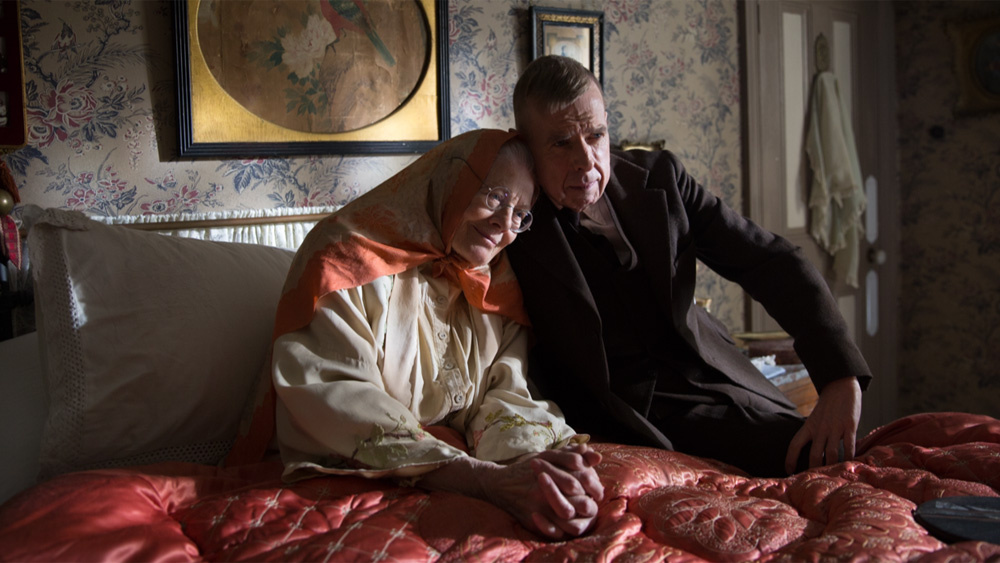 The first trailer for Killing Eve, starring Fiona Shaw (Petunia Dursley), has been released! Take a look at the trailer for Killing Eve, which we first reported on a few weeks ago. Shaw is playing MI6 agent Carolyn, and the series debuts on April 8 on BBC America.
Two women, a psychopathic assassin and a brilliant MI6 agent. Both tasked with the same deadly mission: Find Her. 'Killing Eve' centers on two women; Eve (Sandra Oh) is a bored, whip-smart, pay-grade MI5 security officer whose desk-bound job doesn't fulfill her fantasies of being a spy. Villanelle (Jodie Comer) is a mercurial, talented killer who clings to the luxuries her violent job affords her. 'Killing Eve' topples the typical spy-action thriller as these two fiercely intelligent women, equally obsessed with each other, go head to head in an epic game of cat and mouse.
Callum Turner is a name we aren't yet that familiar with, but the actor who will be portraying Newt Scamander's brother in the upcoming Fantastic Beasts: The Crimes of Grindelwald is someone you should have on your radar. Turner has been cast in the new film The Secret of the Universe as Perry; he and his cousin "roam the countryside in a small traveling circus, drinking, gambling and behaving recklessly. But as they fall in and out of tangled relationships, they have to face up to the grown-up emotions and people involved." Filming is slated to begin this fall, per Variety.
Also from the Fantastic Beasts family, actress Gemma Chan (Madam Ya Zhou) has been cast alongside Jude Law (Albus Dumbledore, Fantastic Beasts), who will be portraying Walter Lawson, a.k.a. Mar-Vell, in the upcoming Captain Marvel film led by Brie Larson as the titular character. Chan will be playing Doctor Minerva, a.k.a. Minn-Erva. The film is scheduled to premiere on March 8, 2019. Congrats, Gemma!
While his character on Star Trek: Discovery may have bitten the dust, Jason Isaacs (Lucius Malfoy) has another movie that is set for release that will surely put a smile on his face. Monster Family, in which Isaacs tackles the iconic role of Dracula, is set to be the widest release ever in the UK, with the debut of the film set to open in 137 theaters on the same day it will be available to Sky TV customers! Take a look at an exclusive clip from the film, courtesy of Female First.
For those who swoon just thinking about the Bulgarian bon-bon Viktor Krum, played by Stanislav Yanevski, you may want to pay attention. The actor who portrayed Krum in the Potter films posted a new video to his Instagram account on Wednesday, showing the trailer for his latest film, The Cloaking. In the action-thriller, Stan brings to life Boris the Hammer, who appears to be the complete opposite of Krum. Take a look below!
That wraps up our Casting News for this week! Check back next week to see all the latest and greatest our Potter and Fantastic Beasts family has to offer!