Events Roundup: DIY Crafting Events and "Potter" Life Lessons for All
In this week's Events Roundup, activities for the over-21 crowd seem to be all the rage. The Potter fandom has no age limit, so it comes as no surprise to find a local brewery, pub, or winery offering ways to add a little Harry Potter magic!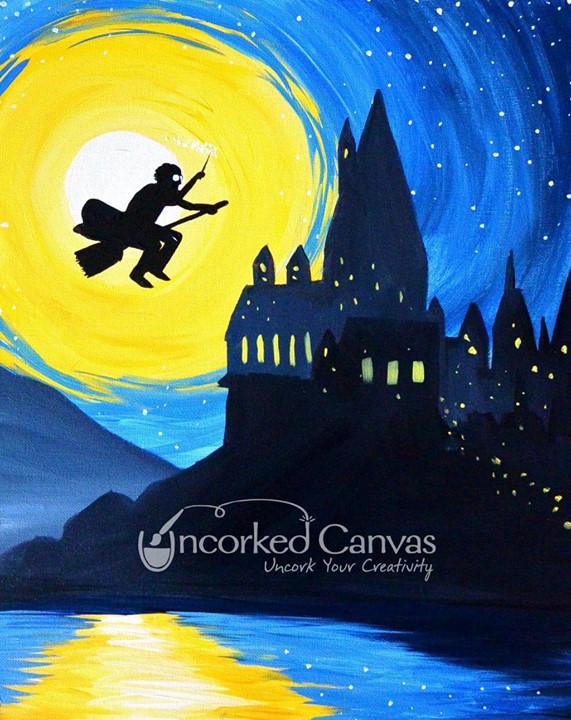 Uncorked Canvas, based in Seattle, Washington, has some upcoming Nerd Night: Harry Potter Paint & Sip events in March and April, in both Seattle and Tacoma! Grab a friend or two and sip some wine while creating your own version of the painting above. Here is the link to the company's website; once there, click on the Tacoma or Seattle button in the middle of the page to sign up. Right now it looks like Seattle has March 31 and April 18, while Tacoma has April 6, so hurry on over to register, and make sure to show us your finished art piece afterward!
Painting not your thing? No worries! If you're going to be in the Tulsa, Oklahoma, area on April 7, you can purchase tickets for the Harry Potter DIY Crafts & Draughts event here. Merry Makers is holding this crafting event at the Prairie Brewpub in Tulsa, where you can choose to make either a Harry Potter–themed wreath, vintage-style necklace, or leather journal and tag set, all while partaking of some of the great local craft brews.
Kids can also get in on the crafting fun at the Kids' Fun: Harry Potter Mania event on April 11 at the Woodland Community Center in Woodland, Washington. Families with children ages 6 to 12 are welcome to attend, dressed in their finest wizarding wear or even just as a Muggle! There will be a variety of crafts, games, and snacks. Registration is not required, and the event runs from 3:30 p.m. to 5:15 p.m. Contact the Woodland Community Library for further information.
One of the many reasons that the Harry Potter series is an enduring classic is that it is relatable to all ages, cultures, and situations. In reading the books, relating to the characters' struggles, and discovering how they cope, lessons are learned that can then be applied to personal challenges. Jill Kolongowski, literary scholar, non-fiction writer, and proud Hufflepuff, knows these things well and will be reading from her collection of essays titled "Life Lessons Harry Potter Taught Me" on April 7 from 7:00 p.m. to 9:00 p.m. at Mother Foucault's Bookshop in Portland, Oregon.
With Life Lessons Harry Potter Taught Me, you'll discover how the universal themes and lessons of the series apply to your Muggle life, including:

• Drawing strength from friends
• Learning from mentors and heroes
• Challenging conventional ideas
• Overcoming obstacles and setbacks
• Trusting yourself when others don't
She will be joined in conversation by Caitlin Weirhauser, a comedian and host of the podcast Room of Requirement 237.
Will you be attending any of these events, or perhaps another in your area? Let us know in the comments below, and if you know of an event we've missed, post the information so others can join in the fun!