"Harry Potter: A History of Magic" Documentary to Air in the US
Harry Potter: A History of Magic, the hour-long documentary about the British Library's exhibition of the same name, aired last fall in the UK, and now US audiences will finally get the chance to see it too!
The documentary tells the story behind the creation of Harry Potter and features the exhibition's collection of artifacts, including rare books, manuscripts, and early drawings and drafts. It is narrated by Imelda Staunton (Dolores Umbridge) and features an interview with J.K. Rowling and readings of her writing by David Thewlis (Remus Lupin), Evanna Lynch (Luna Lovegood), Warwick Davis (Filius Flitwick/Griphook), Miriam Margolyes (Pomona Sprout), and Mark Williams (Arthur Weasley).
The documentary was also released on DVD last fall for Region 2 viewers.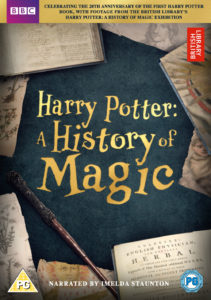 If you haven't seen it yet and don't mind spoilers, you can check out our list of seven things we learned from the documentary here.
Of course, nothing's better than seeing the exhibition in person! Harry Potter: A History of Magic has now wrapped up its stay at the British Library and will be opening at the New-York Historical Museum and Library this October. Tickets are available to Historical Members now and will go on sale to the public in April.
Harry Potter: A History of Magic, the documentary, will air on Wednesday, April 11 at 8:00 p.m. ET/7:00 p.m. CT on the CW.