Eddie Redmayne Speaks at Stephen Hawking's Funeral
Eddie Redmayne was one of many individuals who showed up to pay respects to the late Stephen Hawking at the memorial service held for him at Great St. Mary's Church in Cambridge on March 31.
As we previously reported, Redmayne grew close to Hawking while filming The Theory of Everything, which was released in 2014. Redmayne portrayed the professor in the film alongside Felicity Jones, who played Hawking's wife, Jane.
The movie is a biography of Stephen Hawking's life and his time at the University of Cambridge after learning about his illness. The story addresses how the couple met and fell in love while studying at Cambridge and follows their life together as Hawking's academic success grew and his ALS progressed. Redmayne was one of the first to publically express his condolences after learning of the professor's passing.
We have lost a truly beautiful mind, an astonishing scientist and the funniest man I have ever had the pleasure to meet. My love and thoughts are with his extraordinary family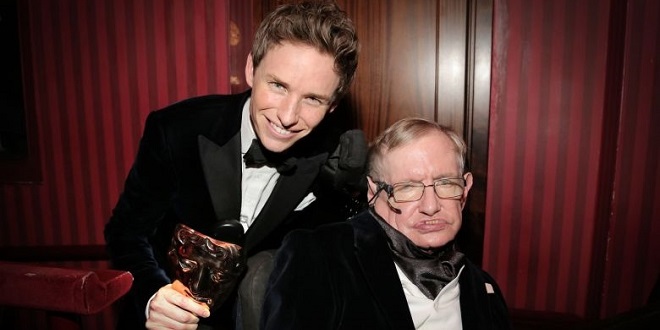 Hawking succumbed to his illness at his home on March 14, 2018, at the age of 76.  A large memorial service was held for him in his hometown near the university where he spent most of his life. Around 250 friends and family members attended the funeral while thousands gathered outside to pay their respects. Redmayne read a eulogy from Ecclesiastes 3:1–11, a passage that began with a very fitting message.
For everything there is a season, and a time for every matter under heaven: a time to be born, and a time to die.
BBC reported that the professor's eldest son, Robert, former student Professor Fay Dowker and Astronomer Royal Martin Rees also gave addresses to the congregation. The choir of Gonville and Caius College performed the choral work "Beyond the Night Sky" during the service, which was originally composed as a gift to Hawking for his 75th birthday party.
As the procession arrived at the church, a bell rang out 76 times to represent each year of the professor's life. His three children, Lucy, Robert, and Tim, and other members of his close family followed behind the hearse, which was met with applause from the crowds gathered outside the church. His coffin was topped with an arrangement of white lilies, to represent the universe, and another of white roses, to represent the polar star.
The professor will be cremated and his ashes will be placed near the graves of Sir Isaac Newton and Charles Darwin during a service at Westminster Abbey in London on June 15.