Rowling Weighs in on Sprout-Flitwick Relationship
Last June, the 20th-anniversary House editions of Harry Potter and the Philosopher's Stone caused quite a stir. In addition to their gorgeous new look, all of the House editions seemed to contain new tidbits of information of Potter canon related to each House. Much of the "new" information had come from Rowling's Twitter account, our queen being infamous for either shooting down Harry Potter rumors and theories or creating them herself.
One of those "new" pieces of information seemingly commented on an old relationship between two Hogwarts professors – Charms professor Filius Flitwick and Herbology professor Pomona Sprout – and was included in the Ravenclaw and Hufflepuff House editions. As many fans may recall, this sparked some controversy over the reality of the "Rowling" Tweet.
To make the situation even more confusing, it appears that our favorite author is at it again – messing with our knowledge of what we know as true canon (who really does know at this point?) with a new tweet on the subject. The tweet appears to have been deleted, but our French Potter friends over at La Gazette du Sorcier brought the new tweet to our attention with a saved screenshot from Portus: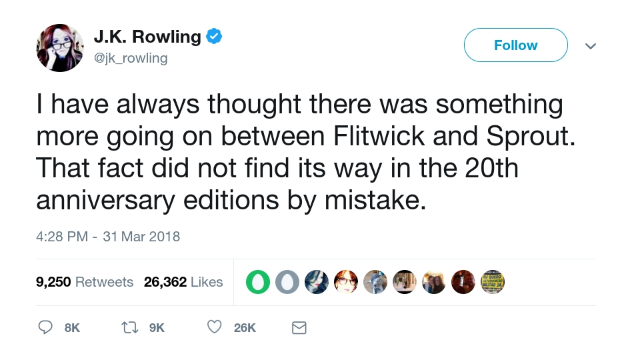 As if shipping characters didn't get Potter fans riled up enough! What do you think of this new addition to the shipping debate? Are you glad that there seems to be more legitimacy to this relationship between Sprout and Flitwick? Or do you think Rowling should just stop tweeting about Potter already?