Wizard World Portland Confirms Our Love of Ezra Miller!
by Aimee Krenz · Published · Updated
Wizard World Portland is a convention that local MuggleNet staff looks forward to attending every year. This year's event was even more exciting considering the convention played host to not just Bonnie Wright from the Harry Potter films but also Ezra Miller, who has won the Potter fandom over with his portrayal of Credence Barebone in the Fantastic Beasts and Where to Find Them film, along with the expression of his own love for all things wizard related.
We were able to attend a few panels, including the Justice League duo panel, featuring Ezra Miller and Ray Fisher (Barry Allen/the Flash and Victor Stone/Cyborg, respectively), and the Ian Somerhalder panel. You can read our full coverage of Ezra's panel below.
Ezra Miller Autograph/Photo Experience plus Justice League Duo Panel with Ray Fisher
Before making our way to Ezra Miller's panel with his Justice League costar Ray Fisher, MuggleNet News staff member Michele and I stood in line to meet Ezra and get his autograph. I have to tell you, it was one of the greatest experiences I have ever had meeting a cast member from either the Potter or the Fantastic Beast cast. He took a few minutes with each fan in his autograph line, really looking into their eyes and connecting with each one as he met and spoke with them.
Ezra has said in previous interviews that he is a huge fan of Potter and the wizarding world, so it really wasn't a surprise that, when presented with the Fantastic Beasts screenplay to sign as my one autograph item, he took a quick glance at the scene (Credence meeting with Graves in the alley) and commented on it.
I like the scene you chose, by the way. It's one of my favorites.
I smiled like a loon and gushed about how it was my favorite as well, how his portrayal of Credence had really touched me so deeply, and how I appreciated what he did for that character. I did try to get spoilers on Fantastic Beasts: The Crimes of Grindelwald for you all, dear readers, but Ezra was a very good man and simply laughed.
The one thing I can't tell you is spoilers for the next film!
Ah, well, I had to try. You can't blame me!
Next, we made our way to Ezra's Justice League panel with his costar Ray Fisher. While they were there specifically to talk about Justice League, fans had questions outside of Justice League, including who Ezra would play in the Potter-verse.
Mad-Eye Moody!
You can view the entire panel below, thanks to viewer Comics with Bueller!
The perfect end to my convention experience was the photo op with Ezra. In my photo op, he kindly asked if I was okay with a handshake or a hug, and I opted for a hug, although I was afraid of getting makeup on his pristine black suit. He was so sweet and extremely kind to each person who was in line, no matter the request. When you get a digital download of your photo, you also get to see the other photos from that day, and some of the poses were absolutely comical. Carrying girls in his arms, girls fighting over him, and then just the ones where he sweetly puts his arm around the shy fans like me. What an awesome experience.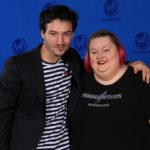 What We Loved
There were many things to see and do at this year's convention, including ride a glittering mechanical shark, strap on a VR headset and experience a roller coaster in the middle of the convention floor, and even enjoy some great cover bands while you browse artist alley in between panels or photograph opportunities with the talent.
The talent on hand at Wizard World Portland was great and they were, for the most part, accessible. Volunteers for the convention were super helpful and were very encouraging to folks who were a bit starstruck by their favorite celebrities. We were able to meet Holly Marie Combs from Charmed without having to pay for an autograph or photo op simply by asking if we could just go say hello. This pretty much made my year considering her portrayal of Piper Halliwell is a huge inspiration for my own strong female characters in the novel I am writing.
We loved attending panels outside of the wizarding world purview. We very much enjoyed the James Marsters (Buffy, TV series) panel - he moderated his own, choosing to take audience questions without someone between himself and the fans, which made the experience so much more personal. He even serenaded the audience with a few lines from "Once More with Feeling," the musical episode in Buffy Season 6.
Ian Somerhalder (Vampire Diaries, TV series) revealed to us that a new show he was involved in was being announced the following week but he wouldn't tell us anything other than he would be playing a human this time rather than a vampire (see the announcement for V-Wars).
Billy Boyd's (Lord of the Rings trilogy) panel was interesting - I'm unsure if he is just always that wacky or if he was suffering from a lack of sleep, but his panel was pure silliness, in which he debated Celsius to Fahrenheit and feet to meters for nearly half an hour.
We also got a bit nostalgic on the vendor floor when we met Samantha Newark, who is the voice of Jerrica/Jem in the animated series Jem, and we snapped a photo of the DeLorean from Back to the Future, which obviously made a special trip forward in time to join the folks at the convention.
What We Didn't Love So Much
The vendors and artists seemed to number much less than the last time we attended and also did not seem to be as great of quality as we remembered. Most of what we saw perusing the aisles was that the merchandise were items we had seen before and nothing unique.
At past Wizard World conventions, the main stage panels were held on a raised stage, with two huge screens on either side and two more hanging from the ceiling about halfway back on either side of the center aisle so that those who didn't have a VIP pass or who didn't get a seat close to the stage could see the guest from no matter where they were seated. The convention skipped that this year, so unless you were in the first three rows, you didn't get to see anything.
Additionally, the seating for VIP and regular attendees was a mess. We waited over an hour to get into the first panel on Saturday, were let in by volunteer staff when the doors first opened, and were directed by staff to sit anywhere. After 20 minutes, the man running the panel apologized but instructed anyone without a VIP pass to move back. We ended up all the way in the back of the room despite the fact that we had been there first.
Almost every panel scheduled was late by at least 20 minutes, and in some cases, autograph and photo op schedules were pushed back by at least an hour. Bonnie was over an hour late to the autograph/selfie time we had signed up for. We're unsure if this was because the convention didn't schedule a break for her, her panel started late and therefore ended late, or simply a lack of adherence to set schedules by talent and/or handlers.
While there were many informative panels to attend that had nothing to do with any of the mainstream celebrities in attendance, we found it disappointing that one of the panels specifically focused on Charisma Carpenter (Buffy; Angel) and Holly Marie Combs (Charmed) and their experiences as women in a male-dominated industry was relegated to a smaller panel room rather than highlighted on the main stage. In the wake of the #MeToo movement, was this panel simply paying lip service to the movement rather than actually supporting it considering all but one of the main stage panel guests were male?
We reached out to Wizard World for comment on some of the things we didn't enjoy about the convention, and here's what they had to say about our concerns.
Regarding the scheduling issues:
Sometimes when the panel rooms are not near the show floor a guest may be delayed. This happened in a few cases.
Regarding lack of vendors/quality of vendors:
There were a comparable number of artists and exhibitors at this show compared with other Wizard World events of this size and floor space.
Regarding the lack of screens for viewing by panel attendees who were not VIP or in the first few rows:
We typically only have screens at our Chicago and Philadelphia shows now. That's new since last year.
Regarding issues with seating for VIP guests vs. general admission guests and the lack of organization of the seating:
Unfortunately, a building staff member inadvertently opened a side door, which allowed guests in, [which] was [against] our procedure. We fixed that as soon as we could.
Overall, we had a good time at the convention. Access to the talent, even to walk by and get a glimpse of Jason Momoa or Billy Boyd, gave us a thrill. We met interesting Potter and Fantastic Beasts fans while waiting in line for autographs and panels.
Most of all, our love for one Ezra Miller grew exponentially since we realized that he loves the fandom as much as we love him.
Press passes were provided by Wizard World for coverage of this event.