Bookstores, Libraries, and "Harry Potter": Then and Now
It was 11:59 p.m. on July 15, 2005, and I knew I was right where I was supposed to be: behind a cash register at the bookstore where I had been working for two months. It was the night of the release of Harry Potter and the Half-Blood Prince, and I was beside myself with excitement. When I initially interviewed for a job as a part-time bookseller, the store manager asked me if I would be on board to work at the release party for J.K. Rowling's highly anticipated sixth Harry Potter book. After struggling to simultaneously stifle an animalistic yelp and a Broadway-inspired "I've finally arrived!" twirl, I said yes, that would be fine with me.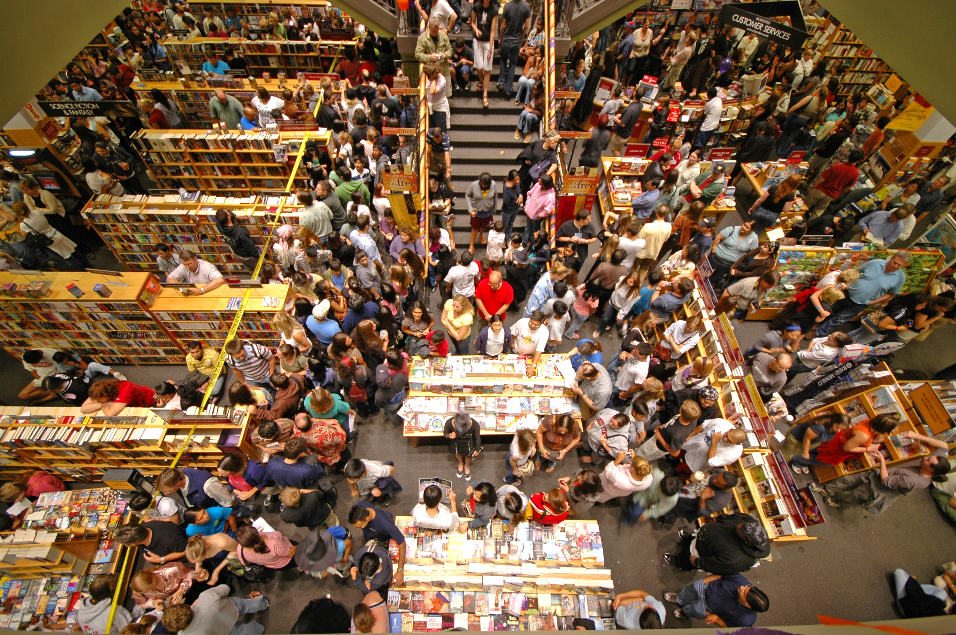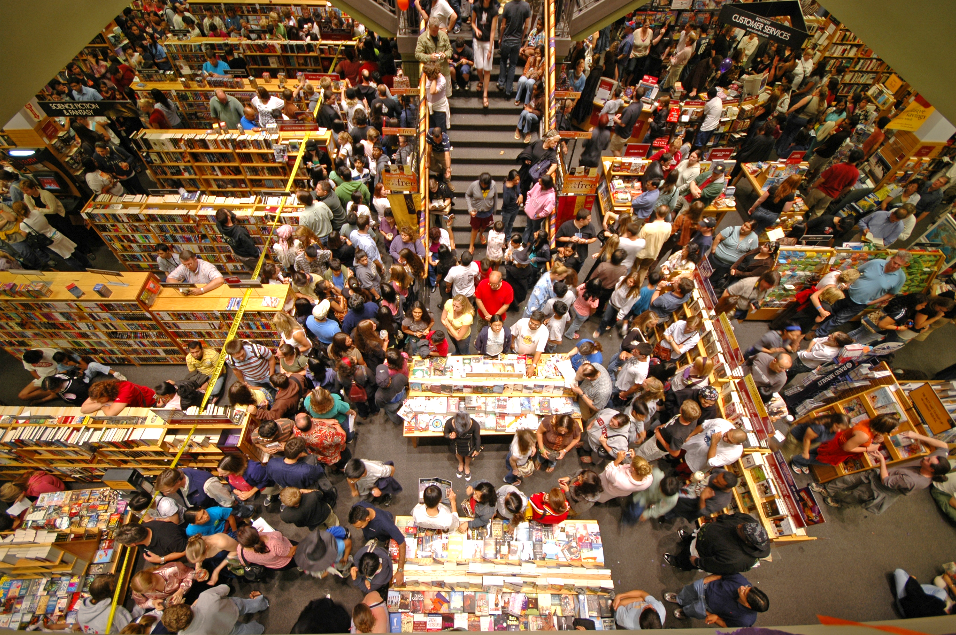 The time leading up to the big event passed in a blur of anticipation. An unbelievable number of boxes began to arrive, each filled with a forbidden magic and covered in the warning "Do not open before July 16, 2005." I couldn't wait to tear into those boxes, place those precious volumes in the eager hands of fellow Potterheads, and crack open my own copy as soon as I got home from the release party.
Both the Half-Blood Prince release party and the Harry Potter and the Deathly Hallows release party two years later, which I also had the pleasure of working, were monumental for me. Both events were crowded, chaotic, and beautiful. The latter release party was also, as you likely remember, quite emotional and bittersweet. In both instances, the energy throughout the store was so palpable that it honestly felt like magic.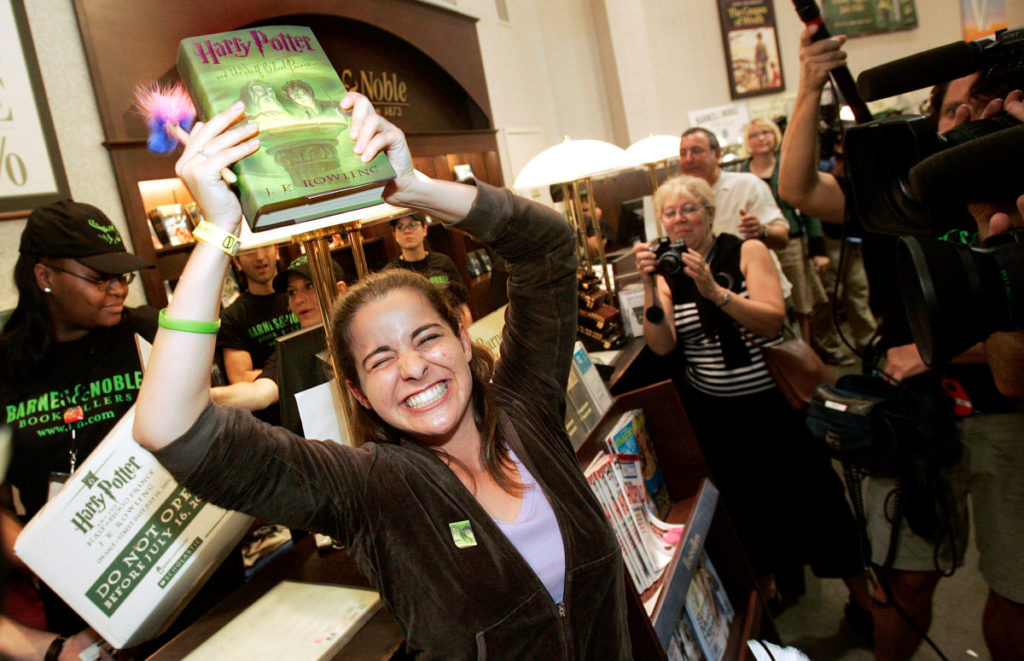 Now that Rowling's original series is complete, the role of bookstores in celebrating Harry Potter may seem uncertain or even insignificant. Although companion volumes, Fantastic Beasts and Where to Find Them books, and new editions of the original series continue to be released, none of these efforts has reconjured that elusive midnight magic that we all remember so fondly. As such, bookstores can no longer depend on the inherent excitement of a new Potter book release and the inherent throngs of people who seek that excitement when planning events.
Similarly, libraries can no longer depend on speculative programs ("Come join us as we discuss our predictions for Deathly Hallows!") or expect people to show up in droves to make simple Potter-inspired crafts out of toilet paper rolls and paper plates (although I, admittedly, would still show up).
Because the glory days of midnight releases and speculation-based events are behind us (for now), bookstores and libraries have to care more, try harder, and be more creative to get us in the door for Harry Potter events. Some bookstores and libraries are more successful than others, and I believe that the ultimate keys to this success are boundless enthusiasm for the series and relentless dedication to finding innovative ways to share that enthusiasm. When employees are given the freedom to plan events that incorporate their own ideas and patrons' suggestions, the outcome can be magical.
Luckily, there are countless possibilities for flourishing programs. I am now a youth services library assistant at a public library, and we have hosted several Harry Potter events. The most rewarding event by far involved several staff members making 200 wands using only wooden dowels, hot glue guns, and acrylic paint. I cosplayed as Hermione Granger and asked each attendee a series of questions that ultimately paired that individual with a wand of a certain style and color. Then, thanks to the amazing engineering skills of my husband, the attendees got to test their wands by performing "spells" at our interactive wand table. The "spells" included making a Pygmy Puff levitate using the Levitation Charm, heating the water in a small cauldron using the Fire-Making Spell, and turning off an iPod using the Silencing Charm. Watching fellow Potterheads of all ages undertake this exercise with an endearing mixture of gravity and gaiety had a profound effect on me. As I sat behind that table, two hours and 200 wands later, I knew I was right where I was supposed to be.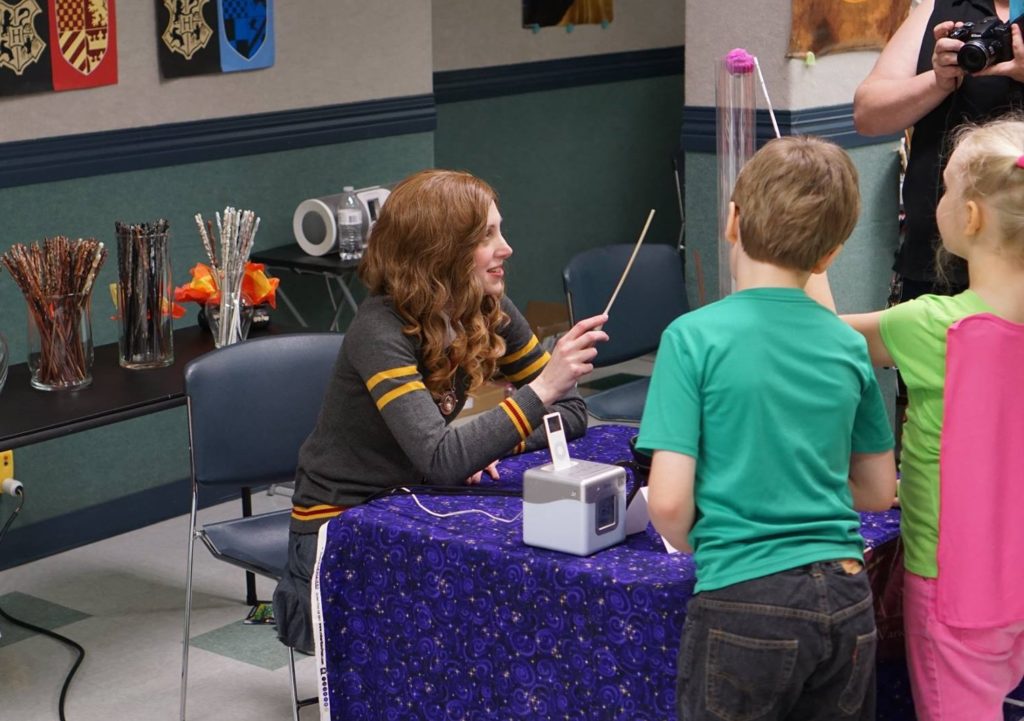 What is the best Harry Potter event you've ever been to or planned at a bookstore or library? Let us know in the comments!