Bristol Rugby Club Team Changes Name, Leaving Muggle Quidditch Team Bristol Bears Disappointed
Move over, Bristol Bears. There's a new Bristol Bears in town! Bristol Rugby Club recently announced that they will be changing their name from Bristol Rugby Club to the Bristol Bears for their upcoming season. However, the Bristol Bears name has already been in use by a UK Muggle quidditch team since 2014.
Unlike their new name partners, the Bristol Bears, affectionately known as the Brizzlebears, are one of the top eight teams in the UK. Not only did they come in sixth at the British Quidditch Cup this year, losing to eventual champions the Velociraptors Quidditch Club, 100*–70, but they also earned the silver medal at the Cup in 2017, qualifying for the prestigious European Quidditch Cup (EQC). Here they made their way to the consolation bracket's quarterfinals where they lost 150*–60 to Rheinos Bonn from Germany.
Despite this high level of success in the UK Muggle quidditch community, the rugby club failed to contact the longstanding quidditch club before the announcement, though it did check first with gay bar Bristol Bear Bar.
The rugby club has changed its name to symbolize its entry into the rugby premiership after struggling in previous seasons. Believing the bear to represent values of loyalty and protecting your own, while still being deadly when necessary, the club hopes the new name will signify a shift in club culture as it looks to "attract a whole new generation of supporters."
Not every Bristol Rugby fan is happy with the change, though. Many are worried it'll leave the club open to ridicule, while others question what benefit the name change will bring. Traditional Bristol Rugby fans will have to acclimatize not only to a new name but also to the team's new club crest.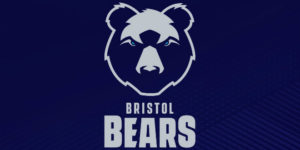 The Brizzlebears expressed their disappointment that the rugby club didn't check in with the quidditch team before announcing the change.
We are aware of Bristol Rugby's name change proposal and saddened to have not been contacted with regards [sic] to the name change… We are fiercely proud of the Bears' achievement, and although we are honoured that a fellow contact sport – yes, [q]uidditch is also a full contact sport – holds our team name in high regard, we are disappointed a[t] the prospect of having to share the Bear-y limelight.
Perhaps Bristol Rugby Club are hoping some of the Muggle quidditch team's success will rub off on them? Either way, they both hope that the symbol of the bear will bring them good fortune in their upcoming seasons.