Events Roundup: Parades, Painting, Potions, and More
It's a great summer to be a Harry Potter fan! With the 20th anniversary of Harry Potter and the Sorcerer's Stone approaching, a lot of themed events are popping up across the United States to celebrate! There are also a few unique events taking place in the British Isles as well, including a Harry Potter parade and a BINGO night! Check out these fun and exciting Potter events happening later this month!
Harry Potter on Parade in West Sussex
The 11th annual Worthing Children's Parade in West Sussex, England, partnered with the town's comic convention, Worthing Wormhole, to make this year's parade Harry Potter–themed! The event is likely to be the town's "biggest and most visually exciting [parade] on record."
Students and teachers from 23 local schools have been working hard creating the giant paper-mâché sculptures for the parade as well as costumes and masks. The parade starts at 10:00 a.m. in Beach House Park Grounds and winds its way through town, ending in Steyne Gardens around 11:30 a.m. From there, the celebration will continue throughout the day with a charity fair and a variety of free entertainment. Worthing Wormhole representatives will be present to promote the convention, occurring later in November.
Paint the Night Away at Hogwarts
Put your painting skills to the test at this Harry Potter Paint Nite in Virginia Beach, Virginia. The event takes place at the Fuddruckers on Tidewater Drive on Thursday, June 21, 7:00–9:00 p.m. Paint the picturesque Hogwarts Castle at night while enjoying dinner and cocktails. Tickets are $45 per person, but you can use the code POTTER for 40% off! You must be over the age of 21 to attend. Click here to purchase tickets.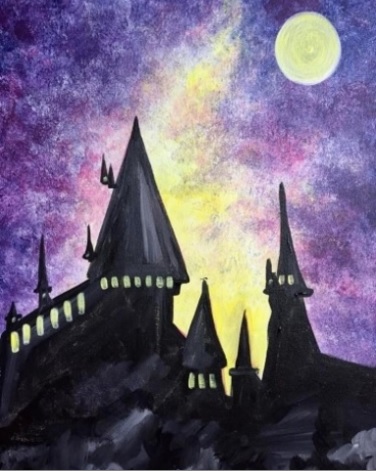 Brew Up Some Magic in NYC
If you failed Potions with Professor Snape this past school year, don't worry, you may have a chance to redeem yourself before being stuck in Remedial Potions next year. There is a special session of Potions class being offered by the Wizarding School of Alchemy this summer in New York City. This special Harry Potter–themed afternoon tea allows you to brew your own magical (and safe to drink) potions with ingredients such as Mermaid Scales and Unicorn Tears. Some of the potions on the syllabus include the color-changing Bumbledunes' Galaxy, the bubbling Goblins' Belch, and the mouth-numbing Serpent's Strike!
The event is two hours long and will take place on June 16, 18, 22, 23, 25, 29, and 30; July 1 and 14; and August 4. Classes will take place at 11:00 a.m., 1:15 p.m., 3:30 p.m., and 6:00 p.m. Tickets cost $45 and include a Potions lesson as well as unlimited tea and coffee, sandwiches, and desserts. Students are encouraged to dress in their Hogwarts robes, and there will be a special prize for the best costume. House points will also be distributed throughout the class. The event location is a secret and will only be revealed to students after purchasing a ticket.
Come and enjoy some magical treats and potions with other New York City Potter fans! You can get tickets here and check out the full menu for the event below. 
H-A-R-R-Y and Harry Was His Name-O
Fibber Magee's, a pub in Dublin, is hosting a Harry Potter–themed madcap comedy bingo night! Irish comedian Steve Bennett is the MC for the event, which takes place on Saturday, June 30, 7:00–10:00 p.m. The event is described as "a high energy gameshow with enchanted prizes, mystery boxes and bloody good craic. If you like wizards, laughing and winning prizes, then this is the night for you!" Only those over 18 can attend, but all are encouraged to come in costume! Harry Potter–themed cocktails will be available to purchase. Tickets cost €15.00 and can be purchased here. For more information, visit the event Facebook page here.
There are also a number of library events occurring across the US this summer! If you're not near any of these specific events, be sure to check with your local libraries to see if they are hosting any of their own Harry Potter activities or parties this summer!
Indiana
Allen County Public Library branches in Fort Wayne, Indiana, are celebrating the 20th anniversary of Harry Potter and the Sorcerer's Stone all summer long! The events began June 7 and take place almost daily until July 30 at various branches. The events occur at different locations on different dates and times, so you'll need to check the schedule closely to see what events are happening which days. Most events take place on multiple days, so if you miss one, you may be able to attend another at a different branch on another date. All of the Allen County library branches are participating except for Dupont.
Events include:
Fantastic Beasts and Where to Find Them Scavenger Hunt – 30 Fantastic Beasts pages have been scattered around the library, and you'll need to find them!
Triwizard Tournament – Try out Quidditch, play Hogwarts Guess Who, and practice spells to determine who will win the Triwizard Cup.
Patronus Watercolors – Paint your Patronus with watercolor techniques.
A Taste of Hogsmeade – Create and eat magical food and sweets from the wizarding world.
Divination Art – Channel your inner eye like Trelawney to seek out visions. Then put them on paper with alcohol inks.
Potions – Learn to mix up a variety of magical potions.
Basic Magical Instruction – Learn simple magical tricks to prove you're Hogwarts worthy.
Wandmaking – Design and create your own upcycled wizarding wands.
Jewelry Making – Make a golden snitch bracelet or a piece dedicated to your Hogwarts House.
Table-Top Crafts – Make a variety of Harry Potter–themed crafts.
Wizard Chess – Play chess with witches and wizards of all ages and skill levels. All boards, sets, and clocks are provided.
Search for the Sorcerer's Stone – Complete seven magical tasks in order to find the stone.
Wizard Duel – Houses compete against each other in Harry Potter trivia.
Make a Mandrake – Create and pot your own Mandrakes. (No earmuffs necessary.)
Maurader's Map – Design a Marauder's Map in invisible ink.
Most of the events are 1–1.5 hours long, and some require advance registrations. There will also be a one-time-only Tonks & the Aurors concert in the Main Library on June 21, 6:30–8:30 p.m. The show is free and open to all ages. Check out the full schedule of events here!
New Hampshire
Exeter Public Library in Exeter, New Hampshire, is hosting a free Harry Potter picnic on Wednesday, June 27, from 11:00 a.m. to 2:00 p.m. in Founder's Park next to the library. Witches and wizards of all ages are invited to attend and participate in six themed activity stations including Potter Portraits (photo props), Discover Your Patronus (face painting), the Owlery Arts and Crafts, Quidditch Cups (a tabletop version of Quidditch), Trelawney's Divination (palm & tea leaf readings), and Scrivenshaft's Quill Writing (write and send fan mail to J.K Rowling).
You can't attend Hogwarts without a wand, so first stop by Ollivander's to make your own chocolate wand, then pick up your ticket to Platform 9 ¾. Once you arrive at Hogwarts, you can select a House sticker to be sorted into your House of choice. Show off your magical knowledge in trivia and compete for prizes, then head to the Honeydukes snack table to enjoy some wizarding treats! The library will have Harry Potter music as well as all of the Harry Potter books, CDs, and DVDs available to check out. Everyone is encouraged to come in their best magical costumes since the picnic will end with a costume parade through the library and downtown Exeter.
Unfortunately, there won't be a Hogwarts feast, so guests should bring their own lunch as well as a dessert to share. The library will provide drinks and snacks. For the full event details, click here. If you can't make the picnic, you can also check out Harry Potter Family Trivia Night on June 26 at 6:30 p.m. or Harry Potter Family Movie night on June 28 from 4:00 to 7:00 p.m. These three days of Potter activities will kick off the library's summer reading program!
West Virginia
The Taylor County Public Library in Clarksburg, West Virginia, is hosting a Harry Potter–themed summer reading program starting later this June. Alesha Whitechair, the Taylor County Public Library director, got the idea of starting a Harry Potter–themed program when she noted a resurgence of interest in the series with the publication of the new illustrated editions.
Since the first book was published over 20 years ago, a lot of the original readers of the series are now adults with kids of their own. With new editions being released frequently, it is hard to lose interest, but the books certainly aren't as popular with children as when they were originally published. The illustrated editions make the series even more appealing to younger readers and are a great way to introduce the series to kids. Whitechair has high hopes for the program.
Previous 'Harry Potter' events at the library brought in a lot of kids. Enough so that we decided to design our summer program after it.
The program will be for readers ages 3 to 12 and will be held on Thursdays at 1:00 p.m. from June 28 to July 20.
Looks like it is going to be another magical summer! Will you be attending any of these events?