The Seven Best "Harry Potter" References in Becky Albertalli's "Leah on the Offbeat"
It's been 20 years since Harry Potter and the Sorcerer's Stone was published and the story began. In that time, many of Harry's loyal readers have started their own careers, and many, too, keep the story in their hearts even now. Personally, I'm a huge fan of young adult literature – and I've noticed that many of my favorite authors have referenced Harry Potter in their works. The latest treasure I found is Leah on the Offbeat by Becky Albertalli. Leah came out (pun fully intended) last month and has since been at the very top of bestseller lists.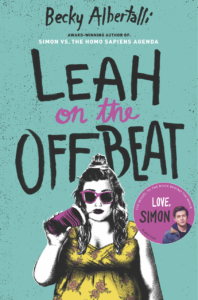 Leah on the Offbeat is a sequel to Simon vs. the Homo Sapiens Agenda, which has recently been adapted to the big screen as Love, Simon. Leah Burke is one of Simon's closest friends, an absolute nerd, and bisexual, although she hasn't told any of her friends that yet. Albertalli's entire book is filled with hilarious dialogue, relatable thoughts, and all of the diversity. But aside from that, there are loads of Harry Potter references. Let's take a look at the seven best ones, shall we?
Pretty Dresses
I've always wanted one of those holy shit teen-movie moments. Like when the skinny nerd girl walks downstairs in her red dress. Or Hermione at the Yule Ball" (121).
This mention feels quite fleeting, thrown in as an afterthought. This just makes it all the more realistic. I don't know about you guys, but thinking of Harry Potter is this second nature to me too.
Voldemort
'Am I the worst person?'
'Well, no,' says Simon. 'That would be Voldemort'" (103).
Another fleeting mention, this time in dialogue. Although honestly, Simon? Voldemort, the absolute worst? Did you forget about this woman?
Cool Outfits
It's cloudy and cool out, cold enough for my Hogwarts cardigan.
'I'm finally reading that,' Abby says, pointing to the Slytherin crest" (157).
It's not just thoughts that are infiltrated by Harry Potter; it's the clothing too! Slytherin, represent! You've got an amazing ally in Leah – believe me.
Drarry
I pull up some random fanfic on my phone, and then I take it down the hall. I can't read Drarry in the living room, even when my mum's not home. Drarry belongs in my bedroom. I don't care if that sounds dirty" (46).
Clearly, dear Becky doesn't stop at the main franchise either, noooo. Even popular ships and fan fiction get a chance to shine in this book. She's one of us, guys! One. Of. Us. I'm just waiting for the moment an author will write about Drapple…
Slytherin
'I can't help it. I'm a Slytherin.'
And I'm the worst kind of Slytherin. I'm the kind who's so stupidly in love with a Gryffindor, she can't even function. I'm the Draco from some shitty Drarry fic that the author abandoned after four chapters" (266).
Do I even need to comment on this one? We've all been there, reading that fic.
Awkward Invitations
I guess it's to save people from those excruciating Harry-asking-Cho-to-the-Yule-Ball situations. Though, let's be real: if Katie Leung sweetly rejecting Daniel Radcliffe in a Scottish accent wasn't your sexual awakening, I don't even want to know you" (111).
Neither do we, Leah. Neither do we.
Becky Albertalli's casual references don't stop at Harry Potter but include many other things such as Doctor Who, Snapchat, Troye Sivan, and Love Actually. By writing all of these tiny details, her characters become even more real than they already are. They become proper nerds – they become us. And with a huge thank you to Becky for that, I'd like to close off with one last quote that nails it all:
Obsession
You can't just like Harry Potter. You have to be balls-out obsessed with it" (158).