"Crimes of Grindelwald" Cast Discuss New Beast, J.K. Rowling's Secrecy, and Favorite Filming Moments
It's been an incredible last couple of days for Fantastic Beasts: The Crimes of Grindelwald at San Diego Comic-Con. We've seen the new trailer and heard multiple interviews with the cast. Although most of the film is still shrouded in secrecy, these interviews have revealed a few new bits and pieces of information that we didn't have before. In an interview with MTV, we picked up on a few fun new details about the film.
Early in the interview, Eddie Redmayne reveals the name of a new beast, the Zhou-ou, which Dan Fogler spells for us in our exclusive interview. With relief, he says there aren't any too embarrassing moments with any creatures in the film. He admits, though, that this new beast, which he notes is seen in the trailer, is Chinese and that he did film a scene where he speaks to it.
I was trying to attempt to […] speak some Mandarin to the Zhou-ou, but I think it's been cut.
He says that there was a woman behind the scenes who worked with him to teach him just a single word in Mandarin but jokes that the scene got cut because his Mandarin was so bad. Dan described the beast, appearing in chains at the end of the trailer, as a lion/dragon.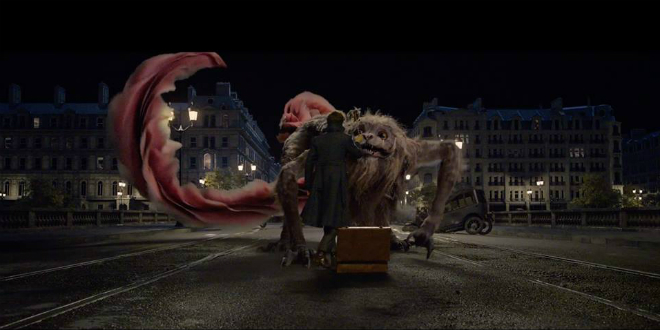 The cast goes on to comment on J.K. Rowling's secrecy about the film and how Jude Law is the only one who has received some information about where the plot of the series is headed. The cast is desperate for details on their characters and Ezra discusses how they hang on to Jo's every word when she is around.
Whenever Jo comes around, we all like gather around her like she's our lady of desireable plotlines.
The interview host seems to uncover an area of contention between the cast when he asks who all had the opportunity to film scenes on the Hogwarts set. Callum Turner, Jude Law, and Zoë Kravitz all raise their hands to the response of groans from everyone else. Kravitz shares how incredible it was to film on the iconic set.
Hogwarts was amazing. I did fully geek out there. And then they had all the students with real owls in their cages… It really felt like I was a student there. It was kind of amazing.
Eddie mentions that a few of the cast members who didn't get a chance to film on the Hogwarts set just went and looked at it longingly from afar. He jokes that he may have taken an "illegal selfie" as well. Ezra, who is acknowledged by the entire cast as being the biggest fan of the wizarding world, is clearly upset that no one informed him of this plan.
Although discussed in other interviews, the common question of whom the cast would like to play in the film if they could switch characters was asked again but revealed different answers than in previous interviews. Callum Turner stated that he would love to be the Niffler and Ezra jokes that it's because he's so greedy. Kravitz mentioned that she'd want to be Grindelwald, while Ezra says that he'd switch roles to Queenie.
The interview concludes with a question about the cast's favorite moments from filming. While most of these moments must be kept a secret until the film's release, Eddie goes into detail about how he really enjoyed filming one specific scene. He states that David Yates wanted this scene to take place during the "magic hour," an 11–12-minute period of time that happens around sunset. The scene required several takes, so every day for almost a month, after a full day of filming different scenes elsewhere, they would change costumes and head to the filming location for sunset. Unfortunately, even after dedicating all this time to it, the scene ended up being cut.
We'll be processing this new information for a few days to keep our minds occupied while we anxiously await the new film. While it's unlikely that much more will be revealed before the release, we'll be keeping our eyes out just in case! Watch the full MTV interview below!