Here's What J.K. Rowling Told Jude Law About Playing Young Dumbledore
With the release of Fantastic Beasts: The Crimes of Grindelwald only a few months away, news and information about the film is being revealed every day – from images to footage and beyond. And as excited as we are to learn about the new world of Fantastic Beasts, much of fans' interest lies in learning more about a character we've known for a much longer time – Albus Dumbledore, as portrayed by Jude Law. Now, in a new interview, we're finally learning a little bit about the younger incarnation of this beloved character.
From a fan's perspective, one of the most exciting prospects about playing a role in the Harry Potter or Fantastic Beasts films has got to be the chance to speak with J.K. Rowling in order to learn more about the character being portrayed. From time to time, actors share these conversations, allowing us a glimpse both into Rowling's mind and the creative process behind the films – and that's just what we get in Jude Law's latest interview!
In preparing to play a younger version of Dumbledore – whom viewers already knew through the performances of Richard Harris and Sir Michael Gambon – actor Jude Law went straight to the source: Rowling herself. One of the most helpful pieces of advice she gave won't seem very surprising to readers who recall Dumbledore's kindness and sense of humor.
The one thing that came out [of my conversations with Rowling] was the sense of play. He has a youthful mercurial approach to life, but that there's something that hangs heavy in his heart, in his past, that underlies all of that. There's a root of good humor and good heart and sense of self and a sense of past.
In continuing to speak about how this younger version of Dumbledore differs from his Harry Potter-era counterpart, Law continues to emphasize the importance of this aspect of Dumbledore's personality.
As I mentioned before, there's a sense of humor and mischief, a dash of anarchy, a sense of what's right and what he believes in, and a sense of mystery. There's also how he comes around to get people onto his way of thinking — which is rather indirectly. He also has a certain heaviness about him that I don't want to reveal too much about — and that's something he has to overcome, or hopes to overcome. He's also got a great passion for sharing his knowledge; he's a powerful and inclusive teacher.
Law may be instructed not to speak much about Dumbledore's heavy heart, but it's not hard to guess that it likely has to do with lingering guilt over the death of his younger sister, Ariana, as well as misgivings over what has become of a man he was once so close to – Grindelwald.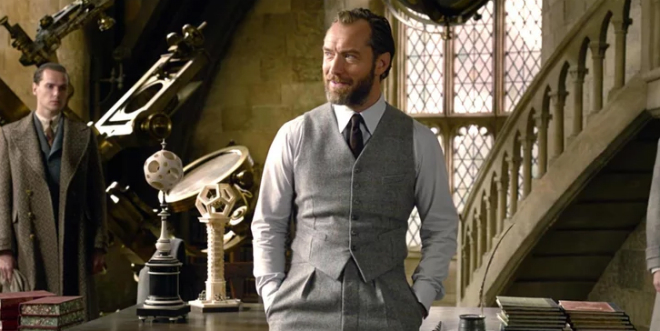 The actor also spoke with Rowling about Dumbledore's sexuality – and the fact that many fans have been upset or disappointed since David Yates shared that the Dumbledore of Crimes of Grindelwald would not be "explicitly" gay.
That was a question I actually asked Jo, and she said, 'Yes, he's gay.' But as with humans, your sexuality doesn't necessarily define you; he's multifaceted. I suppose the question is, how is Dumbledore's sexuality depicted in this film? What you got to remember [is,] this is only the second Fantastic Beasts film in a series, and what's brilliant about Jo's writing is how she reveals her characters, peels them to the heart over time. You're just getting to know Albus in this film, and there's obviously a lot more to come. We learn a little about his past in the beginning of this film, and characters and their relationships will unfold naturally, which I'm excited to reveal. But we're not going to reveal everything all at once.
Law's tease that there is "more to come" gives us hope that future Fantastic Beasts films may address the question of Dumbledore's sexuality more directly – but we'll just have to wait and see.
Do you think Jude Law has a handle on the essence of young Dumbledore? We'll find out for certain on November 16!