Events Roundup: Celebrate Going Back to Hogwarts and the 20th Anniversary of "Sorcerer's Stone" with These Magical Events!
September 1 is just around the corner, and that means it's time to go back to Hogwarts! This special day is also the 20th anniversary of the publication of Harry Potter and the Sorcerer's Stone. With so much magic happening in one day, you should definitely be celebrating! Grab your robes and wand and head to one of these magical events!
Celebrate Potter All Week Long with the Queens Library
The Queens Library in New York is celebrating the 20th anniversary from August 25 to 31 with magical events at over 30 participating library branches. Each location features its own events on different days, so make sure to check out the calendar to see when events are being held.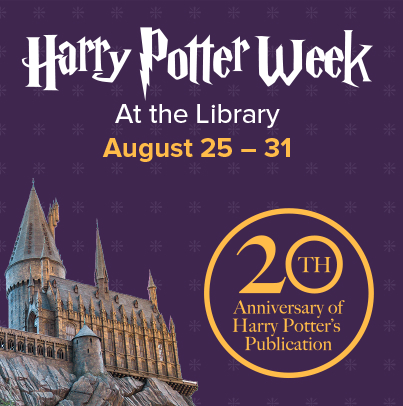 Most of the branches are hosting screenings of the Harry Potter movies with either a movie marathon or a specific movie event throughout the week. There will also be many opportunities to participate in themed arts and crafts, including many make-your-own events where you can create edible chocolate wands, pencil wands, quill pens, Hogwarts acceptance letters, Marauder's Maps, Potter origami, magic wands, magic brooms, and House crests.
You'll have plenty of opportunities to show off your Harry Potter knowledge and compete for prizes with trivia, spelling bees, bingo, concentration games, jeopardy, and puzzles! Immerse yourself in a back-to-Hogwarts feeling with creative classes where you'll learn to draw Potter characters, brew potions, learn magic, create magical creatures, and create mandrakes. You can also get sorted into your Hogwarts House and learn to play Quidditch. A number of general Potter celebrations will take place during the week, in which participants can join in a full day of fun, including cosplay, games, crafts, movie screenings, and wizard treats!
If you're a Harry Potter quote wizard, you could win fun prizes by participating in a quote challenge contest and drawing. Select a random quote from a set of 50, and if you can correctly identify which Harry Potter book the quote is from, you will be entered into a prize drawing. Prizes include a set of illustrated editions of the first three books, a DVD set of all the movies, and three Harry Potter anniversary t-shirts.
Some events require prior registration and certain age limitations, so make sure to check the event website in advance!
Sorcerer's Stone Is Headed Back to Theaters
To celebrate the 20th anniversary, Cinemark Theaters is bringing Harry Potter and the Sorcerer's Stone back to theaters for one week only, along with the other seven Potter films and Fantastic Beasts and Where to Find Them! All 141 Cinemark XD locations are participating in the Wizarding World XD Week from August 31 through September 6. Individual tickets to the films can be purchased for $5 each, but if you want to see all nine, you can get a festival pass for $25 to have access to all of the movies all week long.
Ride a Magical Train at This Ontario Wizarding Festival
Waterloo Central Railway in Ontario, Canada, is hosting a Magical Wizards Festival and Escape from Spellbound Prison Train, a Harry Potter–themed festival with its own "Hogwarts Express" in the form of a 100-year-old running steam train. The event takes place on September 8 and 9 from 9:00 a.m. to 5:00 p.m. The train will depart seven times a day for a two-hour interactive show and journey on a mission to Spellbound Prison.
Prior to boarding, train ride ticket holders will also be able to attend a show with exclusive entertainment, including live music, aerial acts, and illusions. Once on board, you will be given training for your mission. Some of the most dangerous prisoners have been trying to escape, and it is your job to safely transport them to a new secure location.
With the purchase of your train ticket, you also get access to the Magical Wizards Festival, where you can take part in interactive shows, write spells, see wondrous animals, and watch magic shows. There will also be a variety of Hogwarts-themed classes to attend, where you can brew potions, care for magical creatures, and learn how to defend yourself from your enemies. After your classes, make sure to explore the Enchanted Alley full of magical shops and treats to stock up on all the items you'll need for the new Hogwarts school year. Guests are encouraged to come in costume, the more elaborate the better, and there will be Harry Potter merchandise for sale in the train store.
Tickets sell out fast, so grab yours here today! If you miss out on ticket sales for the train rides, you can also buy a ticket for just the wizarding festival.
Watch Harry Potter in a Real-Life Hogwarts
For fans in the United Kingdom, who celebrated the 20th anniversary of Harry Potter and the Philosopher's Stone last year but who may want to kick off the start of a new Hogwarts school year in style, you can head to Swansea's Oystermouth Castle in Wales for an outdoor movie experience. On September 12, the castle will screen Philosopher's Stone to an open-air audience. The castle is the perfect backdrop for the film as guests can pretend they're inside the castle walls of Hogwarts itself. The castle, which dates back to the 12th century, sits on top of a hill with incredible views overlooking Swansea Bay.
Don't miss out on these incredible opportunities to celebrate the start of another year at Hogwarts!