Repression Without Release: Unobscuring the Plight of Merope Gaunt
Today is Women's Equality Day in the United States, and I initially planned to write an uplifting piece about feminism in Harry Potter to commemorate the occasion. As I considered all the female characters and the ways in which they fight the patriarchy, however, I was struck by recurring thoughts of a particular character: Merope Gaunt. When it comes to taking on the patriarchy, she doesn't even have a fighting chance. Although the passages about her are relatively brief, they are disturbing and deserving of our attention and analysis.
Analyses of Merope increased after the release of Fantastic Beasts and Where to Find Them due to the film's introduction of Obscurials. An Obscurial is a young witch or wizard who suppresses his or her own magical abilities to the point that these unused powers form a havoc-wreaking force of Dark Magic called an Obscurus. As is the case with Credence Barebone, the Obscurial whose Obscurus becomes unleashed in Fantastic Beasts, this self-repression most often results from external oppression enacted by abuse of one or more kinds. The film indicates that Obscurials rarely survive to see their tenth birthdays, but Obscurials with immense magical power (like Credence) can survive longer. This potential for longer-living Obscurials opened the doors for analyses focusing on the possibility of Merope being an Obscurial.
I can certainly see why many people would consider Merope to be a potential Obscurial; she is a witch who experiences a great deal of abuse early in her life and dies at the relatively young age of 19. That said, the particulars of the abuse she suffers lead me to believe that Merope is not an Obscurial. I believe that she experiences repression because of her gender rather than her magical abilities and that she suppresses these abilities because she knows they will automatically be deemed worthless.
Although the exact nature of the abuse Merope suffers from her father, Marvolo Gaunt, and brother, Morfin Gaunt, is not specified in Harry Potter and the Half-Blood Prince, we know for a fact that verbal abuse occurs frequently. It is important to note that this abuse does not stem from disapproval of Merope's status as a witch who possesses magical abilities; rather, it seems to stem from her supposed lack of magical ability and pride in her status as a pure-blood witch. Marvolo calls Merope a "disgusting little Squib" and a "filthy little blood traitor" (HBP 210) when he learns from Morfin that she loves Tom Riddle, Sr., who is a Muggle. Although neither Morfin nor Merope receives a magical education, it seems that Morfin alone is granted agency to perform magic at home simply because he is male. Marvolo never speaks of Morfin's proclivity for magic or lack thereof because the fact that the latter is male precludes him from such judgment. Merope, on the other hand, is expected to possess the pride of a skilled pure-blood witch while knowing full well that any magic she dares perform will be ridiculed. This dichotomy distinguishes her from Obscurials in that the latter suppress their pride in possessing magical abilities along with the abilities themselves. In other words, Merope is expected to graciously accept her supposed inferiority.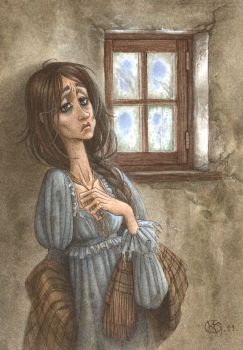 We never definitively learn how Merope attained Riddle's affections, but I find Albus Dumbledore's assumption that she used a Love Potion upsetting. It seems unlikely that procuring and administering a Love Potion would require much magical prowess, so Dumbledore's claim that "she was able to give full rein to her abilities" (HBP 213) after Marvolo and Morfin were sentenced to Azkaban is a moot point. The fact that Dumbledore, who is notoriously open-minded, can't bring himself to believe that Merope was skilled enough to bewitch Riddle with an Imperius Curse evinces the pervasiveness of misogynistic thinking. He essentially endorses Marvolo's positing of Merope as a free agent who is just too useless to do anything with that agency. Neither the reader nor Harry Potter is offered an alternative to Dumbledore's deductions, so this guesswork becomes canon by default. When Harry asks Dumbledore why Merope didn't use magic to save her own life and thus live to raise her son, Tom Riddle, Jr., Dumbledore again undermines her autonomy by speculating that "she was greatly weakened by long suffering" and that her "unrequited love and the attendant despair sapped her of her powers" (HBP 262). The possibility that Merope purposefully took her own life (with or without magic) is never even considered; her death is thus automatically accepted as something that happens to her rather than something she chooses for herself. Incidentally, the fact that Harry doesn't seem to consider Merope's value as a person outside of her role as a mother is also disturbing.
Ultimately, I believe that Merope Gaunt experiences repression without release. Although an Obscurial's plight is heartbreaking and highly pitiable, the Obscurus is corporeal proof that a person has been persecuted for having magical abilities. For Merope, however, persecution proves to be an invisible and irreversible curse that follows her to her early grave and prevents her truth from ever being told.