The Most Memorable Tracks from "Potter" Scores 5–8
After taking a look back at the music of the first four films, it's time to show some love for the work of Nicholas Hooper and Alexandre Desplat on the second half of the series. This is when things get dark, dangerous, and dramatic, and the music reflects the change in tone while still having those soft and sincere moments.
Harry Potter and the Order of the Phoenix
Winner: "Loved Ones and Leaving"
After the stress that is Harry's fifth year, this piece just feels like a huge sigh of both grief and relief. It's reflective, melancholy, and reassuring. I'm a sucker for the closing songs, and this one has a similar feel to "Another Year Ends" from Harry Potter and the Goblet of Fire. It forms the perfect backdrop for Harry's final line: "Even though we've got a fight ahead of us, we've got one thing that Voldemort doesn't have… Something worth fighting for."
Runner-up: "Fireworks"
Nicholas Hooper gave us some really fun tunes on this soundtrack. This one encompasses the rebellious spirit that I love about Order of the Phoenix. Energetic and joyful, it's just right for Fred and George's dramatic exit. That electric guitar solo in the middle is unexpected for a Potter film but perfect for the Weasley twins wreaking havoc. Give her hell from us, Peeves!
Harry Potter and the Half-Blood Prince
Winner: "Harry & Hermione"
This piece breaks my heart every time, partially because of the title. I'm a strong Ron/Hermione supporter but also a huge fan of Harry and Hermione's friendship, and I love this piece for encompassing the disappointment both Harry and Hermione feel in seeing the objects of their affection with other people, as well as the comfort they find in each other while sharing that moment. Hermione and Ron's tension is usually either somewhat fun banter or frustrating bickering, but in this scene, and with this music, we see the tension between them come to a point where it really hurts. I think that many readers, and maybe even Hermione and Ron themselves, just assumed they would get together eventually – even Harry "had an inkling that this might happen sooner or later" (HBP 264–5) – but this roadblock cast doubt upon whether it could ever be smooth sailing for this ship.
Runner-up: "In Noctem"
You know something bad is coming when you hear this one. It's truly haunting, and we know to prepare for the worst. The vocals give me the shivers, and I love how the use of Latin makes it sound like centuries-old chamber music.
Harry Potter and the Deathly Hallows – Part 1
Winner: "Farewell to Dobby"
Alexandre Desplat swooped in just in time to give us all of the feelings. As if Dobby's death isn't painful enough, let's go add this to really drive the point home that a sweet, innocent elf who cherished freedom and only wanted to save his friends made the ultimate sacrifice. Excuse me while I weep until I have no more tears.
Runner-up: "Ron's Speech"
Ron is my favorite character. I wrote a large part of my undergraduate thesis about him and his brand of heroism, and much of that focused on his return and destruction of the locket Horcrux. I get so terribly upset watching him leave, and I jump for joy when he comes back. This is the moment that Ron stops doubting himself, and we can't doubt him any longer either. He's in this until the end, and deep down, he always knew he would be.
Harry Potter and the Deathly Hallows – Part 2
Winner: "A New Beginning"
My childhood died with this track, but both the title and the tune remind me that the magic never dies and the next adventure awaits. Despite the film's ominous tagline – "IT ALL ENDS"  – that was plastered on posters everywhere, that feeling of doom is softened by this piece, telling us that the characters and their legacy will live on.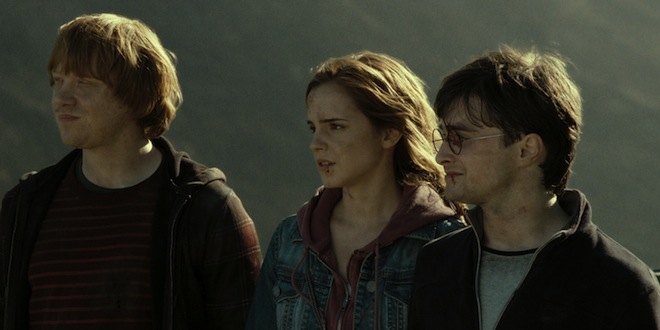 Runner-up: "The Resurrection Stone"
This is perhaps the most poignant reminder in the whole series of how Harry's entire life has been defined by loss and sacrifice. From his parents to his parental figures, and now what seems like an early death for himself, this moment and its accompanying music emphasize the painful fact that a child cannot remember his mother and father's tender embrace. Containing some of "Lily's Theme," this is their final lullaby for the child who never got to know them, gently easing him into the most difficult task he will ever undertake.
And there you have it! That's all for this retrospective. Now seems like a good time to pop on those headphones and have another listen through the soundtracks. They make the perfect background music for studying, working, rereading the series, or folding your laundry while a single tear rolls down your cheek as soon as an emotional piece comes on (or you sob heavily throughout the entire thing). What are your favorite tracks from the last four films, and when do you like to listen to them?