Calling Dumbledore's Army: Evanna Lynch Needs Your Support!
From the moment I heard that one of my favorite Harry Potter actors would be joining Dancing with the Stars, I have been excitedly awaiting the start of the new season.
DWTS is a show that I have watched almost from the first season when it debuted way back in 2005, mostly because my boy band fantasy boyfriend, Joe McIntyre from New Kids On The Block, was competing. I kept watching because I enjoyed the journey of each star as they navigated learning the new routines and hearing that each contestant was just a regular person like you and I. In fact, the show has become a ritual in my family. Along with my Grams and my mom, we would gather multiple times each week to watch the show and discuss who we thought should win the coveted mirrorball trophy, who had improved the most, and who we thought had the most personality. While my Grams has passed, my mom and I still continue this ritual with every new season, and it brings us a lot of joy.
Now that Luna Lovegood portrayer Evanna Lynch has joined the cast of season 27 of DWTS, I'm down for the show in the biggest way! With the addition of Evanna, DWTS has combined ballroom dancing with my love of all things Harry Potter and I cannot get enough! Take a look at this fun video from DWTS and get a peek at some of Evanna's dance moves!
Evanna's partner is Keo Motsepe, who didn't join the cast as a professional dancer until season 19, but has been paired previously with lesser-known stars and athletes thus far. I personally feel that he should have gone a lot further in season 22 when he was paired with Full House and Fuller House darling Jodie Sweetin. The pairing earned Keo his first perfect score, but they were eliminated and finished in 6th place, despite being at the very top of the leaderboard that week.
This loss comes down mostly to fan votes, in my opinion, which is why I'm asking MuggleNet readers to tune in to support #TeamKevanna this season! DWTS, Evanna and Keo have been promoting the premiere of the new season, which starts with the first of the two-part premiere shows on September 24 on ABC (make sure to check your local listings for show times!). Evanna and Keo are set to dance to "Do You Believe In Magic" on Monday and will be dancing to "Rewrite the Stars" from The Greatest Showman on Tuesday's show, with both dances scheduled to be the foxtrot.
Here's why we need everyone to watch and vote for #TeamKevanna, and it's not just because he was sorted into Slytherin when Evanna made him take the test on Pottermore (yes, he's in my House, but I'm not playing favorites)! One couple will be eliminated on Tuesday, based on not only the judges' scores from both nights of performances but also taking into account the viewer votes from Monday night and the live viewer votes on Tuesday.
Voting can be done in one of two ways: phone in your vote for Evanna and Keo using their specific toll-free number, which is 1-800-868-3405, or you can vote online at ABC.com, but you MUST create or already have an ABC account to submit your votes. I suggest you create your account now so that voting online will be simple. If you have a Facebook account, you can simply connect using your Facebook account, which will also allow you to share your votes with family and friends, and encourage them to vote, too!
You can vote online during the live broadcast on Tuesday, but ONLY if you live in the Eastern or Central time zones. Live voting will open after all eligible dancers have finished their performances and voting will remain open for only five minutes before the first couple from the new season is eliminated, so that means you must get your vote in if you want to see Evanna and Keo continue on in the competition! You can learn all the rules on voting here.
The promos from DWTS, Evanna and Keo are giving me all the feels! Check out some of the footage and photos we've seen so far, below.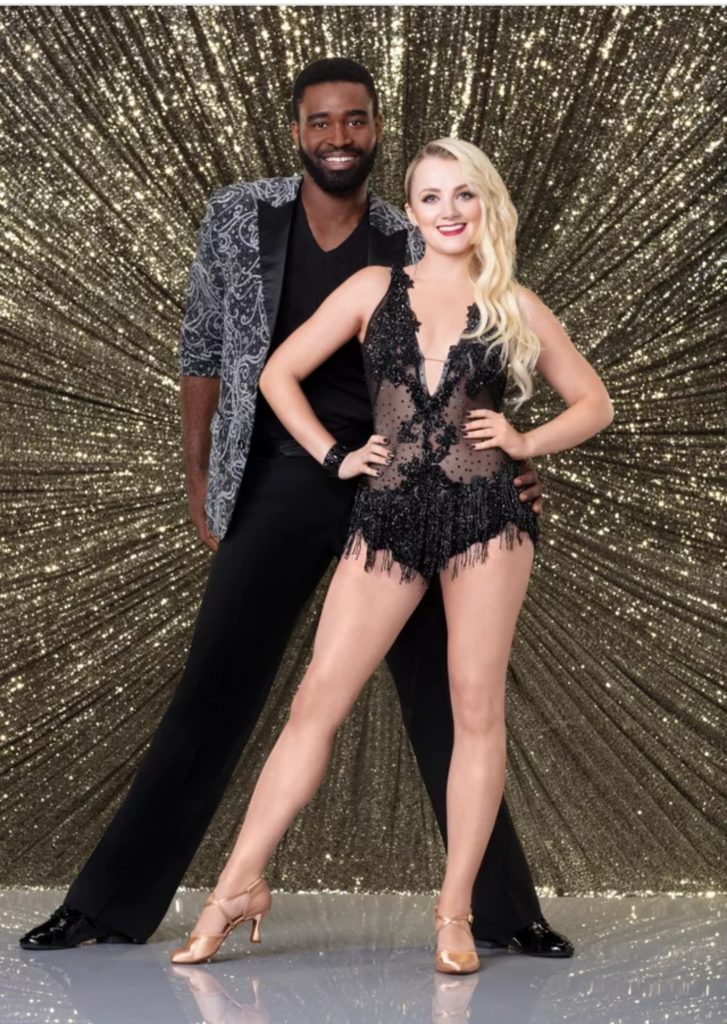 Besides her dance moves, Evanna is bringing her own style to the new season! Sharing to her Instagram story, Evanna revealed that her dancing shoes were vegan, proving that there are many ways you can help protect and respect animal life even within the clothing industry.
DWTS has been SO amazingly supportive of my vegan needs, getting cruelty free makeup and animal free costumes and helping prove you don't need to hurt animals to live your life to the fullest, so I will make sure to share those details 🙂 So in summary, taking a lil minute away from my activism projects as I will be totally obsessed with ballroom dancing for now and will catch up on all the rest on the other side of this crazy adventure.
She's also hoping that DWTS will help pull her out of her shell a bit, telling E! News that this was a dream for her.
I wanted to learn to dance. Yeah, it's like a dream job. I just had no reason not to. As I said, I like being pushed. I've said that to Keo, I was like, 'Be hard on me.' That's what I like, when you have that kind of pressure on you that's when the most growth happens.
I can't wait to watch Evanna make it all the way to holding that mirrorball trophy and I hope you'll join me in supporting #TeamKevanna this season! Keep following along as we cover Evanna's DWTS journey every week, right here on MuggleNet!