Evanna and Keo Samba Their Way into Our Hearts!
It's the second week of Evanna Lynch competing on Season 27 of Dancing with the Stars, and this week she and her partner, Keo, danced the samba! Just like last week, America's vote will play a factor in Evanna and Keo staying in the competition.
I saw some improvement in Evanna tonight, but I also think she was in her own head a little. Her extensions were better this week, and while I think she lost her timing in one spot, her attitude was super on point and she OWNED that samba! Even Len gave props, and as you know, he was a bit hard on her last week, so it was a nice change. Her scores were much more in line with where I believe she should have been last week, so I'm really happy with the judges being on the ball tonight. Congrats to Evanna and Keo for a great samba!
Soooooooo proud of you @Evy_Lynch and I can't wait for tmrw night! Please please vote for us 18008683405 ???????????????? #dwts @dancingabc pic.twitter.com/hSeMMJcoTA

— Keo Motsepe (@keodancer) October 2, 2018
No elimination took place tonight, but your votes are key to ensuring Evanna has a shot at the mirrorball trophy! Tomorrow's elimination episode will not follow the same format as the previous week's, which means that we should expect to see a second dance from Team Kevanna, scheduled to be the jive to the song "Heat Wave" by Martha Reeves and the Vandellas. The rumor is that this second dance will only be scored by the judges. It does not appear that there will be a live vote option this week, but you should still check to see if you can vote for Team Kevanna after every performance. The eliminated couple will be leaving the show as a result of judges' combined scores from Monday and Tuesday along with the viewer votes from Monday and possibly Tuesday. This makes it even more important to get your vote in by 4 a.m. Eastern time on Tuesday, October 2 and that you check immediately after Tuesday's performances to see if voting has opened if you are in the Eastern or Central Time Zones!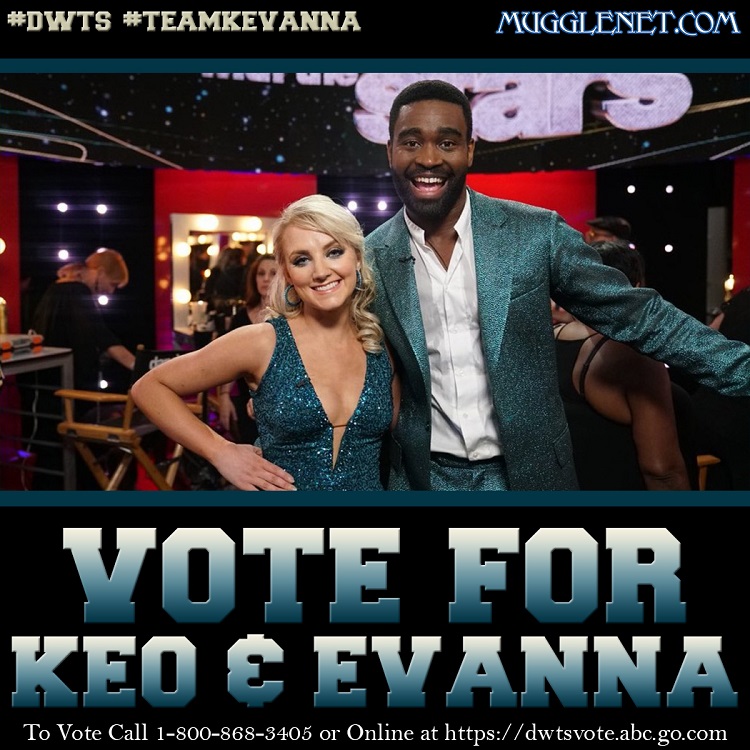 Last week, I mentioned that Evanna had shared that the makeup artists and costumers for the show had been supportive of her by using vegan-friendly makeup and material, which included Evanna dancing in vegan shoes. In her Instagram Story this week, Evanna shared a photo of a pair of these shoes, proving that style and substance can go hand in hand. Peep these sparklers!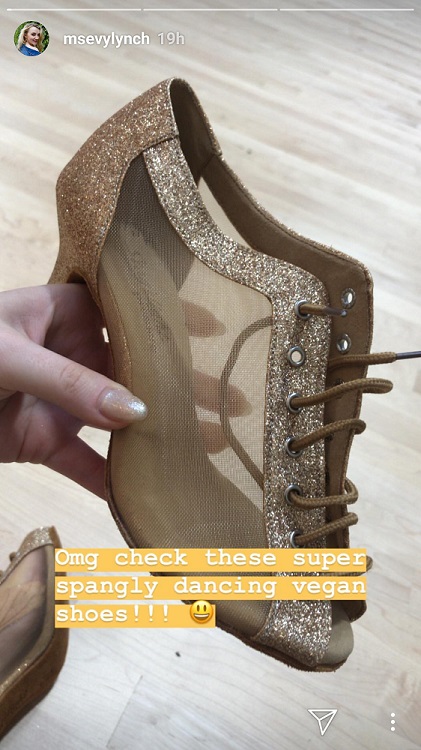 Keo has been a wonderfully supportive dance partner so far, and I'm loving the posts they tag one another in. Check out this cute photo from Keo's Instagram!
If you haven't followed Dancing with the Stars yet, you should definitely start! The account posts some magical photos and videos to its Facebook, Instagram, and Twitter that often feature Team Kevanna. Check it out!
It looks like Evanna and Keo worked really hard this week, based on this photo from Keo that shows the pair during camera blocking rehearsals for their performances.
While Evanna mentioned on her Instagram tonight that she was fearful of the samba, after watching the performance, all I see is a bold Gryffindor dancing her heart and soul out.
What did you think of Evanna and Keo's samba? Did you agree with the scores given by the Dancing with the Stars judges? Let us know in the comments below or by sending us a tweet with your message of support for #TeamKevanna!