Review: These Magical Items from Insight Editions Will Bring You Right Back to Hogwarts!
It's time to bring out the snow, decorations, and trees, everyone, because we're busy decorating the Great Hall for Christmas. And what better way to get in that holiday spirit than with Harry Potter–inspired gifts from Insight Editions! I was lucky enough to receive some of their Potter items to try out, and let me just say, I was NOT disappointed.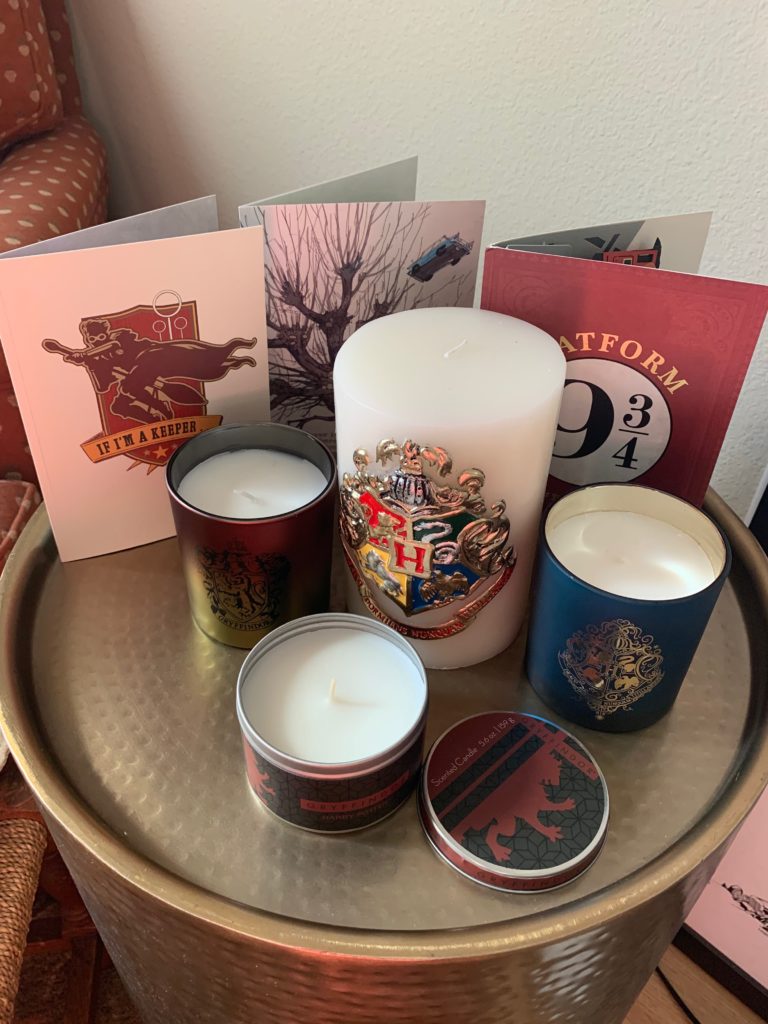 Rewind to about a week ago when I received the package (by owl, of course). I had been waiting in anticipation, and when I first peeked into the box, my mouth fell agape like Moaning Myrtle. It. was. BEAUTIFUL. I held, in my hands, one sculpted pillar candle (huge!) with the Hogwarts crest displayed proudly on the front and two glass-and-votive candles (very chic). One featured the Gryffindor crest against a red-and-gold ombré design, and the other, a shiny gold Hogwarts crest on a mermaid-blue backdrop. Oh, it doesn't stop here. There were also TWO Gryffindor-inspired tin candles and three laser-cut pop-up greeting cards. I didn't know if I should start a vlog and talk about candles for the rest of the year or send my closest friends the most intricate cards I've ever seen in my life. Spoiler alert: I'm never mailing these cards and will be keeping them to myself forever.
So, let's get to business. I'm no candle expert, but I knew these would surely make me the envy of the wizarding world. I'm all about textures, and the two glass-and-votive candles feel great. Period. Smooth to the touch with only the best pop of color, these will proudly be displayed around my home. Maybe on the side of my tub while I take a relaxing bubble bath with my favorite book (Harry Potter and the Order of the Phoenix, duh). I will say, I was a little surprised to realize that these candles didn't have an aroma, but I got over that faster than the Quidditch match between the Tutshill Tornados and the Caerphilly Catapults (3.5 seconds). The best part about these? The votives are reusable once these burn out. But don't hold your breath – the wax seems thick and will likely last for many hours.
Speaking of aromas, cinnamon is one of my all-time FAVORITES when it comes to candles. Insight Editions must have known this about me because that's exactly what the two Gryffindor tin candles smelled like, which seems very fitting. I have one burning right now next to me as I write this review with my Quick-Quotes Quill (computer and keyboard), and I'll tell you what – this cinnamon is so powerful, you'd think I was in the middle of the Gryffindor common room, sipping butterbeer and studying for my exams. These tin candles are a little less flashy than the glass-and-votive beauties. I see myself pulling these out for a casual day burn or when I have a small gathering over. There's a classic quaintness about the tin design, and you better believe I'm saving the can when the candles have had their last flame. Perhaps to hold some spices or loose change. Or spices AND loose change – who knows?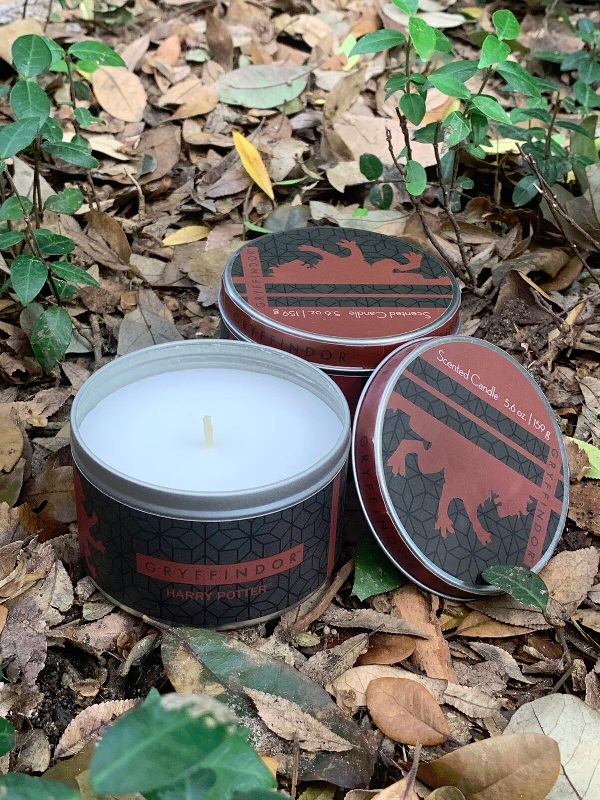 The crown jewel of the candles I received, however, is certainly the sculpted pillar. This is a work of art and was thoughtfully designed to fit right in with your home décor on the bookshelf, entry table, or end table. This large cylinder stands out among the rest because of its beautifully carved and dyed Hogwarts crest. The crest is immediately recognizable and brings back nostalgic memories of reading the Harry Potter books for the first time and wondering about which House you belonged to. I am going to spark this sucker up and put it on display smack dab in the middle of my dining room table the next time I host a dinner, and I'll request that we only talk about the candle or Hogwarts for the entire meal. However, it's important to note that because this candle doesn't come with a stand, votive, or tin, you should burn it only on a temperature-safe surface. I wouldn't sit this on a fabric ottoman or directly on a wood surface. I'm going to put it on top of an ugly coaster I've had for years. This beauty seems like it'll burn for months; however, I sort of want to just use it as décor for now.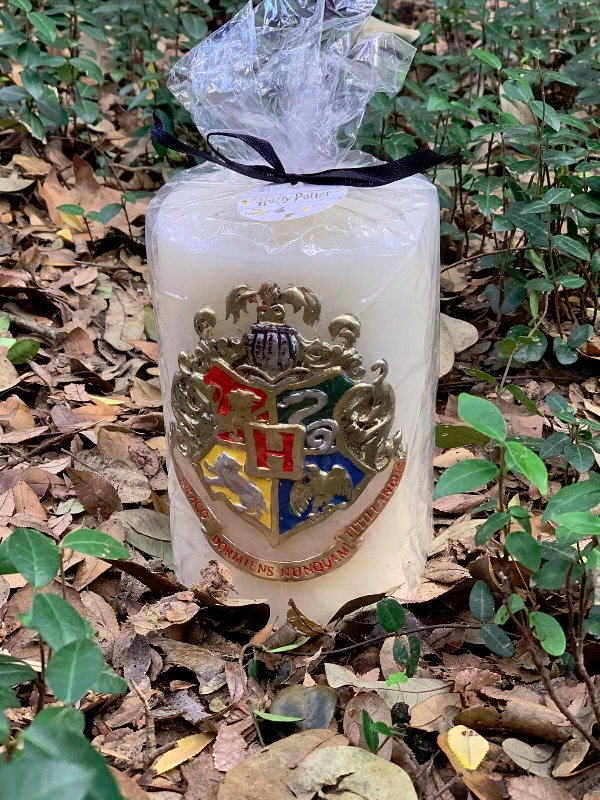 While I loved the candles, when I saw the greeting cards, I felt like I had just been knocked over by the Whomping Willow. These cards… these cards belong in a museum. I received three different designs: one featuring the minimalist "Platform 9 3/4" logo that we all know and love, a Quidditch-themed card featuring a silhouette of Harry on his broom in front of the three goals, and a hauntingly beautiful drawing of the Whomping Willow and the flying Ford Anglia, which was reminiscent of work by the great Roald Dahl cartoonist Sir Quentin Blake. Folks, this isn't an article from the Quibbler, so you better believe me when I tell you that I couldn't speak when I opened the cards for the first time. I'm new to the world of pop-up greeting cards. I guess I've been living at the bottom of the Great Lake, but WOW. The amount of detail that pops out at you when you open these cards is breathtaking. My favorite cards are ones that don't have much pre-selected messaging in them, and these fit the bill. Oh, yes, they have little messages in them, such as "Mind that tree!" or "Let the magic take you there!", but the artist really wants you to make it your own with ample space to write your own message. But I promise you won't want to. I'm probably going to just store these in my cupboard and never part ways with them unless a very special moment in someone's life happens, but even then, I may request it back after poor Errol drops it on their doorstep.
I've been engrossed in the wizarding world for 20 years now. As a kid growing up in the 90s and early 2000s, I had many a Potter piece of memorabilia in my room. What I wouldn't give to know where so many of my old items went. Lost in time, I suspect, much like the Time-Turners (unless you think Cursed Child is canon – it's not). But as I look around my desk at these wonderful candles and cards on display, I'm reminded of what brought me to Potter all those years ago. The magic, the art, the warmth. Anyone would be lucky to have these great items – or they'd make the perfect gift for the Potter fan in your life.
All products reviewed were provided by Insight Editions.