Win the Chance to Recreate the Magic with LEGO Hogwarts UK Competition
Author J.K. Rowling treated the plot points of the Harry Potter series like building blocks, stacking them carefully, one piece at a time, and now fans have the opportunity to try their own luck at magical construction with LEGO's spellbinding Hogwarts set.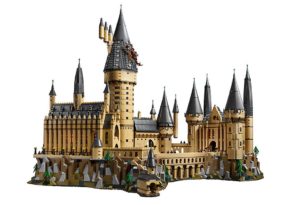 Boasting over 6,000 pieces, LEGO's Hogwarts Castle is incredibly intricate. Including four minifigures, 27 microfigures, two chess pieces, five Dementors, five boats, a Whomping Willow, a Flying Ford Anglia, the Basilisk, and Aragog, this kit has everything a Potter fan could wish for. While it usually retails at £349.99, Black Friday has made the fine people at LEGO feel generous and they're giving one lucky witch or wizard the chance to win!
There's more! If castle architecture is a little beyond your reach, never fear! One runner-up will receive their very own LEGO Hogwarts Express, complete with five minifigures, a trolley, a tiny Scabbers, and a buildable portion of Platform 9 3/4, embarking on an enchanting journey that would normally cost £74.99.
Additionally, both the winner and runner-up will also take home the Harry and Hedwig, Ron and Dumbledore, and Hermione BrickHeadz, with a combined retail price of £42.97. What better way to populate their new LEGO locations?
Hopeful sorcerers need not search for Ravenclaw's diadem; entering this competition is as easy as waving a wand, or munching on a pumpkin pasty. All you need to do is visit Denofgeek.com and answer one simple question. Take a gulp of Liquid Luck; this prize is worth it!