Deck the Great Hall: Christmas in "Hogwarts Mystery"
The Muggle world isn't the only place where the holiday season is in full swing. In Harry Potter: Hogwarts Mystery, in-game and real-world side quests will allow players to help make Hogwarts (and their own homes!) festive for Christmas.
Hogwarts Mystery players may have noticed a change in the air at their magical school. Like during the Halloween event, Dumbledore has asked students to help decorate the Great Hall, which rewards players with crests to earn coins, notebooks, and special items. However, the festivities don't end there. Each House's common room has gotten the holiday treatment with garlands and a Christmas tree, but the decorations aren't complete yet.
Over the next week, from December 6 to December 12, players will be able to visit the Facebook, Twitter, and Instagram accounts of Harry Potter: Hogwarts Mystery to vote on their favorite of four Christmas tree ornaments, which include an owl, a cat, a snowman, and the Whomping Willow. On Thursday, December 13, the winning holiday ornament will be added to the common room trees. A video will also be released on the social media accounts to show off the in-game decorations. Directions will even be given to instruct crafty players in how to make real-world versions of the winning ornament for their own holiday festivities.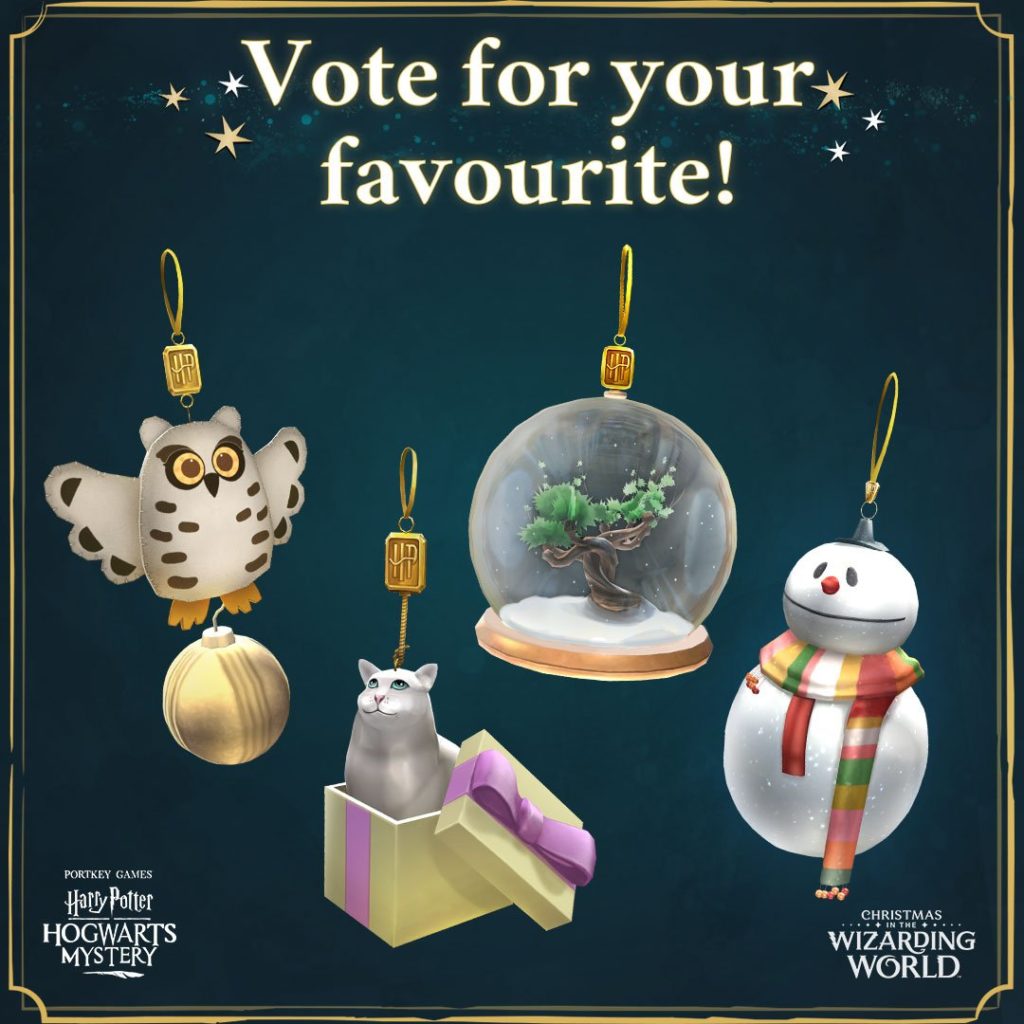 Even this isn't the end of the holiday surprises for Hogwarts Mystery fans. The video will also preview an upcoming side quest featuring everyone's favorite redheads, the Weasley family! The Weasley quest will be time-limited, so log in to the game regularly to make sure you don't miss it!
Josh Yguado, Jam City President and COO, is excited to bring the holiday magic of Hogwarts to the game's fans.
Players of Harry Potter: Hogwarts Mystery are highly engaged in not only the secrets, spell- casting [sic] and classes of Hogwarts but also its rituals and celebrations. The winter holidays are a special time at Hogwarts, and we invite players to join us in bringing the cheer and trimmings of the season to the legendary school. We're excited to celebrate the holidays with fans and look forward to the many adventures ahead!
We can't wait to see Hogwarts all decked out for the holidays! Which ornament will you choose?