Events Roundup: Beat Those Post-Festive Blues with a Magical Weekend of Dancing, Eating, and Fun
For most of us, there's nothing worse than those post-Christmas blues, but luckily, a few amazing wizarding events are coming up right after Christmas to keep the festive spirit going.
Eat, Drink, and Dance the Night Away at the Bennett-Curtis House
The Bennett-Curtis House in Grant Park, Illinois, established by the Zizic family and inspired by their love for Harry Potter, has a Yule Ball taking place on December 29 and January 12. If you missed the Yule Ball that took place before Christmas, this is the perfect opportunity to make that dream come true.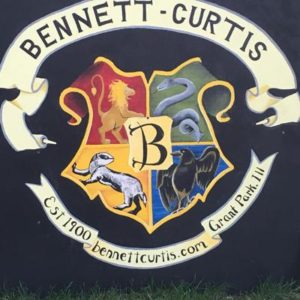 This ball promises to be a grand event. Guests can look forward to hors d'oeuvres and cocktails, a five-course gourmet dinner in the Great Hall, and Honeydukes-inspired desserts. There will also be the Cauldron cash bar with drinks you'll find at the Three Broomsticks, like butterbeer, pumpkin juice, firewhisky, and an odd addition – Polyjuice Potion. Souvenir glasses will be available for purchase to remember the magical evening.
And what is a ball without music and dancing? The Weird Sisters were not available for this ball, but the Bennett-Curtis House has arranged for the best DJ in town to provide guests with music they can dance to all night.
Ready to treat yourself to this magical evening? Put on your best formal wear – it is encouraged but not compulsory – and keep in mind that no guests under the age of 21 are allowed. Tickets are $100 and usually sell out fast, so grab yours here. The event starts at 7:00 p.m. at the Bennett-Curtis House, 302 West Taylor Street, Grant Park, Illinois.
Treat Yo'self to a Magical Weekend
If you feel like you need a break from all the festivities after Christmas, the Bennett-Curtis House is also hosting a Holiday at Hogwarts event that stretches over several weekends. It started on December 5 and will continue until February 2. The next one is taking place on December 28 and is open to witches and wizards of all ages.
This event promises to be a magical weekend full of fun – you will get sorted into your Hogwarts House and be treated to an appetizer and some drinks. You will then take a journey through Platform 9 3/4, after which you will arrive at the Great Hall for a delicious dinner. That's not all – while in the Great Hall, each House will be competing in wizard trivia to win the famous House Cup.
Taking a walk after a good meal is always a good idea, so after dinner guests can explore the grounds around the mansion and interact with different characters. They will also have the opportunity to take pictures with famous wizards. For those wanting to quench their thirst after all the outdoor adventures, there will be drinks available at the Cauldron, and if you have a sweet tooth, you can make your way over to Honeydukes for dessert.
Tickets are $60, and for $10 more you can receive a private psychic reading from Bennett-Curtis's very own divination professor. The event starts at 7:00 p.m. on December 28. You can find more dates and times here.
Keep the Festivities Going with a Magical Banquet
Witches and wizards in the UK who missed out on the Winter Banquet at Bothwell can rejoice, because Bier Keller in Liverpool, England, is hosting a Harry Potter Banquet on December 28.
Guests will be seated in Bier Keller's very own Great Hall and treated to a Hogwarts-inspired buffet banquet, magical drinks like butterbeer, and some cocktails. There will also be some interactive elements, photo opportunities, and a few magical surprises and treats. A screening of Harry Potter and the Chamber of Secrets will also be taking place, and then there will be a live DJ to keep the festive mood going.
You are encouraged to dress your very best, as there will be a prize for the best-dressed witch or wizard. The event starts at 7:00 p.m. and the screening will commence at 8:00 p.m. You are encouraged to arrive at 6:30 p.m. to be treated to some surprises.
Only witches and wizards 18 years and older will be able to attend the event. Ticket prices range from £5 to £15. They have just sold out, but there is a waiting list you can join here.