Castium Revelio: Sundance Sound Bites and Animated Alumni
by Brienne Green · Published · Updated
In this week's edition of Casting News, we've got the Chosen One reflecting on… well, his reflection, first looks at a few wizarding world alumni's newest films, and an upcoming one-on-one between Ten and Thirteen on David Tennant's spanking-new podcast.
It's all certainly got us animated – just like a few other Harry Potter alums – so without further ado… Castium Revelio!
Harry Potter Cast & Crew
To start this week's Casting News off with a bang - or at least a very strongly uttered Expelliarmus - Daniel Radcliffe (Harry Potter) was out and about over the weekend at the Sundance Film Festival promoting his upcoming TBS television series Miracle Workers. The premiere of that project is just two short weeks away now, with the pilot set to air February 12.
While making the rounds, Daniel stopped in for an interview with Vulture, in which he expressed his love for the Wizarding World of Harry Potter theme parks while noting his frequent appearance in hologram form can be a bit surreal.
I've had a couple of friends who have gone and had, like, kind of hysterical laughing breakdowns because there's various holograms of me at 18 preserved there forever. My girlfriend was, you know, stuck on the ride with, suddenly, me turning up on a broom going 'Follow me!' What a moment to have preserved.
Daniel also provided Variety with a Super Bowl prediction of sorts. He'll be rooting for the Los Angeles Rams in the February 3 game, and he let New England Patriots quarterback Tom Brady know why in no uncertain terms.
Daniel Radcliffe says he's rooting for the Rams in the #SuperBowl and has a message for Tom Brady: "Take that MAGA hat out your locker" | #Sundance #VarietyStudio presented by @ATT pic.twitter.com/2b81RqrgBz

— Variety (@Variety) January 27, 2019
Finally, Daniel was seen flashing those baby blues in Entertainment Weekly's Sundance Film Festival Portrait Studio. He certainly looks angelic to us!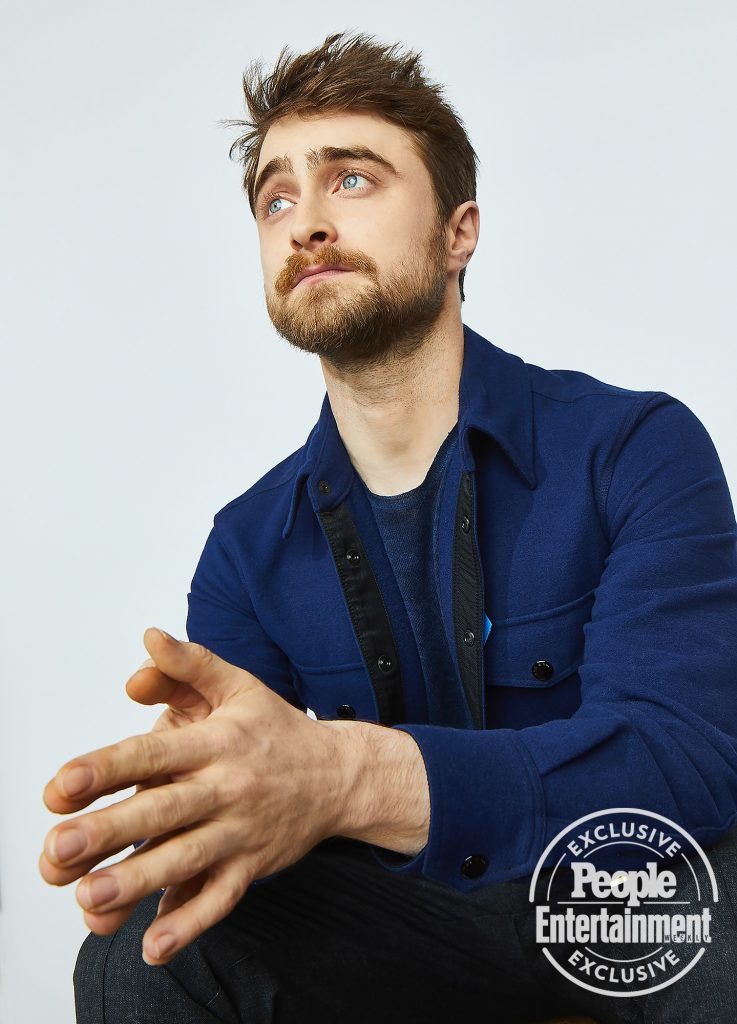 David Tennant (Barty Crouch Jr.) is beloved by his peers and fans alike for his quirky sense of humor and congenial demeanor, and from the sound of it, those qualities are about to make the star a big success on the podcast scene as well.
David Tennant Does a Podcast With... made its debut Monday, with Tennant engaging in a chat about everything from pet peeves to social media to Peep Show with former Broadchurch castmate Olivia Colman (and her pooch, Alfred, Lord Waggyson). The podcast jumped quickly to the number-one spot on the iTunes UK charts.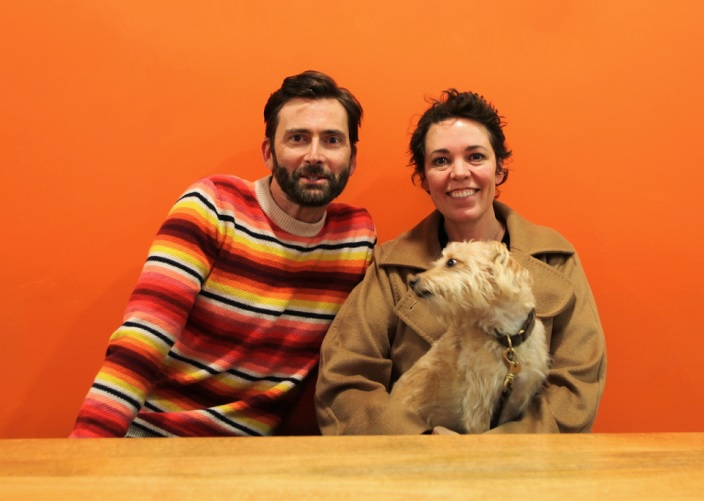 In a teaser that preceded his first episode, Tennant said interviews have also already been recorded with Sir Ian McKellen, Jon Hamm, Krysten Ritter, Michael Sheen, Whoopi Goldberg, Samantha Bee, former British Prime Minister Gordon Brown, and - an installment Whovians won't want to miss - the 13th Doctor, Jodie Whittaker.
It's pretty low-concept, but so far, it's sounding rather delicious.
We wholeheartedly agree! The podcast is available on iTunes, Spotify, and Acast, and you'll definitely want to hit the "subscribe" button on this one. That way, much like a timey-wimey detector, it'll go ding when there's stuff!
According to Deadline Hollywood, Ralph Fiennes (Lord Voldemort) will soon be playing house with Maggie Gyllenhaal in a film based on a famed example of International Style architecture.
Fiennes will replace Jeff Bridges in the role of German-American architect Ludwig Mies van der Rohe, starring opposite Gyllenhaal as Dr. Edith Farnsworth, in The Farnsworth House. The one-room, steel-and-glass weekend retreat was designed and built by Mies van der Rohe for Farnsworth from 1945 to 1951, and the two reportedly engaged in a torrid romance during its construction. Gyllenhaal says she's excited about the opportunity to portray the complicated Farnsworth alongside Fiennes.
'Farnsworth House' is a love story between two iconoclasts, two equally interesting players. I'm thrilled to see what Ralph and I will create together with this exceptional script.
The Farnsworth House is currently in pre-production.
MuggleNet let you know last spring that both Warwick Davis (Griphook/Filius Flitwick) and Katie Leung (Cho Chang) had signed on to voice characters in the upcoming animated series Moominvalley. Now, we can give you a first look at the adorable new show in this trailer released Friday by Sky One!
Davis will bring to life the character of Sniff while Leung will voice Too-Ticky in the series based on the stories of Tove Jansson. Moominvalley premieres this Easter on Sky One in the UK and YLE in Finland.
The trailer for Sir Michael Gambon's (Albus Dumbledore) late-2018 film project The Death and Life of John F. Donovan - which we announced way back in 2015 - was also finally released Monday, and you can see it below.
The Daily Mirror reports the film hasn't found many fans among critics since its premiere at the Toronto International Film Festival, but it retains allure through its star power alone. In addition to Gambon in the role of the Narrator (Man in Restaurant), the movie features Kit Harington, Natalie Portman, Susan Sarandon, and Kathy Bates.
It's slated for a March 7 release in Italy and a March 13 premiere in France, but no US or UK release dates have been set.
Gambon will also play a role in the Martin Freeman–starring television series Breeders, which will debut on Sky One in the UK in 2020. According to IMDb, Breeders takes a humorous look at the paradox of parenthood. Neither Freeman's nor Gambon's characters have been named as yet.
The new movie featuring Robert Pattinson (Cedric Diggory) and Johnny Depp (Gellert Grindelwald, Fantastic Beasts), Waiting for the Barbarians, is currently in post-production, and the actors' characters have been revealed.
Depp will star as antagonist Colonel Joll, agent of the Empire's secret police - who, in the book at least, travels by black carriage! - and tormentor of the Magistrate, played by Sir Mark Rylance (Bridge of Spies). Pattinson, meanwhile, will portray Warrant Officer Mandel, Joll's sadistic henchman.
We can't wait to see this dastardly duo in action! Waiting for the Barbarians is slated to premiere in 2020.
Dame Emma Thompson (Sybill Trelawney) and Stephen Fry (narrator of the UK Harry Potter audiobooks) were announced in May as having joined the voice cast of the new Laika stop-motion-animated comedy Missing Link, and Lionsgate has now released the film's official UK trailer.
Thompson's and Fry's characters still have yet to be named, but the movie is scheduled for an April 12 release in the US.
Thompson also saw the rights to her new film with costar and writer Mindy Kaling snapped up by Amazon after premiering Friday at the Sundance Film Festival.
Late Night was purchased by Amazon for $13 million following an all-night, four-way bidding war. The amount is a Sundance record for a US-only deal. In an interview last week with USA Today, Thompson spoke about the diversity within the movie's cast and crew.
Here in my country, when I'm looking for new work, I'll see what's going on at festivals and what young people are writing, because at the moment, we have a generation gap. In the next 10 years, there's going to be some amazing new writers - women, people of color - which will be much more diverse, because I can feel those voices rising. There's a very exciting generation about to hit us with their new ideas.
You can read the full interview here.
Fry, meanwhile, a well-known lover of the works of Oscar Wilde - not to mention the man's doppelgänger - will soon lend his talents to yet another project centered around the author.
Variety reported last week that Fry - who held the titular role in the 1997 film Wilde, earning a Golden Globe nomination for Best Actor in a Motion Picture - Drama - is tabbed to contribute insight and commentary to the 80-minute documentary The Importance of Being Oscar, which will air this year on BBC Two. The show will also include a star cast enacting excerpts from some of Wilde's greatest works.
The documentary is currently in development with no air date as of yet.
Fantastic Beasts Cast & Crew
Fans eagerly anticipating the release of Jude Law's (Albus Dumbledore) newest film, The Rhythm Section, will have to wait a bit longer.
As we reported last year, production on the spy thriller - which also stars Blake Lively and Sterling K. Brown - was halted in December 2017 due to an injury to Lively. Production resumed in June 2018, but that delay has bumped the release date back from February 22 to November 22, the Hollywood Reporter said Friday.
That Thanksgiving premiere will segue into another big year for Law, who has both Fantastic Beasts 3 and Sherlock Holmes 3 on his docket. Provided a delay in filming from this summer to late fall doesn't alter its release date, the next installment of Fantastic Beasts is set to open in theaters on November 20, 2020, while Sherlock Holmes 3 is set for a December 25, 2020, release. Law's other new project, The Nest, began filming in September 2018.
Harry Potter and the Cursed Child Cast & Crew
Last week, we introduced you to Anthony Boyle's (Scorpius Malfoy) character in the upcoming J.R.R. Tolkien biopic Tolkien, and this week, we bring you the first glimpse of Boyle in his latest role!
Entertainment Weekly was among the sites to release still images from Tolkien Friday, one of which shows Nicholas Hoult (Tolkien) lounging on the grounds of King Edward's School in Birmingham, England, with his circle of friends - the Tea Club, Barrovian Society (T.C.B.S.). Boyle, in the role of Geoffrey Bache "G.B." Smith, can be seen on the far left.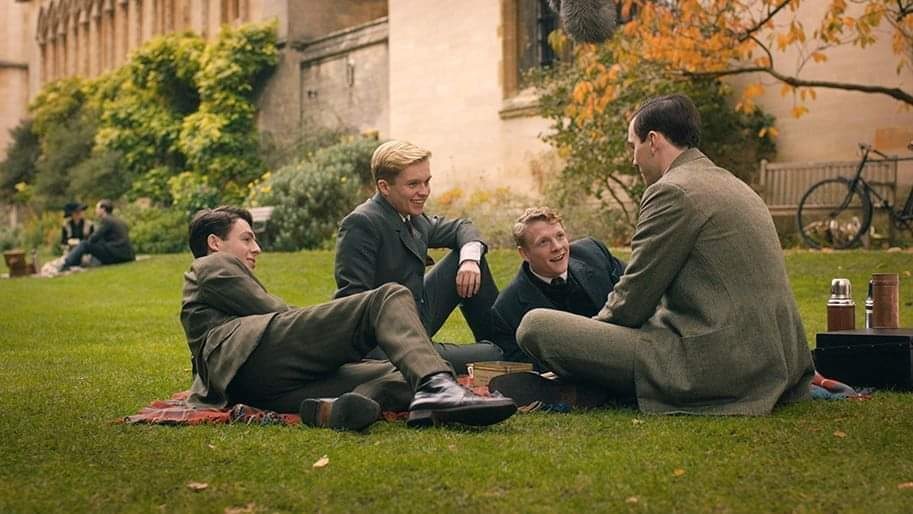 Tolkien will hit theaters May 10.
That does it for another edition of Castium Revelio, but be sure to check back next week for the latest updates on your favorite wizarding world actors and actresses as they create more magic for us to enjoy!