Events Roundup: Relive and Indulge in the Beautiful Music from the "Harry Potter" Films
Calling all Harry Potter music lovers – you're about to be presented with the opportunity to feast your ears on the beautiful music from the films. From Harry Potter and the Chamber of Secrets in concert taking place in London, Ontario, Canada, to a concert of Harry Potter music coming to Sheffield, England, fans are in for a treat.
Re-Experience Harry Potter and the Chamber of Secrets with a Live Orchestra
If you have always wanted to see Harry Potter and the Chamber of Secrets in concert and couldn't attend the previous ones we told you about in Oklahoma or Iowa, your time has finally come.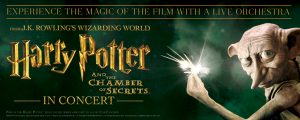 Taking place at Budweiser Gardens, London, Ontario, this event promises to be absolutely magical – the film is screened on a 40-foot screen in high definition and accompanied by a live symphony orchestra that plays every note just as you heard it in the film. For those hooked on music, you'll probably have a hard time deciding whether to look at the film or the orchestra playing. Perhaps you can do a little bit of both. Balance is key, after all.
This concert forms part of the Harry Potter Film Concert Series taking place all over the world. Starting with Harry Potter and the Philosopher's Stone, the series has now worked its way up to Harry Potter and the Half-Blood Prince, for which dates are currently being scheduled. The first screening in the US for Half-Blood Prince is taking place on August 2 in Denver. Harry Potter and the Deathly Hallows – Part 1 and Part 2 are set to follow after Half-Blood Prince.
The series is currently at different stages in different places. Fans in the US can look forward to three more screenings of Chamber of Secrets taking place this month in Boise, Des Moines, and Richmond. Potterheads living in or near Columbus will be able to catch a screening of Harry Potter and the Prisoner of Azkaban taking place at the Ohio Theatre, and those living in or near Knoxville will be able to attend the screening at the start of February at the Knoxville Civic Coliseum.
According to reviews of the concert series, it is definitely an experience worth having. Not only does the audience dress up in their best Harry Potter gear, but there are also themed snacks and merchandise for sale. Curious how the magic is created for these concerts? You can check out an interview with conductor Justin Freer here.
Are you ready to treat yourself to an unforgettable evening? Then make your way over to Budweiser Gardens, London, Ontario, on January 18. The event starts at 7:30 p.m. You can grab your tickets here. Keep your eyes peeled for more concerts near you on the Concert Series' official website.
Laugh and Cry to the Beautiful Music from the Potter Films
If you're in Sheffield, England, count your Galleons, because the famous Hallé Orchestra will be playing at Sheffield City Hall on June 16. The concert will include music from the Potter films by Alexandre Desplat, Nicholas Hooper, Patrick Doyle, and John Williams.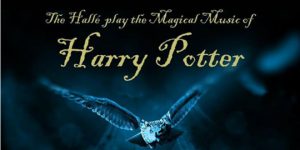 It promises to be a night when magic fills the air in the form of beautiful music, featuring some of the most well-known and loved melodies from all the movies. Look forward to a feeling of flying through the air with "Hedwig's Theme," imagine yourself flying on your broom with "Quidditch," remember the most beloved house-elf with "Dobby the House Elf," and muffle a laugh at the sound of "Aunt Marge's Waltz." There will also be moments when you'll probably need to grab your tissues, when pieces like "The Death of Cedric" and "Lily's Theme" start playing, whereas "The Weasley Stomp" promises to make you feel right at home.
You can book your tickets by calling the ticket hotline at 0114 2 789 789 or get your tickets in person at the Sheffield City Hall Box Office. You can also grab tickets online. The event starts at 3:00 p.m. on Sunday, June 16.