"Key, Please": Warner Bros. Studio Tour Unlocks the Secret of Its New Addition!
For a week now, the wizarding world has been abuzz as Warner Bros. Studio Tour London – The Making of Harry Potter scattered a trail of bread crumbs leading to the announcement of its first expansion since March 2017. Finally, this morning, the Revelio Charm was cast!
The Studio Tour has announced the addition of Gringotts Wizarding Bank to its permanent exhibit at Warner Bros. Studios, Leavesden, and judging from the sneak peek in the video posted today, you'll want to start saving up those Galleons for a spring getaway! Gringotts is scheduled to open to the public April 6, and you can purchase tickets here.
Excited fans had been keeping a watchful eye on the Tour's Facebook page since January 22, when its "biggest secret yet" was teased. Riddles began appearing the next day, with the promise that, when the four, one-word answers were pieced together, a significant hint would be revealed. It was confirmed Monday morning that "key," "enter," "April," and "please" were the correct clues, and Potterheads immediately put their mystery-solving skills to work.
Many guessed that when the order of the clues was rearranged, the message "Key, please. Enter April" was formed, referencing the request made to those arriving at their private vaults at Gringotts by their goblin escorts, as well as the month the exhibit would potentially open to the public.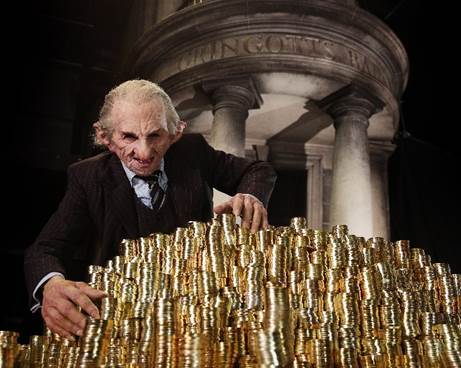 If you reached that same conclusion, congratulations on a riddle-solving display that would make any Ravenclaw proud, and let us know in the comments what you think of the new addition!