UPDATED: New Figure Line from McFarlane Toys Features "Harry Potter" and the Wizarding World
McFarlane Toys recently announced a brand-new Harry Potter and wizarding world figure line. It is working with Warner Bros. Consumer Products to produce this magical new collection.
The figures will be of characters and creatures from both the Harry Potter and Fantastic Beasts franchises. The first line will include figures of Harry Potter, Ron Weasley, Hermione Granger, Lord Voldemort, and Buckbeak. Each figure will be 6–12 inches tall and no more than $25 each.
Company head Todd McFarlane talked about his excitement for the new line.
The [w]izarding [w]orld captures the emotions of its fans unlike any other. Taking the iconic imagery from the [w]izarding [w]orld and creating figures for everyone to take home is quite an honor for me.
McFarlane's goal is to create lines that make sense. Collections of characters from one movie will be released together, and then characters from a later movie will be released together. The toy line wants the characters in each wave to fit well together.
You don't want the young Harry and the older Ron and stuff. It's on the shelf. So we're going to try, and as much as possible give some continuity, at least for a couple of figures.
Prototypes for the figures of Harry Potter, Ron Weasley, Hermione Granger, Lord Voldemort, and Buckbeak will be debuted at the 2019 Toy Fair in New York this February.
Which figure are you most excited to get your hands on? Let us know in the comments!
—
UPDATE (April 15):
We've learned a little bit more about these incredible figurines from McFarlane Toys. Check out the teaser image below.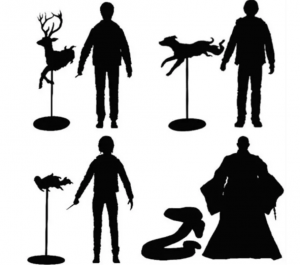 We can assume from this image that each character will come with an animal sidekick: a Patronus for our heroes Harry, Ron, and Hermione, and Nagini for our villain. McFarlane has also revealed that each figure will be seven inches tall and have 22 points of articulation.
The collection is set to ship in July 2019 and you can preorder the set of four here for $79.99.