Castium Revelio: Gone in a Flash?
by Brienne Green · Published · Updated
We were intrigued when Ezra Miller announced last month he would be helping pen a new script for the planned superhero flick The Flash, but rumor now has it the rewrite didn't jive with the directors' vision and Miller could walk away from the starring role. We'll break down the drama for you, along with an exciting new piece of the Downton Abbey movie plot puzzle, and lots, lots more in this week's Casting News! You are cordially invited to proceed. Castium Revelio!
Harry Potter Cast & Crew
So many worlds have collided on Graham Norton's couch over the years that it's a wonder the chat show hasn't caused a rip in the space-time continuum. Digital Spy reports the sofa will serve as a bridge between two wizarding world alumni projects Friday, April 19, when The Graham Norton Show welcomes Daniel Radcliffe (Harry Potter) and Jodie Comer, who plays Villanelle on Fiona Shaw's (Petunia Dursley) hit show Killing Eve.
It's a fair bet a Harry Potter query or two will be lobbed Radcliffe's way, but he'll primarily be promoting his upcoming animated film, Playmobil: The Movie, which is scheduled to hit theaters November 22, and in which Radcliffe voices Rex Dasher, pictured below. Joining Radcliffe and Comer will be Anne Hathaway and Rebel Wilson, who portray con artists in their new comedy, The Hustle.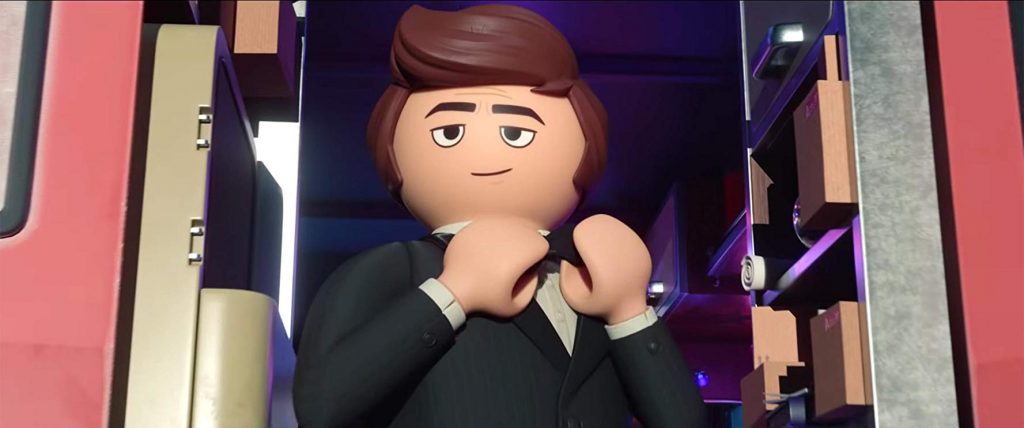 Consider this a friendly reminder that we have only a little over five months to decide what we're going to wear and who will accompany us to the September 20 premiere (September 13 in the United Kingdom) of the Downton Abbey movie.
The already-high excitement surrounding the film - which features Dame Maggie Smith (Minerva McGonagall) and Imelda Staunton (Dolores Umbridge) as Violet Crawley, Dowager Countess of Grantham, and Lady Bagshaw, respectively - was taken to a new level Wednesday when a new trailer debuted at CinemaCon in Las Vegas. In it, it's revealed the household will be welcoming a pair of special visitors in the movie: King George V and Queen Mary. IndieWire describes the trailer - which has yet to be released to the public - thus:
Picking up in 1927, the film's trailer hints early on that the world is evolving, and so is the Crawley family. The trailer even kicks off with Lord Grantham (Hugh Bonneville) joking to some visitors that they've got 'no maid, no nanny, no valet. It's 1927 and we are modern folk.' But when news comes that the king and queen are set to visit the estate, including two royal meals and a parade through the nearby town, everyone is suddenly thrust back into the old ways.
The extensive preparations required for the royal visit prompt the return of beloved butler Carson (Jim Carter) and, of course, plenty of sass from the Dowager Countess, who asks, "Do you have enough cliches to get through the visit?" A set of glamorous new movie posters, which show just enough of Andy (Michael Fox), Edith (Laura Carmichael), Thomas Barrow (Robert James-Collier), and Mary (Michelle Dockery) to be identifiable, has also been released, and you can view this in the gallery below.
David Tennant (Barty Crouch Jr.) and Jason Isaacs (Lucius Malfoy) have contributed their dulcet tones to Audible's new collection of some of H.G. Wells' most popular works.
The Radio Times reports Tennant will be reading The War of the Worlds and Isaacs The Island of Doctor Moreau as part of the new audiobook releases, which will be available April 11 on Audible. Check out the gallery below for photos of the actors in the studio.
Tennant's reading should perfectly complement the BBC's upcoming television adaptation of The War of the Worlds, which features Harry Melling (Dudley Dursley) as an artilleryman and stars Timothy Spall's (Peter Pettigrew) son, Rafe Spall. No release date has been announced for that project, but it's expected to air this year.
Isaacs, meanwhile, also recently dropped a few meta bombs on IndieWire about the Season 2 finale of The OA and what it could mean for Season 3 - "if," Isaacs says, "we're lucky enough to make one." When it comes to Netflix versus traditional television, expectations about the acceptable spoiler time frame sort of go out the window, and with that considered, Isaacs issued a plea that the article containing his interview make abundantly clear spoilers were included so as not to "ruin it for the viewer."
We'll do him one better and put the detonator in your hands: If you've seen the finale (or if you just hate surprises), some extra insight into the mind-blowing direction The OA is taking has been revealed.
In other Tennant news, just two months remain until the premiere of his much-anticipated new show, Good Omens, and another new poster for the series was released this week. In it, Tennant as demon Crowley and Michael Sheen as angel Aziraphale can be seen weathering a pesky plague or two as they work together to prevent Armageddon. Oh, go ahead and take our souls already, David. Good Omens will hit screens May 31 on BBC Two in the UK and Amazon Prime Video in the US.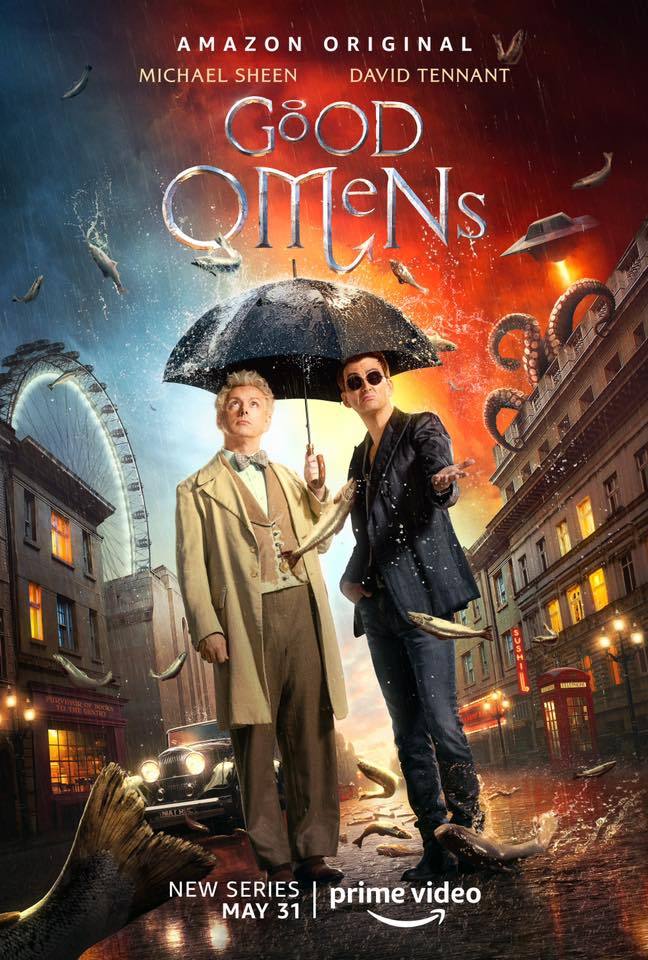 Which character would top your most-beloved list when it comes to the Star Wars saga? Luke? Leia? Yoda? According to Domhnall Gleeson (Bill Weasley), the correct answer is "none of the above." In a hilarious MTV After Hours skit, Gleeson alleges his character from The Force Awakens and The Last Jedi, General Armitage Hux, is the clear fan favorite and would make an excellent spin-off candidate. And if you're still on the fence about that, he's about to knock you off.
In the sketch, Gleeson reels off a laundry list of possible standalone films, ranging from "It Sucks to be Hux," "D2: The Mighty Hux," and - wait for it - "General Hux and the Sorcerer's Stone." Of the 13 pitches, we'd watch approximately every single one of them. We're sure you'll agree.
Gleeson has also told RTÉ Entertainment that he and brother Brian Gleeson - along with friend Michael Moloney - have been working on writing a six-part comedy series they hope will be picked up by Channel 4. Should that come to pass, they'd both star in it as well, and Gleeson also told RTÉ he'd enjoy directing comedy projects in the future.
I'd like to keep doing funny stuff. I think if I was going to do something, it would have to be funny. The drama thing I adore, but trying to work on something that's funny keeps you alive.
As MuggleNet informed you last fall, Alfred Enoch (Dean Thomas) will be starring in Season 2 of BBC One's medical conspiracy thriller Trust Me, and an official trailer for the upcoming series was released late last week.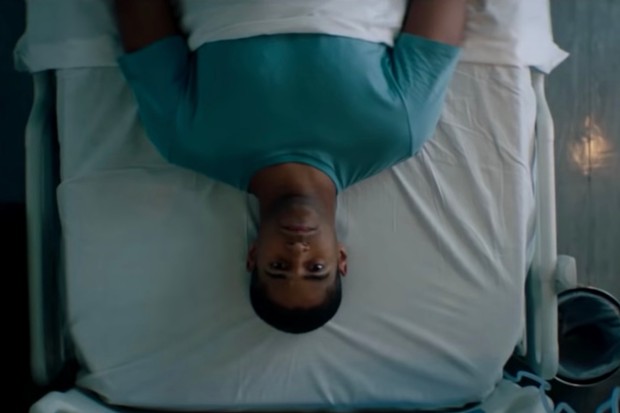 Enoch plays Corporal Jamie McCain, an injured and temporarily paralyzed soldier recovering in a Glasgow hospital, who decides to investigate when his fellow patients begin dying. Trust Me will premiere April 16 on BBC One, and you can view the trailer below.
During actual last Christmas, we gave you the latest on Dame Emma Thompson's (Sybill Trelawney) holiday film, Last Christmas. Regardless of the fact spring has recently sprung, however, writer Thompson, director Paul Feig, and actor Henry Golding (Crazy Rich Asians), who'll star as Tom alongside Emilia Clarke (Game of Thrones) as Kate in the romantic comedy, filled Las Vegas with holiday cheer Wednesday at CinemaCon as they revealed the film's first trailer. The two-minute teaser has not been released to the public.
Embed from Getty Images
The movie is slated for a November 15 release and is based on the Wham! song of the same name. Although Thompson initially balked at the idea of writing it, she says she's now proud of her lengthy labor of love.
I was asked if I would like to write a story based on the song 'Last Christmas,' and I said no, not really, because I didn't really like the song. Then I thought of the lyrics - 'Last Christmas, I gave you my heart' - and I thought I could think of something, and we spent seven years writing this story.
Thompson's husband, Greg Wise, meanwhile, has been competing on The Great Celebrity Bake Off for Stand Up to Cancer, and the results are in!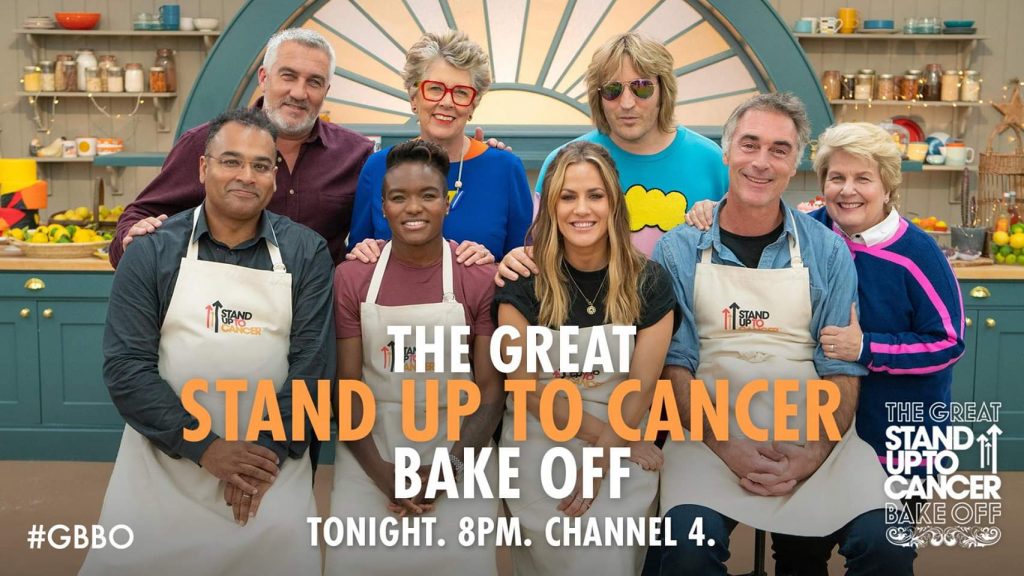 Wise is the winner! The actor known for his role on The Crown took top honors and a Hollywood Handshake Tuesday, earning praise from the judges for his wild berry nut cake and swan lake before sealing the deal with his showstopper: a self-portrait of himself emerging from a tree, made entirely of biscuits.
As Killing Eve's popularity continues to soar in advance of its Season 2 premiere, the series picked up several British Academy of Film and Television Arts (BAFTA) TV Award nominations Sunday, including a Supporting Actress nod for Fiona Shaw (Petunia Dursley).
Both Sandra Oh and Jodie Comer are up for Leading Actress, Kim Bodnia received a Supporting Actor nomination, and Killing Eve will also be in the running for Drama Series. Two other wizarding world alumni additionally made the BAFTA TV list: Peter Mullan (Corban Yaxley) for Male Performance in a Comedy Programme (Mum) and Jessica Hynes (voice of Mafalda Hopkirk) for Female Performance in a Comedy Programme (There She Goes).
Shaw spoke recently with Den of Geek about the phenomenon Killing Eve has become, saying that while her personal experience with the response to the Harry Potter films was relatively "self-contained" due the short windows of movie releases, she's been surprised by Eve fans' enthusiasm.
I happened to be in New York when ['Killing Eve'] opened in the US. The posters were up, and there was a huge excitement about it. But when I went back to England and I was working in opera, somehow that wave didn't crash until October last year. And boy, then did it. I couldn't walk down the street without bicycles stopping and people calling. It seemed to hit all at once.
You can read the full interview here. Killing Eve premieres April 7 on BBC America and AMC, and you can view the final preseason trailer, released late last week, below.
The actress was also spotted this week in Dorset, England, taking a break from filming her upcoming picture Ammonite. The Daily Mail says most details about the 2020 release are still being kept under wraps, but Shaw can be seen walking along and checking her phone while still in 1840s-era dress.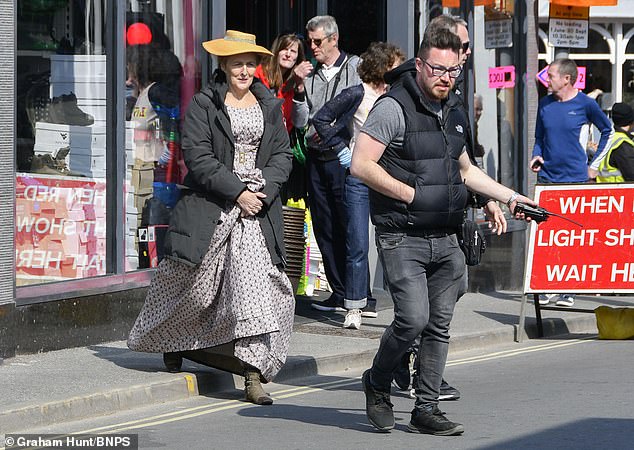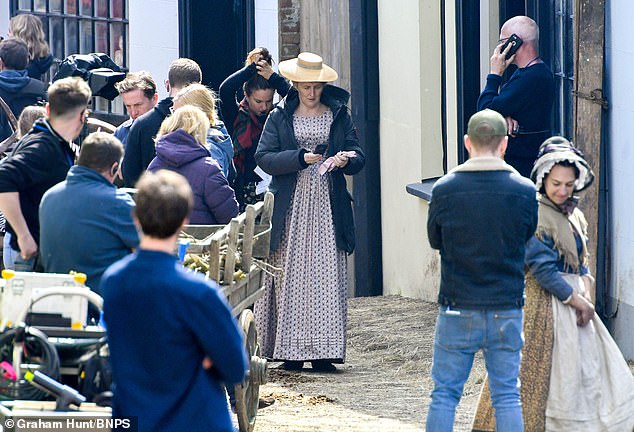 Meanwhile, another Harry Potter alumnus is set to join Shaw in at least one episode of Season 2. Den of Geeks says Henry Lloyd-Hughes (Roger Davies) has joined the cast list. His character has not yet been divulged, but we'll let you know as soon as it has!
We gave you a first look in February at Ricky Gervais's new Netflix dark comedy, After Life, which stars the comedian as Tony and David Bradley (Argus Filch) as his father. The series debuted March 8 and has quickly taken off, prompting Netflix to give a second season the green light, according to Vital Thrills. Season 2 will consist of six episodes and will launch in 2020. Gervais addressed the show's reception with his usual snark.
I have never had a reaction like this before. It's been insane. And heartwarming. But now I have to make sure the second season is even better, so I'll probably have to work much harder than usual. Annoying really.
Jim Broadbent (Horace Slughorn) will put his sleuthing skills to the test for a good cause this summer. What's On Stage reports Broadbent will be among several celebrities to step into the role of the inspector in the Sir Ian McKellen– and Dame Judi Dench–narrated play Whodunnit [Unrehearsed] at the Park Theatre in London.
The production runs from July 15 to 27 at the Park and from July 31 to August 27 at the Edinburgh Festival Fringe, and each night, a new performer will portray the inspector. The actor or actress will have lines fed to him or her via earpiece and must solve the crime in real time. Audiences will be unaware of which celebrity they'll see in the role until the curtain rises. You can roll the dice and purchase your tickets here.
Criminals beware: Father Brown will soon be back to bring you to justice - and give you a stern lecture on morality while he's at it.
The Radio Times says Mark Williams' (Arthur Weasley) hit series Father Brown will return for a seventh season, one that will be filled with favorite characters and, according to BBC Studios Head of Daytime Drama Will Trotter, a "familiar face" when a killer is spotted in the Cotswolds.
In this series, we see anarchists, ramblers, and Morris Dancers, all throwing up new adventures for Father Brown, but as ever, he's more concerned with saving souls than in just bringing the guilty to justice.
Father Brown Season 7 is scheduled to premiere January 7, 2020, on BBC One. Air dates for PBS in the US and BBC First and ABC in Australia have yet to be confirmed.
Katie Leung (Cho Chang) will soon be treading the boards at the Royal Court Theatre in London. What's On Stage says Leung has been cast as Sunny in White Pearl, a play that follows a Singaporean cosmetics company caught in a public relations nightmare.
White Pearl will run from May 10 to June 15 in the Royal Court's Jerwood Theatre Downstairs, and you can purchase tickets here.
We knew from that subtle celebration during Fred and George Weasley's disruption of the O.W.L.s in Order of the Phoenix that Warwick Davis's (Griphook/Filius Flitwick) Professor Flitwick wasn't opposed to a little mischief. The actor recently managed some of his own, Heart Radio says, with a little help from a film prop.
Davis kept the dentures he wore in both of his Harry Potter film roles as souvenirs and admitted to putting one set to good use during a trip to the dentist.
I actually wore Professor Flitwick's teeth to the dentist for a check-up once. He has the most perfect set of teeth. The dentist started looking around, thinking something is odd here. When I left, I threw them down on the counter and said, 'What has he he done to me?!' and the receptionist looked horrified! We then had a joke about it.
BBC One's hit series Call the Midwife has returned for its eighth season, and the Radio Times has the lowdown on who's returning, who's new, and who's departed.
We brought you the news late last year that Victoria Yeates (Bunty, Fantastic Beasts) was hanging up Sister Winifred's wimple in order to devote her time to the Fantastic Beasts series, and while Yeates did appear in Episode 1 of the new season March 31, she's not listed in any future episodes. Call the Midwife has added another wizarding world alumnus, however, in Miriam Margolyes (Pomona Sprout). Margolyes made her debut as Sister Mildred in the 2018 Christmas special and is now listed in a recurring role as Mother Mildred.
Margolyes also spoke to Metro recently about the impending staging of Where is Peter Rabbit? in London, to which the actress lent a character voice. Margolyes brings Mrs. Tiggy-Winkle to life in the play, which mixes live actors and puppetry, and says she was happy to step into Beatrix Potter's world.
When I was little, I loved those Beatrix Potter books, and I think they're a force for good with all that's going around. The characters leap into your heart. It's a window back into childhood.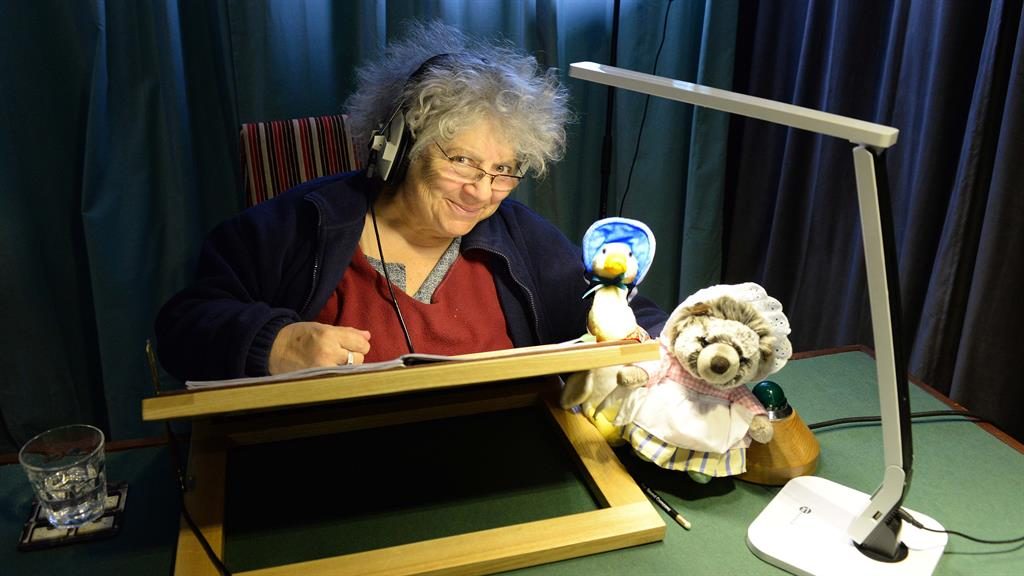 You can read her full interview, which touches on several other topics, here. The play is scheduled to run April 5–28 at the Theatre Royal Haymarket. Margolyes has four other projects in postproduction. She'll play Audrey in Wings, a film set to release this year about two Women's Land Army girls who fall in love but must deal with a return to "normality" once the war ends. In H is for Happiness, the story of a 12-year-old girl inspired by a strange new boy at school to attempt to mend her broken family, Margolyes will portray Miss Bramford, and she'll appear in the titular role in Ethel, a short drama about an elderly woman living with Alzheimer's and the small-time drug dealer who believes her to be an easy target. The actress will also feature in a new Miss Fisher's Murder Mysteries episode: Miss Fisher and the Crypt of Tears.
We've been keeping you in the loop regarding Kelly Macdonald's (the Grey Lady) upcoming BBC One four-part series The Victim. The actress spoke with the Sunday Post this week, calling her role as Anna - a mother who outs the man she believes murdered her son - the "darkest role I've had by a long way."
Macdonald says she's accustomed to being cast as kinder, gentler characters, musing that she thinks "there's something in the Scottish accent that is trustworthy." Something about the flawed Anna appealed to her, however, though she says she may need to find a comedic role next in order to cleanse herself. You can read her full interview with the Post here. The Victim is set to premiere Monday, April 8 on BBC One.
For me, it's the character that has to appeal - and Anna appealed because she was almost unappealing. She seemed very human, and it's a very tragic story. There's a lot of drama there, and she doesn't behave impeccably. She's not a goody two-shoes, which I sometimes do get cast as. So that felt like something I wanted to do.
Helen McCrory (Narcissa Malfoy) and Ciarán Hinds (Aberforth Dumbledore) are continuing to star in Richard Gere's BBC Two television series, MotherFatherSon. McCrory plays Kathryn Finch, ex-wife of Gere's character, Max Finch, a member of English aristocracy who begins volunteering at a homeless shelter following her divorce. Hinds appears as Walter Finch, Max's father, who's seen in flashbacks. You can view a few stills from the show below and catch new episodes on BBC Two.
We let you know a few weeks ago to be looking out for Ralph Ineson (Amycus Carrow) and Adrian Rawlins (James Potter) in HBO's upcoming five-part miniseries Chernobyl, and the eerie full trailer has now been released.
Ineson will portray General Tarakanov, and Rawlins will play Fomin in the series, which premieres May 6. Check out the trailer, but prepare to feel incredibly unnerved for quite a while afterward.
Ineson is also in the process of filming his next movie project, Green Knight, which is set for a 2020 release. Tipperary Live reports the fantasy/drama/romance has been on location at Cahir Castle in Tipperary, Ireland. Green Knight will retell the epic story of Sir Gawain and his quest to confront the titular character and will reportedly star Dev Patel (Slumdog Millionaire) as Gawain. Ineson's role has yet to be specified.
The beloved characters of The Wind in the Willows have returned, but this time with a serious warning to deliver to the people of the UK. The Sun says Stephen Fry (narrator of the UK Harry Potter audiobooks) is among the stars lending his voice to a "trailer" released last week by the Wildlife Trusts. The short video highlights environmental threats by showing how the lives of Toad, Ratty, Mole, and Badger would have been adversely affected by damaging practices and calls on politicians to do more to protect critical habitats.
Fry says he's extremely passionate about this particular cause, and you can view the trailer below.
I adore what's left of Britain's wild and precious places, and I'm a passionate supporter of my local Wildlife Trust, which is restoring a huge part of the fens for nature. We all need to get behind the Wildlife Trusts, rise up, and call for a wilder future - otherwise, it'll be too late to save Toad, Ratty, and all the residents of the riverbank and beyond.
Disney is continuing to churn out live-action remakes of its beloved animated classics, and The Little Mermaid will be next in line. HN Entertainment says Tim Burke (Harry Potter and Fantastic Beasts visual effects supervisor) has been confirmed to lend his talents to the movie, for which prep work is currently taking place in London, where it may also be filmed.
It's as yet unclear when filming could begin, but HN also says casting is rumored to be underway, with Disney looking at singers such as Zendaya and Lady Gaga for starring roles.
Fantastic Beasts Cast & Crew
Our favorite fashionista, Ezra Miller (Credence Barebone), can be spotted amid the glitz, glamor, and nonconformity of a new promotional video for the Palms Casino Resort in Las Vegas.
In the video, titled "Palms: Unstatus Quo," Miller is seen being fitted for another flawless ensemble by Harlem-based fashion designer Dapper Dan: a purple Gucci X Dapper Dan duffle-style jacket. And according to the Hollywood Reporter, that jacket could be yours. The Palms has embedded pop-up cards for various featured items into the video. Spot one in the upper right corner, click it, and enter for a chance to win that item. You'll need to hurry, however; the giveaway ends Friday.
In less-pleasant Miller news, We Got This Covered is speculating the actor could be out as the star of The Flash.
We reported last month that Miller, displeased with the path toward frivolity directors Jonathan Goldstein and John Francis Daley wanted the film to follow, had stated he would be teaming up with famed comic book writer Grant Morrison to pen a different script. We Got This Covered now says a source has indicated creative differences are arising over Miller's and Morrison's script - described as "a grand, dark, multiversal epic in the vein of 'Flashpoint'" - and, as such, the role of the Flash could soon be recast.
This is all rumor at this point, but we'll keep you apprised!
Harry Potter and the Cursed Child Cast & Crew
Several members of the cast and crew of Tolkien were on hand last week at WonderCon in Anaheim, California, and Social News XYZ was able to grab a few sound bites, including with Anthony Boyle (Scorpius Malfoy), who portrays G.B. Smith, one of J.R.R. Tolkien's closest friends.
Tolkien ensured a book of poetry written by Smith was published after his death in World War I, and Boyle says that's just one example of the type of person the author was.
I think that sort of dedication and love really comes out in Tolkien's writing.
You can view the full video below.
We've got a lot to process this week! What do you think of The Flash shakeup? Are you as excited as we are to revisit Downton Abbey? Will you be snapping up David Tennant's and Jason Isaacs' audiobooks? Let us know in the comments, and as always, drop us a line if there are any wizarding world alumni you'd like us to keep tabs on.