Aldi Is Releasing Its Very Own "Harry Potter" Range
Who doesn't love new Harry Potter merchandise? Nothing brightens up your day like a brand-new addition to your existing collection of all things Potter, especially if you can get it at a good price. This year has seen various outlets releasing amazing Potter merchandise – from Vans teasing Harry Potter shoes to Merchoid selling Sorting Hat coasters. Now you can start counting your Galleons again, because Aldi is releasing its own range of Harry Potter merchandise on May 19 at its United Kingdom locations, and you're going to want it.
You can start off with the bare necessities – stationery. We're all for working hard and taking notes, but it's so much nicer when you have a cool Harry Potter notebook with a matching pen to write down your list of to-dos. Aldi will have a range of Harry Potter notebooks and pencil cases sporting the Hogwarts crest. These will all sell for €2.99 (roughly $3.50).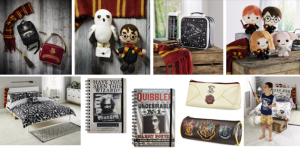 If you're still at school, you can strut your stuff on campus with awesome Harry Potter bags. You can opt for the traditional backpack or a casual over-the-shoulder bag. It's really hard to choose between the two – both look absolutely stunning. You'll probably have to flip a coin to make a decision.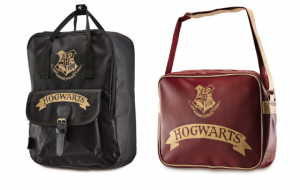 There will also be colorful duvet sets in three different designs. Good luck deciding on a style, because all of them look absolutely magical and the prices aren't too crazy. A single set (including a pillowcase) will cost you €14.99 (roughly $17.00), while the double version will sell for €16.99 (roughly $19.00). Once you've decided on a duvet, you can start to add some more accessories to your new and improved bedroom – like the light painting wand, which is based on the original film props. Again, good luck choosing your wand, because you have a choice between the Elder Wand, Harry's wand, or Hermione's wand. The wands also have an ultra-bright LED tip, which makes them even more lifelike. These will sell for only €14.99 (roughly $17.00).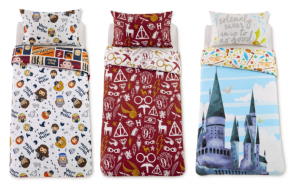 There will also be something for young witches and wizards. Get ready to splurge on character story pajamas, lunch bags, drink assortments, and buckle bags. Prices for these items range from €4.99 (roughly $5.50) to €12.99 (roughly $14.50).
All these items and more will be available at Aldi stores across the United Kingdom.  In the meantime, we recommend you start saving up and make sure you get there first because, as we all know, Harry Potter merchandise tends to literally fly off shelves.
Are you going to jump on your broomstick and head to your nearest UK Aldi store on May 19? What will you be buying? Tell us in the comments.