Invisibility Cloak for Sale (Yes, Really)
Once upon a time, there was a boy who received a cloak of invisibility for his first Christmas at a magical school. It certainly sounds like fantasy, and it definitely was in 1997 when the first Harry Potter book was published, but now Wow! Stuff is giving us a chance to possess our very own invisibility cloak!
MuggleNet went along to the product launch at King's Cross station to try out being transparent for ourselves. (See below for details on how you could be part of the launch too.)
Now, sadly, we're still not at the point where you can be made invisible to the naked eye (well, not just yet, anyway). What Wow! Stuff has done is take advantage of advances in AR technology (that's augmented reality, for those not keeping up with the latest tech releases) to bring invisibility to anyone with a smartphone.
The end product is a green screen-lined cloak, like the one used to turn Daniel Radcliffe invisible in Harry Potter and the Sorcerer's Stone. The designers even examined the original costume at Leavesden Studios to ensure their product was as accurate as possible.
Unlike Radcliffe, you won't need a team of visual effects specialists working months of postproduction to make you disappear. The cloak is paired with the Wow! Stuff app (Google, Apple), which is free to download and can be used after entering a product authentication code. Viewing the cloak through the app on a smartphone or tablet will make the wearer vanish instantaneously – it really does seem like magic!
The app is compatible with devices using iOS 11 and above for iPhone and iPad, and Android 5.0 and above for Android devices. Not only will you be able to disappear before your friend's eyes as they watch through the app, but you can also use it to photograph or film yourself and save the results to your camera. Nighttime Restricted Section visit reenactments await!
The invisibility cloak is on sale now from Smyths Toys and the Harry Potter Shop at Platform 9 3/4 – right by the product launch. It will be available in Australia, Canada, France, Germany, Italy, Spain, the United Kingdom, and the United States. The invisibility cloak will be on sale in the countries outside the UK on August 1, with presale being available in the US starting July 1.
It comes in standard and deluxe versions, the deluxe being a better-quality cloak design. The former retails at £59.99, while the latter costs £69.99. Both versions come with a stand/tripod for a smart device to make vanishing a bit easier.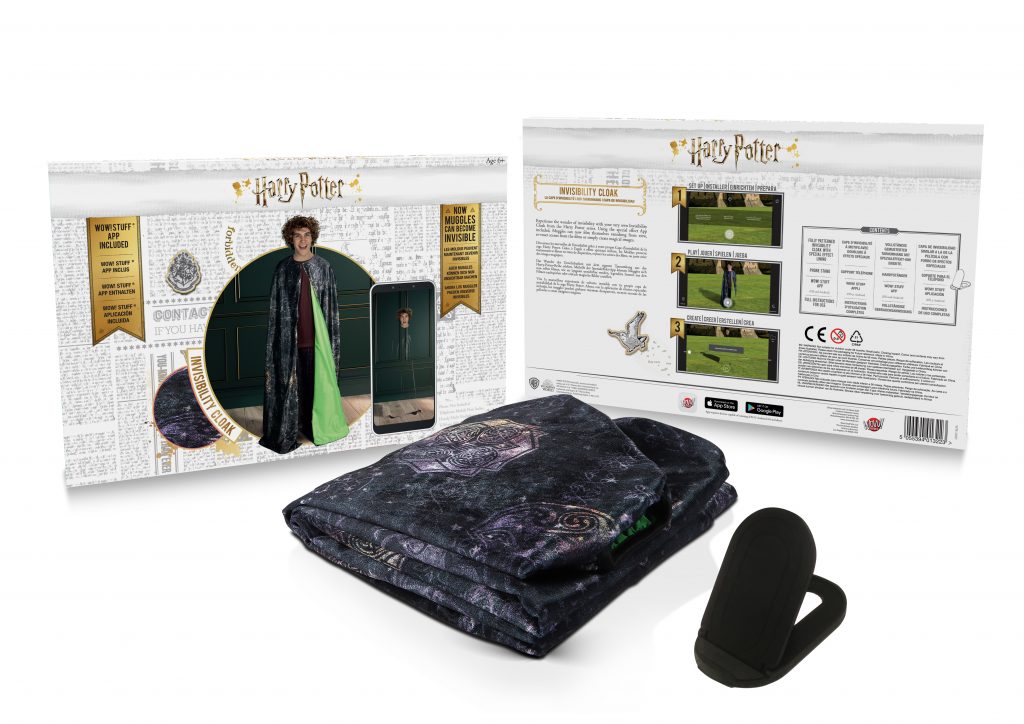 MuggleNet also hears tell of a future gift set that combines the cloak with Wow! Stuff's light painting Elder Wand and a replica Gaunt family ring (if anyone wants to become master of death for Christmas), but that's yet to be released.
Wow! Stuff's invisibility cloak is a fantasy become reality and a lot of fun. I can see it inspiring a new generation of visual effects artists. But don't just take our word for it – the invisibility cloak has already been awarded Innovative Toy of the Year at Sweden's Toy Awards!
Wow! Stuff is offering the chance to try on the invisibility cloak to any witch, wizard, or Muggle who visits the company's booth in King's Cross, London at the following times:
June 20, 9:00 a.m. to 8:00 p.m.
June 21, 9:00 a.m. to 5:00 p.m.