Review and Giveaway: Win Weasley Sweaters from Lochaven International!
Who hasn't, at one point in their lives, yearned to own an iconic knitted sweater from Molly Weasley herself? Now you can get the next best thing from Lochaven International! Lochaven offers quality Potter-inspired sweaters fit for any Weasley. We've partnered with them for an awesome giveaway so you can get your hands on one of your very own. Read on for a review of the "R" for Ron Knitted Sweater from MuggleNet's Creative Director Kat Miller, and then enter to win a sweater for yourself!
As an annual pass holder to Universal Orlando Resort, I have had the pleasure of walking through many of the theme park's stores and coyly eyeing the Weasley sweaters. Lochaven International makes them as well, and because I am a Ron fangirl, I have always – always – wanted one. The Florida heat was the only thing that ever stood in my way. I had tried them on a few times and couldn't bring myself to buy a wool sweater in the middle of July or August. I am so glad I waited!
The sweaters sold at Universal are more of a straight, boxy cut than the sweaters purchased directly from Lochaven in Scotland. These sweaters are more fitted and have a closer-knit body, cuffs, and collar – so fitted, in fact, that when the sweater first arrived at my house and I tried it on, I couldn't get my head through the collar without a bit of effort (it must be all my Ravenclaw brains…)! I emailed Lochaven about it, wanting to be sure that I didn't need to get a size up, and I was told that "the nature of the material allows for some stretch once washed; therefore, over time this should not be a problem as the garment loosens." Okay, cool. I pushed my brainy head through the collar, and once the sweater was on, I was in love.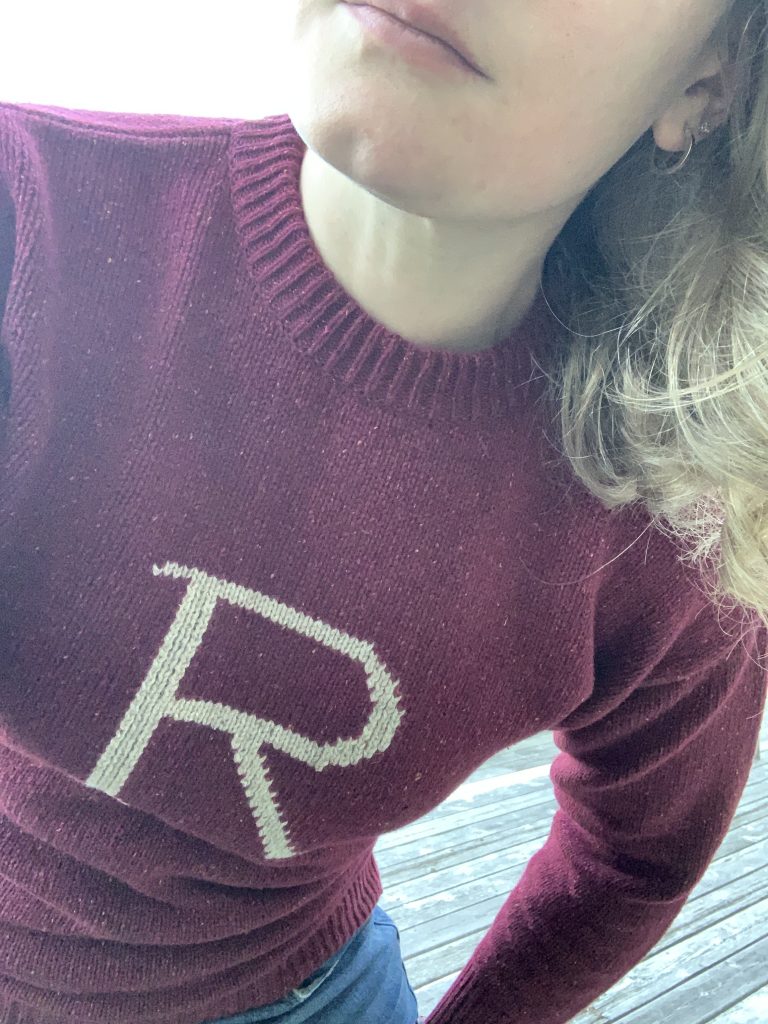 As I mentioned, it fits closer to the body than the Universal sweaters, but I personally like that. The sleeves are the perfect length for me (I am 5′ 8″, by the way), especially because I tend to push my sleeves up anyway. The collar is small and, for me, slightly uncomfortable, but it doesn't deter me from wearing the sweater. I trust that it will expand a bit over time with wash and wear. The material is also a blend of genuine Scottish wool, silk, and polyamide, which according to Google is a naturally occurring protein in silk and wool. I have sensitive skin, and the sweater doesn't make me itch as most wool jumpers do. Overall, I really love the sweater, and I can't wait to wear it far more often once the dead of winter comes to New England.
Now for the moment you've been waiting for – finding out how you can bring home a sweater from Lochaven International! We're offering 3 of their sweaters to 3 very lucky readers during our contest, which is open worldwide starting July 15 and ending on July 31 at 11:59 p.m. ET. Enter through the Rafflecopter below for your chance to win 1 of 3 sweaters: Official Warner Bros. Harry Potter Slytherin Retro Tanktop, "H" for Harry Knitted Sweater, and "R" for Ron Knitted Sweater!
Winners will be contacted via email after the contest ends and will be given 24 hours to respond and claim their prize. If no response is received within that time frame, another winner will be chosen, so make sure you are checking your spam and junk folders in case our notification email goes astray!
The Ron Weasley knitted sweater was provided by Lochaven International. All opinions belong to the reviewer.