Events Roundup: Magical Pop-Up Schools, Bar Crawls, and Mazes
Summer's almost over, but that's no reason to assume that all the magical fun is over. In fact, it's just beginning. Ready yourself for some awesome events coming your way this fall.
Meet the Weasleys
Live in Pennsylvania? Keystone Comic Con is coming your way. Potter fans can ready themselves to meet the Weasleys – it's not all of them, but it's better than nothing. Bonnie Wright (Ginny Weasley) and James and Oliver Phelps (Fred and George Weasley) will be attending the event. You'd better gather everything you'd like them to autograph and dress in your best wizard's robes for the photo ops.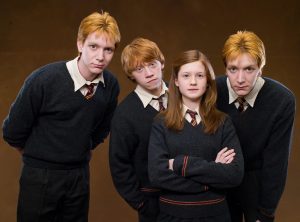 Keystone Comic Con will take place from August 23 to 25. There are still some last-minute tickets available. You can grab them here.
Make Time for That Harry Potter Marathon
If you're like us and feel like any time is a good time for a Harry Potter marathon, you're in luck. If you live in Raleigh, North Carolina, you can start to gear up for the Harry Potter marathon of a lifetime at Marbles Kids Museum's IMAX theater. The theater will bring you all eight movies from September 5 to 8 and then again from September 12 to 15. Tickets are $8 and on sale now.
Treat Yourself to Magical Drinks
Canadian Potterheads can get ready for a Harry Potter–themed bar crawl taking place in Saskatoon on September 21 and 22. The crawl will start at 7:00 p.m., and participants will make their way to various bars around the city, drinking some magical, Harry Potter–inspired drinks. We can't think of a better way to start the fall – can you?
Tickets are $30 each and include a cover fee for all the bars. As a bonus, you'll also get a Harry Potter T-shirt to wear on your bar-crawling adventures. What's even better is that these shirts are available for all four Hogwarts Houses, so you'll be able to easily spot your fellow housemates during the activities and perhaps even make some awesome new friends.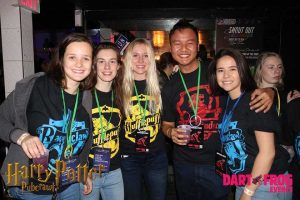 If you're really worried that they'll run out of your House's shirt before you get there, you can purchase the Wizard Package, which will ensure you get the shirt of your choice as well as some other Harry Potter accessories. Tickets are selling out fast, so grab yours here.
Meet Matthew Lewis
Another event that's in the cards for those living in Canada is Edmonton Expo, which is also taking place in September. The reason you're going to want to go to this is that Matthew Lewis (Neville Longbottom) will be there. He will be the special celebrity guest of the Edmonton Comic & Entertainment Expo, which means he will be appearing on both dates, which are September 21 and 22. He will sign some autographs, take pictures with fans, and join a panel discussion.
Are you ready to meet Matthew Lewis? Then grab your tickets here before they're all gone.
Find Your Way Out of a Magical Maze
Have you always wanted to find your way through a maze as Harry did in Harry Potter and the Goblet of Fire? Well, now is your chance. Head to Gambrills, Maryland, to visit an amazing maze of over eight acres that showcases Harry flying over Hogwarts. Yes, this is real, and you can actually go see it and, even better, try to find your way out of it. Have fun finding ten posts to guide you through the maze – answer the questions correctly, and you'll find your way out pretty fast. If not, you'll have to wander a little longer.
This fun event also aims to raise funds to collect food for the hungry, so that's another reason to go. You can also dress up in your best wizarding clothes to get $1 off a corndog. We're not going to say no to that.
The maze will open on September 22 and run through to November 3. If you're ready to challenge yourself, you can make a reservation by emailing info@MDCornMaze.com or visiting its website.
Take an Astronomy Class
If you love stargazing and always envied Harry, Ron, and Hermione for having astronomy as a subject at Hogwarts, Robert J. Novins Planetarium in New Jersey has got just the thing.
The planetarium will host an Astronomical World of Harry Potter event, where guests can learn all about the stars and their favorite characters. According to the planetarium's Facebook event page, it's an event that'll teach you quite a bit about the famous characters and their origins from the stars.
Learn how the characters and events in 'Harry Potter' take their origins from the stars and constellations in our specially themed Startalk. From the bright star Sirius in Canis Major to the stars Regulus and Bellatrix, the night sky is filled with some of your favorite, and least favorite characters!
Other activities, like making a wand and showing off your skills in all things magical, will also be available, along with some refreshments. The event will take place on September 22 and 28. Tickets will officially go on sale on September 9, but if you want to be able to preorder, simply sign up for the planetarium's mailing list. You can find more information on the times and the classes available here.
Go to Hogwarts (Sort Of)
Those who find themselves in Montreal, Canada, in October can ready themselves for some magical happenings, because a Harry Potter–inspired pop-up school is coming their way.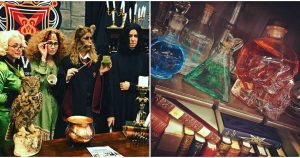 Get ready to feel like you're at Hogwarts with subjects like divination, herbalism, sorcery, and care of magical creatures. The event takes place at St-Jax on rue Sainte-Catherine. The date is October 12, and tickets are on sale now. You better grab yours fast before they're all gone. If you buy them before August 31, you'll get a $10 discount. After that, they're $60 each. You can grab them here.
Go Retro
Do you miss the good old days when the drive-in was still a thing? Well, your dreams just came true, because Harry Potter is coming to Retro Drive-In Movies in Dublin this October. Three of the Potter films will be shown – Goblet of Fire, Half-Blood Prince, and Order of the Phoenix.
Excited? Make sure you check out the times and tickets here.