UPDATED: Game On! What's New in "Hogwarts Mystery" and "Wizards Unite"
UPDATE (August 6):
Niantic and WB Games San Francisco have announced that Harry Potter: Wizards Unite is being updated to Version 2.2.0!
The update addresses a few issues – including the ability to upload photos from phones' galleries to Ministry ID portraits rather than having to take new ones in-game – and adds a new Portkey location, registry page, and AR photo capability.
A complete list of the updates can be found below. For a list of bug fixes and known issues, visit the Harry Potter: Wizards Unite website.
Ministry ID
• Players can now upload – and decorate with stickers, frames, and filters – photos from their device's gallery to their Ministry ID portraits.
• The sticker section is now organized by categories, including "Recently Used," "Featured," "Hogwarts," "Lore," and "Wizarding World."
• New lenses, filters, and stickers have been added.
Potions
• Players are now able to manage their ingredient inventories from the Potion Brewing section.
Portkeys
• A new location – Honeydukes – will be unlocked and feature 10 km Portkey Portmanteaus.
Registry
• A new Magical Games and Sports Family page has been added to the registry, including Quidditch Fan Hermione, Quidditch Fan Neville, Quidditch Fan Luna, Quidditch Fan Seamus, and Gryffindor Quidditch Banner Foundables. These new Encounters and Challenge Foundables can be found throughout the game.
• Players can now capture AR photos with the Swooping Evil Foundable.
—
It's been a few weeks since we updated you on the latest happenings in the realm of wizarding world gaming – Harry Potter: Hogwarts Mystery and Harry Potter: Wizards Unite – so we're combining the two into one large debriefing this week. Pay attention; the Ministry of Magic is counting on you.
We'll start with Wizards Unite, which is currently still in the midst of its second Brilliant Event: "Potter's Calamity." As the name suggests, the Foundables associated with this event pertain specifically to the Chosen One himself, including the Brilliant Golden Snitch, Hedwig, Department of Magical Law Enforcement badge, London Five photograph, Potter family photo, "Hogwarts Heroes" edition of the Daily Prophet, and Harry's Ministry identification card.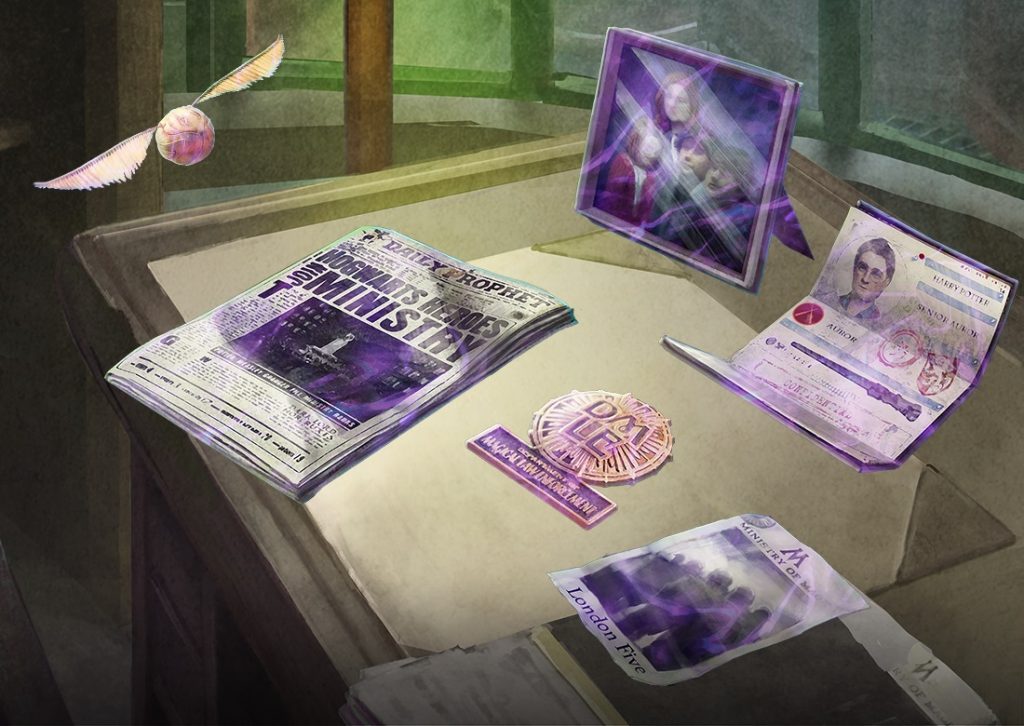 Working your way through the special event can earn you up to 15 Restricted Section books, two stickers – a red sock with brooms and a stag Patronus – and a taped-eyeglasses lens for your Ministry ID photo as well as 50 pieces of gold. You'll need to get a move on, though; "Potter's Calamity" will come to an end Tuesday.
Representatives from Wizards Unite developers Niantic and WB Games San Francisco were also on hand last month at San Diego Comic-Con to provide a few updates, and the word of the day was "dragons."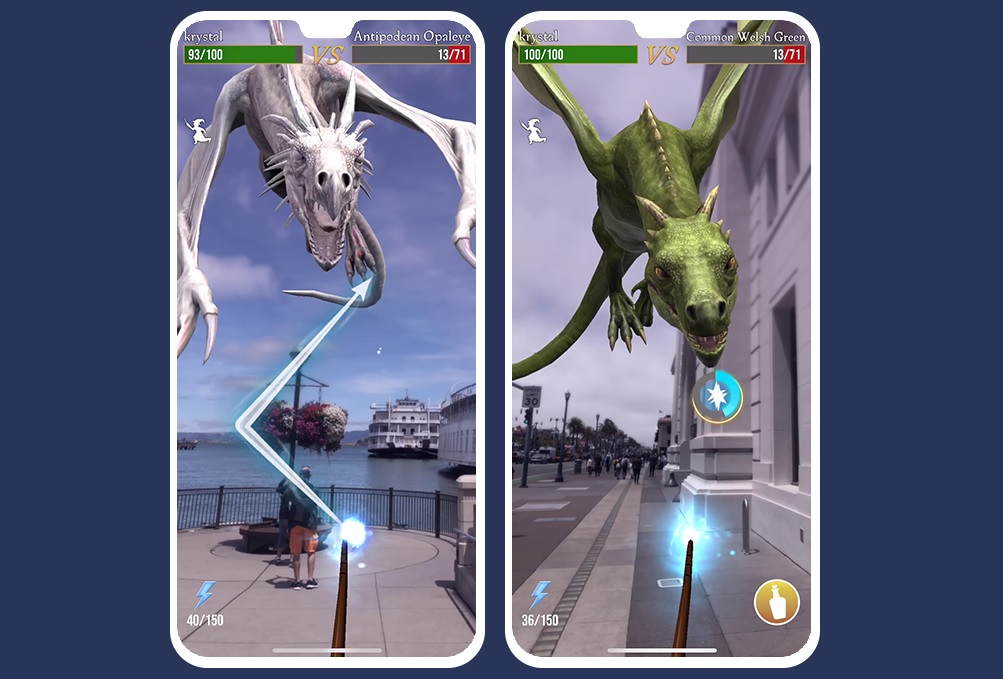 Unfortunately – or fortunately, if you happen to live in the Midwest – the full slate of dragons will only be wreaking havoc in the skies over Indianapolis, Indiana, during the Harry Potter: Wizards Unite Fan Festival August 31 and September 1. You can enter the ticket lottery for that event in-game, and once it's over, the different breeds of dragons will disperse and will only appear in certain regions of the world.
The game team also divulged that an Adventure Sync feature, such as the one found in Pokémon GO, will soon be added to Wizards Unite. That function will allow the game to track your steps over the course of the day – even when the app isn't actively open – and add them to your walking distance in the game, which will significantly help with unlocking Portkeys.
Lastly on the Wizards Unite front, the game's second Community Day is slated for August 10 and will run 11 a.m.–2 p.m. (PDT) in the Americas and Greenland; 10 a.m.–1 p.m. (UTC) in Europe, the Middle East, Africa, and India; and 1–4 p.m. (AEST) in the Asia-Pacific region. During those three hours, players will be able to earn bonus XP and a free store pack from the Diagon Alley Shop. Additionally, Healing Potions will brew more quickly and offer more stamina, and their ingredients will appear more frequently, while potions brewed using a rental cauldron will brew 33% faster.
Moving on to Hogwarts Mystery, if you're in the vicinity of current with your gameplay, then congratulations are in order: You've finally reached Year 6! Your character is likely sporting a little extra makeup or new facial hair, and depending on how many timed events you've won, they may also look a bit like one of Ozzy Osbourne's offspring grew up in a hippie commune.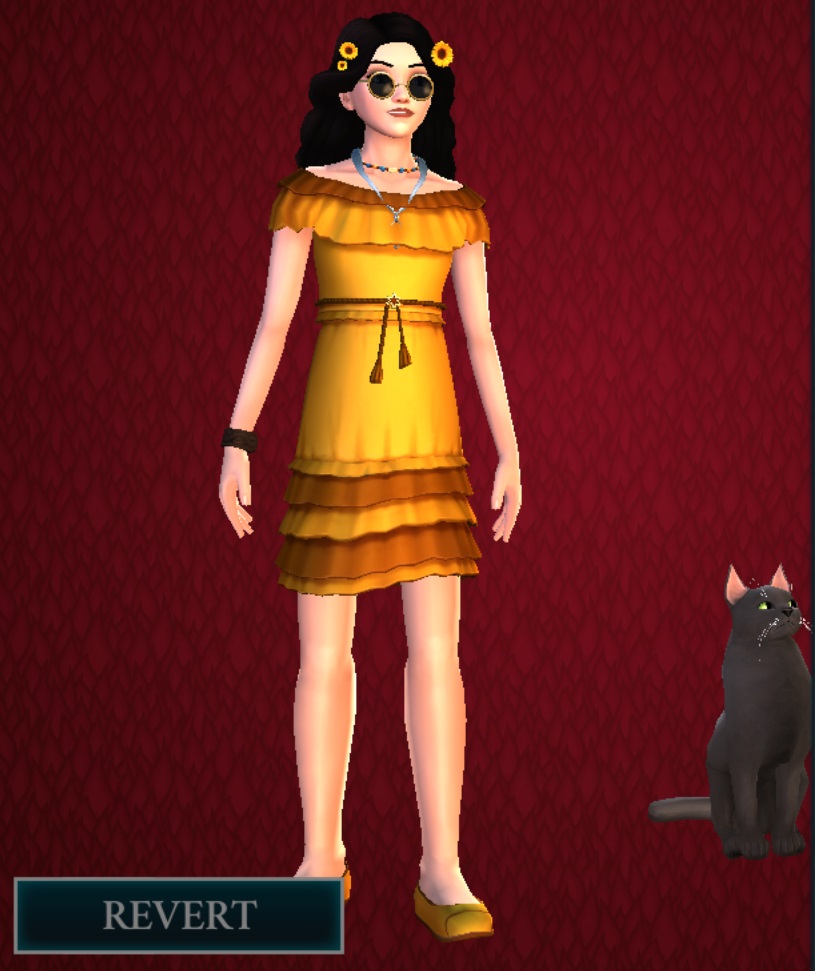 Or not. You do you. And if you aren't a newly minted sixth year, you may want to stop reading here; spoilers lurk ahead.
Your character has bid a bittersweet farewell to Bill Weasley, discovered Patricia Rakepick was just as sleazy as most of us expected she was, and been briefly abducted by Mad-Eye Moody. The underground Cursed Vault shook everyone involved, and while Penny Haywood's sister, Beatrice, is finally free from her portrait prison, we're beginning to wish we could put her back in – and Ben Copper right along with her. Meanwhile, Merula Snyde is gunning for revenge, we've caught glimpses of Divination Professor Sybill Trelawney and Astronomy Professor Aurora Sinistra, and our introductions to first years Fred Weasley, George Weasley, and Cedric Diggory are impending. We were also able to reminisce via a new game trailer from Jam City that, while geared toward new players, is still lovely to behold.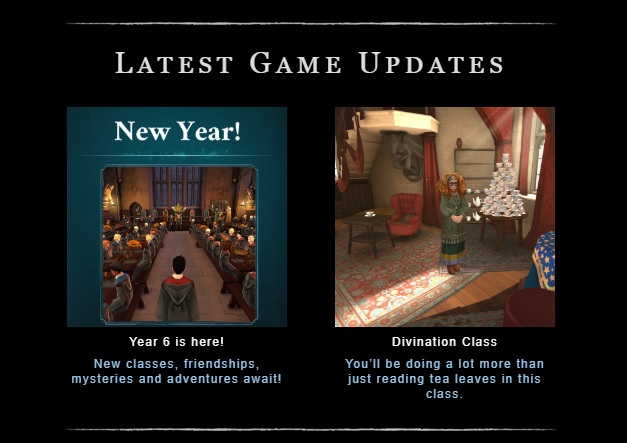 As indicated above, Divination classes now await, and we're currently in the midst of attempting to acclimate Fang to those terrifying creatures known as cats. Mad-Eye has let us know in no uncertain terms that the race to the final Cursed Vault is on – and that he isn't acquainted with Rowan Khanna – and our brother, Jacob, turned out to be kind of a jerk if he's not bewitched. Needless to say, it's been a heck of a few weeks in Hogwarts Mystery!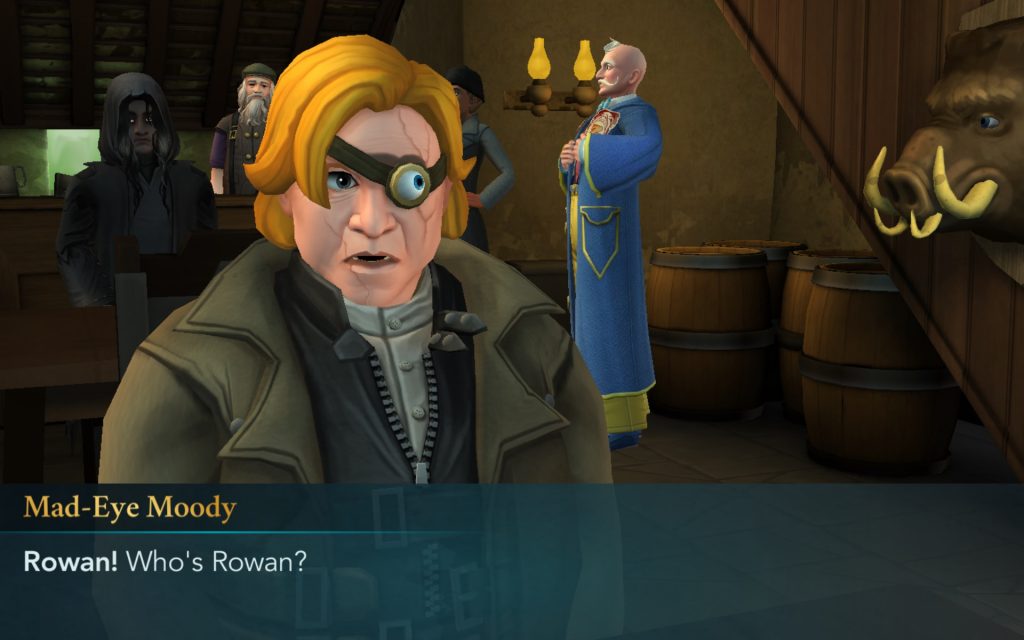 There's more on the horizon, however. A House Pride event just ended, and a "Fun in the Sun" crest challenge has begun, with stars earned in class counting for more than usual this time around. Each star is worth ten crests, and stars earned in Flying Class come with bonus crests. We're not sure if that's a permanent change, but it's definitely making it easier to move up the prize ladder. Those of you who also saw the "Pen Friend or Foe?" side quest glitch its way into the game and then disappear last month will also be gratified to know it'll be coming back around soon.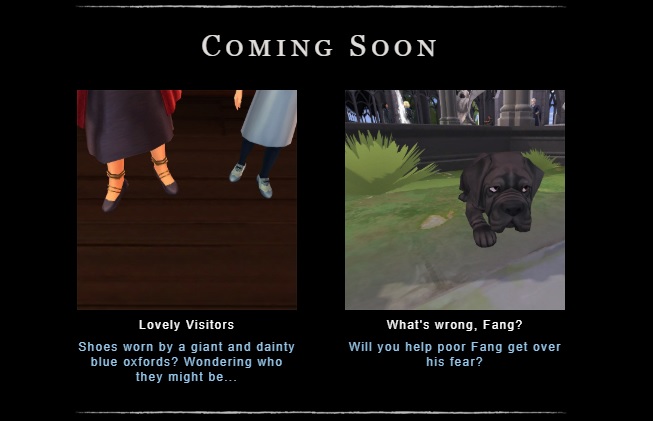 So there you have it! Keep on top of your energy levels, stockpile some Healing Potions, and limber up those thumbs for plenty of exciting gameplay in Hogwarts Mystery and Wizards Unite! And let us know in the comments how you're enjoying the games.