Take a First Look at the New Wizarding World App
We've been anxiously awaiting the brand-new official Wizarding World app ever since it was announced earlier this year. Fans in New Zealand have already gained access to the app, which combines elements from Pottermore with all-new content. Thanks to former MuggleNet staff member and New Zealander Kris Keall, we have a sneak peek at what the app will look like when it's launched worldwide.
When you sign up with your Wizarding Passport account, you'll be able to see your House, wand, and Patronus on your profile. When you take polls and quizzes, your results will be added to the leaderboard for your House, so you can contribute to your House's bid for the House Cup.
The main feed shows fun facts, quizzes, polls, trivia, and on-this-days, which chronicle important events in wizarding history. The app also features listicles and the new fanzine Wizarding Weekly.
When you switch to the "Discover" section, you'll see four main categories: News, which contains current events about the Wizarding World; Features, which contains listicles and other short articles; Quizzes, which is full of trivia questions of varying difficulty; and Weeklies, which contains the fanzine and a selection of quizzes and articles based on a specific theme.
Each quiz is timed, and you'll receive your score afterward. With polls, you can see how members of each House voted and look at breakdowns to see if there are any trends between them.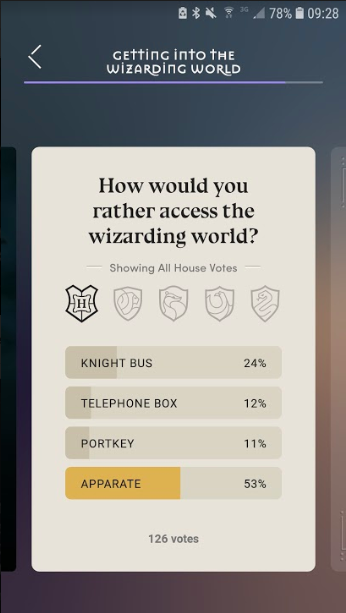 Overall, the Wizarding World app is chock-full of fun information and articles and will definitely be a huge help at your next trivia competition. No word yet on when the rest of the world will gain access to the app, but we can't wait to see for ourselves!