Five Wizarding World Witches as Tarot Cards
Tarot and the wizarding world alike are chock-full of strong, archetypal women that we can all look up to. As a Muggle, I love seeing similarities between the wizarding and Muggle worlds. Kindness, strength, mystery, intuition, and true justice – there are many correlations between our favorite witches and the classic tarot deck!
The Empress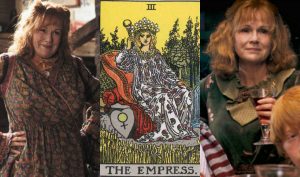 The Empress is seen as the mother archetype in tarot. Molly Weasley is not only a mother of seven but also takes on a motherly role for Harry. She sends him a Weasley sweater and other Christmas gifts and welcomes him with open arms to the Burrow. One thing you can say about the Weasley family is that their matriarch brings them together around the table. Food and familial bonding are one and the same at the Burrow, which is reminiscent of the Empress as the mother. Though her kindness is her greatest virtue, the Empress also denotes a mother's ferocity. We see this in Molly throughout the series, first in her famous "Beds empty! Car gone!" speech (CoS, ch. 3), and lastly in her face-off with Bellatrix with the legendary words "Not my daughter, you bitch!" (DH, ch. 36). Molly Weasley brings the full Empress package – she keeps your belly full, she keeps you on your toes, but most of all, she keeps you in her heart.
The High Priestess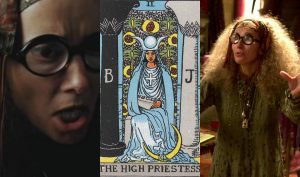 I've seen several suggestions as to which Harry Potter character should be the High Priestess since this card demands a lot of respect. Many see it as a reigning female force. While this is true, the Priestess's main association is that of mystery, hidden secrets, and true psychic power. Sybill Trelawney, an often-overlooked character, is not only a powerful female force, but she also sets the mood for this card. Her classroom – dimly lit, decorated with scarves and crystal balls, and filled with the heavy scent of incense – creates the air of a Muggle psychic's shop filled with mystery and hidden secrets. She is also the only true Seer that we know of. Though much of what Professor Trelawney predicts in Divination class sounds like an exaggerated spooky fortune cookie, her true prophecy set into motion the events of the entire Harry Potter series.
Strength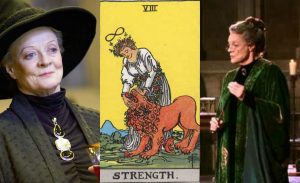 Who better to represent the tarot's famous lady with the lion than Gryffindor's own Minerva McGonagall? The Strength card represents strength, courage, confidence, protectiveness, and compassion. As a person, Strength signals someone who has these qualities or who instills them in others. McGonagall fits the bill for both. As a teacher, she comes off as strict and overbearing, but she is truly caring and protective of her students and strives to help them succeed. In Harry Potter and the Sorcerer's Stone, McGonagall recognizes a strength in Harry immediately and gets him on the Gryffindor Quidditch team. In Harry Potter and the Prisoner of Azkaban, McGonagall entrusts Hermione with a Time-Turner – a responsibility no other student receives – so that she can take on a heavier schedule. In Harry Potter and the Half-Blood Prince, McGonagall shows confidence and compassion for Neville, telling him that his grandmother should be proud "particularly after what happened at the Ministry" (HBP, ch. 9). And in Harry Potter and the Deathly Hallows, Minerva protects Harry, Hogwarts, and the memory of Dumbledore by chasing Snape from the building to allow Harry to search for the diadem.
The Moon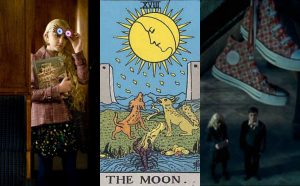 Of course, Luna is the Moon. Some of the Moon's associations are the subconscious, attraction to the unknown, intuition, illusion, and facing fears. Luna's attraction to the unknown manifests in her belief in unseeable creatures such as Blibbering Humdingers and Nargles. Luna can also see Thestrals, the skeletal horses seen only by those who have witnessed death. Perhaps Thestrals aren't the only invisible creatures undetected by the majority of the world, and Luna's subconscious is actually highly advanced. Another reason to believe that Luna functions on another level is that she is seemingly afraid of nothing. She's at peace with her mother's death, unruffled by her peers' opinions of her, and a fierce member of Dumbledore's Army. She faces the world with an everything-will-work-out-as-it-should attitude, relying on her intuition and Ravenclaw wit to navigate life.
Justice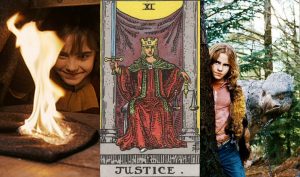 Follower of rules, founder of SPEW, Prefect, Deputy Head of the Department of Magical Law Enforcement, and Minister of Magic – Hermione is a great candidate for the Justice card without digging any deeper than the top page of her resume. However, when you do dig deeper, you find that Hermione is the perfect Justice. Though Justice can signify success in a legal case, its deeper meaning suggests the success of what is truly just over what is law. Although Hermione is generally a stickler for the rules, she will bend or break them if they do not serve true justice.  Hermione exacts this kind of justice when lighting Snape's cloak on fire, freeing Buckbeak and Sirius, participating in Dumbledore's Army, performing the Imperius Curse, and other instances of rule- or law-breaking which she deems truly just.
Can you spot any correlations between tarot and the Harry Potter series? Let us know in the comments!