Castium Revelio: Trailers Galore
by Brienne Green · Published · Updated
There's nothing like a good trailer to put you in the mood to head out to the theater (or add to your streaming platform queue), and we have some big ones for you this week! The final trailer for Star Wars: The Rise of Skywalker, starring Domhnall Gleeson, is obviously the biggest in terms of rabid fandoms, but we also have a bit of Marauder mischief in first looks at The Courier, starring Gary Oldman, and The Feed, starring David Thewlis, along with Helena Bonham Carter in Season 3 of The Crown. You won't want to miss any of it, so prepare yourself for a miniature movie marathon! But be sure to still go to the theater; you never know whom you might see! Castium Revelio!
Harry Potter Cast & Crew
We all know we'll be watching the Harry Potter film series on a near-constant loop now that the holiday season is here again, but residents of the United Kingdom can add another film featuring the man behind the boy wizard, Daniel Radcliffe, to their repertoire. Playmobil: The Movie, in which Radcliffe voices Rex Dasher, will be released December 2 on Blu-ray in the UK. There's no word yet on a United States release, but we'll keep an eye out! And while we all know by now that the odds on Radcliffe taking on the role of Wolverine are about as long as your friendly neighborhood basilisk, it's still fun to imagine him in the role, which Instagram artist Erathrim has done for you below. You have to admit, he looks pretty rad.
Stephen Chbosky's new horror novel, Imaginary Friend, is garnering praise from critics, and the author divulged recently to Variety that Emma Watson (Hermione Granger), who starred along with Ezra Miller (Credence Barebone, Fantastic Beasts) in the film adaptation of his book The Perks of Being a Wallflower, helped him with the ending.
We were filming 'Perks', and I was telling her the story of 'Imaginary Friend'. I had started writing the book but was only a little into it. I had her on the edge of her seat, and I got to my original ending and I presented it... and I swear, she looked at me and went, 'Huh.' I went, 'What, not good?' She's polite to the end and would never tell me it was bad, but I could tell it was a complete letdown. She studied English at Oxford and Brown and is one of the most well-read people I know, so I went back to the drawing board because of Emma Watson specifically. The last two people thanked in the acknowledgement are Emma Watson for the ending and Stephen King for everything else.
If you'd like to see the end result, you can pick up your copy on Amazon in the US or Amazon in the UK.
The Daily Mail also spotted the globetrotting Watson on Tuesday in London, England, sharing a hug with father Chris after lunch.
MuggleNet has been keeping you apprised of all things Batinson, including the fact that Zoë Kravitz (Leta Lestrange, Fantastic Beasts) will star alongside Robert Pattinson (Cedric Diggory) as Catwoman, and Pattinson had high praise for that decision this week. The actor told Entertainment Tonight, "Zoë's great, and I've known her for years and years and years. I mean, I've been friends with her for, like, ten years, and she's brilliant." We definitely can't wait to see the duo square off in The Batman! We also now know the identities of one character from Batman's side of justice and one from the rogues' gallery: Jeffrey Wright (Westworld) is reportedly in negotiations to play Commissioner Gordon, while Paul Dano (Escape at Dannemora) will feature as the Riddler. The movie is slated for a June 25, 2021, release.
And speaking of long-running franchises we all know and love, the final trailer for Star Wars: The Rise of Skywalker, starring Domhnall Gleeson (Bill Weasley) as General Armitage Hux, was released this week. Enjoy not only the anticipation but also the gorgeous score by John Williams (composer, first three Harry Potter film scores), and we dare you not to feel feels when the trailer ends with a word that's awfully familiar to us Potter fans...
The glorious
Dame Maggie Smith
(Minerva McGonagall) was out and about last week at a star-studded society event celebrating the memory of legendary author Oscar Wilde on what would have been his 165th birthday,
the County Press reports
. Smith was photographed enjoying the company of Camilla, Duchess of Cornwall, at the Grosvenor Hotel in London. The duchess joked that
"Oscar liked strong women and created quite a few in his plays, including, of course, the infamous Lady Bracknell, a character so interesting that now men want to play her - as if they didn't have enough good parts of their own."
The men of the Kingsman franchise are always dressed to the nines - after all, "a gentleman doesn't clash in public with enemies or exes, or worse, with out-of-fashion contrasts, colors, or styles." And if you're interested in emulating the look of Ralph Fiennes (Lord Voldemort) from the upcoming The King's Man, you'll get your chance with a 255-piece clothing collection from MR PORTER. The Hollywood Reporter says the collection is "luxury taken to the next level," and it will feature everything from sumptuous suits to cashmere athletic wear. The line will be released in two parts prior to the movie's February 14, 2020, release. The King's Man also stars Rhys Ifans (Xenophilius Lovegood), but his fashion as Rasputin is a bit more suited to the wizarding world.
We previously let you know about Gary Oldman's (Sirius Black) upcoming film The Courier, but this week, we have a release date and trailer! The movie is set for a December 20 premiere, and you can check out Oldman looking fantastic in an eyepatch below.
MuggleNet also
clued you in
on Oldman's casting as Herman J. Mankiewicz - who cowrote the screenplay for
Citizen Kane
with Orson Welles - in the Netflix feature film
Mank
, and the
Hollywood Reporter
now
has the scoop
on additional cast members. Joining Oldman will be
Tom Burke
(Cormoran Strike,
C.B. Strike
), Charles Dance (
Game of Thrones
), Lily Collins (
The Mortal Instruments: City of Bones
), and Amanda Seyfried (
Les Misérables
). The film is set for a 2020 release.
We have yet another exciting first trailer for you, from David Thewlis (Remus Lupin), whose movie The Feed, based on the 2002 dystopian novel by Nick Clark Windo, is slated to drop November 22 on Amazon Prime. Thewlis portrays a scientist whose brain implant has the capability to connect people's minds, allowing them to share thoughts, images, and even emotions.
The voice of
Dame Julie Walters
(Molly Weasley) has likely become as soothing as your own mother's (or, at times, as irritating), and you'll have the opportunity to hear the actress tell you lots of interesting things about weasels this week on BBC2.
Weasels: Feisty and Fearless
will air Friday, with Walters narrating the
"fascinating true nature of weasels, uncovering touching family dynamics, impressive hunting abilities, and surprising intelligence."
Keeping with the documentary theme, Helena Bonham Carter (Bellatrix Lestrange) will appear in Channel 4's My Grandparents' War in November. Bonham Carter's grandfather, Eduardo Propper de Callejón, facilitated the escape of thousands of Jews from occupied France during World War II, and to mark the anniversary of the start of that war, the actress will join other celebrities in exploring the roles of their relatives. We're also eagerly anticipating Bonham Carter's debut November 17 as Princess Margaret in Season 3 of Netflix's The Crown, and Netflix released the new season's first full trailer this week.
Elsewhere in the House of Black,
Helen McCrory
(Narcissa Malfoy) has been nominated for two UK National Television Awards in the same category. In the Best Drama Performance category, McCrory received nods for her roles as Aunt Polly on
Peaky Blinders
and Kathryn Finch in
MotherFatherSon
.
Peaky Blinders
is also nominated in the Best Drama Series category, along with
Killing Eve
, starring
Fiona Shaw
(Petunia Dursley);
The Walking Dead
, starring
Samantha Morton
(Mary Lou Barebone,
Fantastic Beasts
) and
Dan Fogler
(Jacob Kowalski,
Fantastic Beasts
); and
Game of Thrones
, which starred, over the years, a whole bunch of wizarding world alumni. We've
listed them for you before
; we can't do it every time.
Also nominated opposite McCrory for Best Drama Performance are Imelda Staunton (Dolores Umbridge) for A Confession, Callum Turner (Theseus Scamander, Fantastic Beasts) and Holliday Grainger (Robin Ellacott, C.B. Strike) for The Capture, Timothy Spall (Peter Pettigrew) for Hatton Garden, and Kelly Macdonald (Helena Ravenclaw) for The Victim. Nominated for Best New Drama are The Capture; Gentleman Jack, starring Gemma Jones (Poppy Pomfrey); The Victim; A Confession; MotherFatherSon; The ABC Murders, starring Rupert Grint (Ron Weasley); Hatton Garden; Sanditon, starring Adrian Rawlins (James Potter); and Chernobyl, starring Rawlins and Ralph Ineson (Amycus Carrow). After Life, starring David Bradley (Argus Filch); Good Omens, starring David Tennant (Barty Crouch Jr.) and Miranda Richardson (Rita Skeeter); and Hold the Sunset, starring John Cleese (Nearly Headless Nick) are all up for Best Comedy.
See why we couldn't list all the Game of Thrones alumni? You can vote on the National Television Awards through the end of the week.
Dame Emma Thompson's (Sybill Trelawney) six-part miniseries Years and Years, which also features Jessica Hynes (voice of Mafalda Hopkirk), will begin airing November 6 in Australia, and a new trailer was released for the occasion.
Thompson also recently
wrote a piece for Vogue
about her terrifying plunge into stand-up comedy at a time when comediennes were few and far between.
Back then, it felt like people didn't want women to be funny and were surprised and sometimes even offended when they were. This is ironic because without humor, women could never have survived men.
The actress recalls a gig during which she opened for Dawn French (the Fat Lady, Harry Potter and the Prisoner of Azkaban) and Jennifer Saunders.
I was in the slot just before Dawn and Jennifer, of whom I was desperately and justifiably jealous, standing by a curtain waiting to go on, and my heart was beating so hard it felt like a terrified animal trying to escape from my body. I thought, 'If I don't stop this, I shall actually have a heart attack. Maybe not now, tonight, maybe not next month, but I can't sustain this level of fear.' I spoke to Jennifer and Dawn about it afterward. They were very comforting - just carry on and you'll stop being frightened, they said. They were wrong. They also told me not to worry about the bloke I was in love with, who, I'd just found out, had a girlfriend who was a ballerina. Just wait and see, they said. Funny women will always trump thin, bendy ones. They were wrong about that, too. I've told them.
Thompson also remembers a sketch on her short-lived sketch show Thompson that featured Staunton.
I wrote a six-part television series of sketch comedy, called 'Thompson', most of which had a distinctly feminist slant. I hadn't realized this until all the TV reviewers (99% men) told me it was man-hating. I just thought I was being funny about the world I found myself in. [...] I remember a sketch that featured the eminent actress Imelda Staunton and me playing medieval wives. One walks into the other's hut in a panic. She says, 'You'll never guess what I've gone and done.' 'What?' says her friend. 'I've only gone and split the bloody atom.' They stare at each other, and then her friend says: 'Well, you can't tell him.' Maybe it was a little bit man-critical, now that I come to think of it.
The woman behind our favorite dizzy Divination professor will also be narrating a piece for the Telly Awards' 45-minute Film and Video Night screening program, which you can read more about on the official site. She'll also appear October 28 on The Tonight Show Starring Jimmy Fallon in support of her upcoming picture Last Christmas. Speaking of Christmas, Thompson and her husband, Greg Wise, have teamed up to curate a book of essays to accompany the film. It's available for preorder now for an October 31 release in the UK and a November 5 release in the US.
When you think back to Christmases past, what (if anything) made it magical? Looking towards the future, what would your perfect Christmas be? What would you change? What should we all change? Away from the John Lewis advert, the high street decorations, and the candied orange in Heston Blumenthal's Christmas pudding, this gem of a book, introduced and curated by Emma Thompson and Greg Wise, celebrates the importance of kindness and generosity, acceptance and tolerance - and shows us that these values are not just for Christmas.
Staunton, meanwhile, reunited this week with Downton Abbey costar Michelle Dockery for a photocall in Rome, Italy, and the actress was looking smart in a pair of green combat trousers.
Jessica Hynes has a new film making its debut November 3 at the Liverpool Film Festival: Seagull. The story focuses on Rose (Gabrielle Sheppard), who returns to her hometown after living on a beach for eight years and finds herself at odds with her mother, Janet (Hynes), and Janet's partner, Geoff (Adam Radcliffe). You can check out a still image of Hynes, along with the official trailer, below. She'll also take part in December in the Art Is the Best Medicine exhibition at the Fiumano Clase gallery in London. Art from various comedians will be on display (and for sale) December 13--20, with proceeds to benefit Mental Health UK. A stand-up gig will be held December 14 at the gallery, and you can find out more on the official website.
The television adaptation of
Noughts + Crosses
is also set for a 2020 release on BBC One as a six-part series, and another wizarding world alumnus has joined the cast. We previously let you know about
Ian Hart
's (Quirinus Quirrell) involvement, and he'll be taking on the role of Ryan McGregory, father of Callum, one-half of the love story around which the tale revolves.
Rakie Ayola
(Hermione Granger,
Harry Potter and the Cursed Child
, current West End run) has now also been cast in an unknown role.
Back to Tennant for a moment: Congratulations are in order, as the actor and his wife, Georgia Tennant, recently welcomed their fifth child! Georgia shared the news on Instagram in an incredibly adorable way, giving a clever nod to Good Omens. Tennant's costar, Michael Sheen, also recently welcomed a new addition to his family.
Shaw was also recently spotted in London as filming for Season 3 of Killing Eve began. Of interest to fans of that program was the fact that Sandra Oh was also seen filming. Her character, Eve, was shot by Villanelle in a Season 2 cliffhanger.
Warwick Davis (Griphook/Filius Flitwick) spent last week doing more good deeds, attending the opening of a £2.4 million extension at the Bellbird Primary School in Cambridge, England, the Cambridge Independent reports. "I was delighted to be invited to officially open the new extension to the Bellbird School," Davis said. "It is a wonderful school and a great pleasure to attend the event." Davis was joined by his daughter, Annabelle, and wife, Sammy.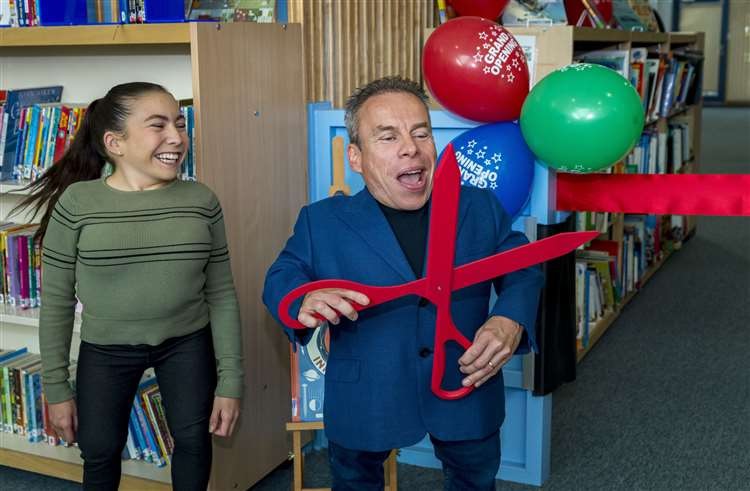 Moominvalley, the 13-episode animated series in which Davis starred as Sniff alongside Katie Leung (Cho Chang) as Too-Ticky, is coming to Blu-ray. The series will be available on November 4 on Amazon in the UK. Davis was also named this week to the Shaw Trust Power 100, an annual publication containing the 100 most influential disabled individuals in the UK.
Instead of seeing disability as a disadvantage, I think it is important to embrace one's difference and see it in a positive light. Doing this will influence other people, enabling them to see past the disability, dissolving any prejudice they might have had.
The film that inspired John Cleese to make A Fish Called Wanda will be coming to Blu-ray for the first time on November 19 and will feature a special interview. In Clockwise, Cleese plays a clock-watching headmaster who boards the wrong train en route to a conference and must hijack the car of a pupil who is skipping class. You can preorder your copy now on Amazon in the UK.
Kelly Macdonald, meanwhile, will be joining Colin Firth in the World War II drama Operation Mincemeat, Deadline Hollywood reports. The adaptation of Ben Macintyre's 2010 book takes place in 1943 and follows two intelligence officers who dream up an improbable disinformation campaign.
Macdonald also recently spoke with the Irish News about her role as Sarah in the BBC/Netflix drama Giri/Haji.
I play Sarah, who is a detective in London. You realise in episode one when you meet her, she's sort of been ostracised in her working environment, and as the series develops, you begin to understand what her backstory is. She's a pretty broken person, and her work - which had been pretty much everything - has been taken away from her. She finds herself embroiled in this Japanese crime story and this sort of explosion of gang warfare in Tokyo; that story gets propelled into London.
Macdonald also told the newspaper that while she's pegged occasionally for her first major role in Trainspotting, her Harry Potter role as the ghostly daughter of Rowena Ravenclaw remains the one for which she's recognized the most.
The one that surprises me is 'Harry Potter'. I literally filmed my bit in that after they'd wrapped principal photography on the entire series of films, so I was brought in to do my special effects stuff and work with a cardboard cutout of Daniel Radcliffe because he'd already wrapped. So that I find quite funny.
Alfonso Cuarón (director, Prisoner of Azkaban) has inked a deal with Apple TV+, Deadline Hollywood reports. Through his production company, Esperanto Filmoj, Cuarón will develop television projects exclusively for Apple TV+, a state-of-the-art deal that spans five years and begins with the platform's launch November 1.
Potter fans obviously love the dulcet tones of Stephen Fry, narrator of the UK Harry Potter audiobooks, and if you're planning a visit to the Central Library in Manchester, England, this week, you'll be able to hear them apparating out of thin air. Fry has been recorded asking library visitors to prepare for closing time, and he uses the opportunity to share his love of libraries.
Ding dong! Hello, sorry to disturb you. This is Stephen Fry here, just letting you know that the time is now, well, it's a quarter to eight in the evening. Now's the time to pop your pencils and pens in their cases, and fold your folders, and pop away your books, and gather your personal belongings generally, and make your way, if you can, to the exit. Thank you, most of all, for using the library. Aren't libraries magical, sacred places? And the more you use them, and the more you remind other people of their existence and recommend that they use them too, the better it will be for the health of the nation.
You'll also be able to hear Fry narrating the Netflix documentary Dancing with the Birds, which premiered today and is all about mating rituals among birds-of-paradise. You can hear him right now, in fact, on the trailer as well as a video promoting Movember - the men's health-awareness initiative that urges moustache growth during the month of November to raise awareness and funds for prostate cancer, testicular cancer, and male suicide research - in which Fry and other celebrities offer up questionable facts about lip hair.
Fantastic Beasts Cast & Crew
We're almost becoming accustomed to Eddie Redmayne (Newt Scamander) killing it on red carpets around the globe, but that doesn't mean we don't want to bask in each and every example. GQ recently honored the actor on its Best Dressed Men of the Week list for his ensemble at the BFI London Film Festival's screening of The Aeronauts.
Deadline Hollywood also announced this week that The Aeronauts will be part of AFI Fest's Gala screenings at the TCL Chinese Theatre in Hollywood. The movie will hit the screen there on November 19.
MuggleNet previously let you know about Alison Sudol's film The Last Full Measure, but now it's been reported that the movie's release date has been bumped back to January 17, 2020. So you'll have to wait a bit longer to see Sudol in that project, but you can watch her now in an interview from one of her gigs at the Soda Bar in San Diego, California.
Callum Turner (Theseus Scamander) has signed on to star alongside Felicity Jones and Shailene Woodley in The Last Letter from Your Lover, Deadline Hollywood says. The film, which began shooting last week, is a dual-narrative love story set in London and the Riviera and based on the novel by Jojo Moyes.
The story follows Ellie (Jones), a young female journalist in contemporary London who uncovers a series of love letters in the archives which tell the story of an intensely romantic but star-crossed affair in the 1960s between Jennifer Stirling (Woodley) and Anthony O'Hare (Turner). As Ellie is drawn into the story, she becomes obsessed with discovering the lovers' identities and finding out how their love story ends.
We recently gave you a look at some social media posts of support from family, friends, and former Catwomen for Zoë Kravitz's (Leta Lestrange) casting in the role for The Batman, and two more added their sentiments this week: Michelle Pfeiffer and Halle Berry.
Michelle Pfeiffer's advice for @ZoeKravitz in her new role as #Catwoman might surprise you 🤣🤣 pic.twitter.com/1LcZ0EIqFC

— Good Morning America (@GMA) October 15, 2019
Special shout-out to your new #CatWoman, the eternally graceful & extremely bad ass @ZoeKravitz. Keep shining Queen & welcome to the family! ♥️✨ pic.twitter.com/9YJ2EekcNG

— Halle Berry (@halleberry) October 17, 2019
IrelandWeek 2019 is set to kick off November 1 in Los Angeles, California, and Colin Farrell (Percival Graves) has joined the lineup of patrons for the annual event.
Golden Globe Winning Actor Colin Farrell announced as patron for #IrelandWeek/@IrelandCon 2019 alongside Angelica Huston, Chris O'Dowd, Fionnula Flanagan & Roma Downey who are supporting the week long cultural celebration of music, theatre, vis arts, screen & sport events. pic.twitter.com/A7Nz8ij9u3

— IrelandWeek (@IrelandWeek) October 22, 2019
And lastly in Fantastic Beasts alumni news, Carmen Ejogo (Seraphina Picquery) can be seen in a new trailer for the impending Netflix release of her horror movie Rattlesnake, in which she stars as a single mother who makes a Faustian deal with a mysterious woman to save her daughter, who was bitten by a snake in a remote desert location. The film will debut on October 25.
Cursed Child Cast & Crew
Jack Thorne (writer, Harry Potter and the Cursed Child) sat down this week with the Independent to talk about his adaptation of Philip Pullman's His Dark Materials. Thorne has previously said that in order to fit the format and time constraints, changes had to be made.
Philip's been the person who has created Lyra's story, and I'm trying to be as faithful to her as he was. I'm trying to treasure the good stuff; all of it is beautiful, but there are some demands of the medium that mean that, sometimes, you have to step away. But I do it reluctantly, and I do it as faithfully as I possibly can.
The writer also said that working with Pullman was much different from working with J.K. Rowling in a "beautiful writing hut" behind her Edinburgh, Scotland, home on Cursed Child, and Thorne says he was so nervous to join forces with Rowling that he had his wife screen all of his emails to the author.
With Philip, my job is to serve the books. But with Jo, it was serving the characters - but 19 years later. [...] I didn't want to sound too desperate to be her friend. That thing of writing to somebody you really admire and just not making yourself sound like a di*k.
His Dark Materials is set to premiere November 3 on HBO and BBC1.
Put all of those trailers together, and it would make one awesome – albeit really, really weird – movie! That's it for another week of Casting News, and let us know in the comments which projects and actors you're most excited about!