Events Roundup: Festivals, Fundraisers, and Photo Ops
In the mood for a magical event? Look no further – we've got a roundup of upcoming Harry Potter events!
Meet Ron Perlman at Los Angeles Comic Con
For those in Southern California, Los Angeles Comic Con runs October 11–13. The convention will have all kinds of guests, including Ron Perlman (Gnarlack).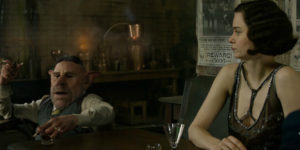 Learn About Owl Husbandry
In Emmaus, Pennsylvania, the Wildlands Conservancy's Dorothy Rider Pool Wildlife Sanctuary is transforming into the Forbidden Forest this weekend. A celebration of the release of the illustrated edition of Harry Potter and the Goblet of Fire, the Annual Harry Potter Fantastic Book Release Festival is a family-friendly event. Set to take place on October 12, the festival features activities including a Sorting ceremony and owl husbandry sessions. Learn more and get tickets here.
Have a Magical Fall in Detroit
The Detroit News has developed its own Events Roundup just for Harry Potter events happening in and around Detroit, Michigan, this fall. Trivia nights, dance parties, Halloween festivities, wizarding feasts, and film screenings are all on the agenda. Find events here.
Try to Escape the Library
The East Central Regional Library in Mora, Minnesota, is hosting a Harry Potter–inspired escape room on October 17 and 18. Space is limited, so register here.
Visit a Wizarding Garden
The Cape Fear Botanical Garden in Fayetteville, North Carolina, is hosting its second annual Wizardry in the Garden event on October 18. The evening will feature many treats and activities, including a Shrieking Shack escape room, food trucks, and entertainment by Magic by David and wizard rock duo Hawthorn and Holly. Read more about the magical evening here.
Take a Ride on the Hogwarts Express
The Lee Richardson Zoo in Garden City, Kansas, is holding its annual Boo! At the Zoo event on October 19. Tickets cost between $5 and $10, but for an extra $5 you can gain passage on the Hogwarts Express for a Harry Potter–themed experience.
Celebrate the Magic of Moray
Libraries across Moray, Scotland, are hosting wizarding week October 21–26, an expansion of a successful event at one library last year. Events include a magic-themed coding workshop at Elgin Library, a History of Magic lesson about the Scottish Highlands and Hogwarts, and an owl photo session in Cooper Park.
Sort Yourself into a San Antonio Bar
Four bars in San Antonio, Texas, will show their Hogwarts pride on October 24. Each bar will represent a different Hogwarts House – Still Golden Social House is Slytherin, Burleson Yard Beer Garden is Gryffindor, Blue Box is Ravenclaw, and La Roca Cantina is Hufflepuff. The offerings at each location may vary but might include specialty drinks, butterbeer, House-themed photo backdrops, and more.
Support the Magic of Literacy
Chattanooga Moms for Social Justice in Chattanooga, Tennessee, is hosting a Magic of Literacy event October 25–27 to support childhood literacy. The weekend is set to include a drag show, a trivia contest, and a giveaway of over 100 copies of Harry Potter and the Chamber of Secrets.
Meet Jason Isaacs in New Zealand and Australia
Jason Isaacs (Lucius Malfoy) is appearing at Auckland Armageddon on October 26 and 27. He'll be appearing on panels at noon each day in addition to photo and autograph opportunities. Isaacs will also appear at Supanova Comic Con & Gaming in Adelaide November 1–3 and Brisbane November 8–10.
Take the Wizard Express to Wirksworth
Wirksworth, England, is transforming on October 26 for Wirksworth Wizarding Day. Attendees are encouraged to dress in costume for the large-scale event, which includes a "scar bar" of special-effects makeup, wandmaking and chemical fire-lighting activities, close-up magic shows, and more. Read on about the event here.
Enroll in the Little School of Sorcery
Haddon Hall in England will host a number of free activities for little sorcerers under age 12 between October 26 and 31. Activities include a Magical Marks and Graffiti Tour as well as a visit from the snowy owl who portrayed Hedwig in several Potter films. Find out more here.
Grab Your Wand for Wizarding Weekend Ithaca
Across the pond, Ithaca, New York, will also be putting on its wizards' robes for Wizarding Weekend Ithaca. Two days of events will feature a magical creatures hunt, a potions crawl, a fan art contest, and more.
Explore Fictional Worlds
Visit Galt Museum & Archives in Lethbridge, Alberta, Canada, to see the Worlds Imagined: The Maps of Imaginary Places exhibit. It features over 50 maps of fictional worlds. During the exhibit's run (through January 5), the Galt will host a number of related activities, including Harry Potter–themed crafts. Learn more here.
Will you be attending any of these events? If there are none near you, check back next time for another Events Roundup, when a festival, trivia night, movie screening, or other event may come to a city near you!