Halloween Just Got Harrowing in "Wizards Unite", "Hogwarts Mystery"
by Brienne Green · Published · Updated
The witching hour is nearly upon us, wizarding world gamers, and things are getting harrowing in both Harry Potter: Wizards Unite and Harry Potter: Hogwarts Mystery! The two games are going above and beyond to make All Hallows' Eve even more magical, unleashing everything from basilisks to Marauders, and you can read all about it in MuggleNet's latest game update!
Wizards Unite Update
As you know, Dark Arts Month has been a busy one in Wizards Unite. The second of two Fighting Forces Brilliant Events just wound down today, so bid a fond farewell to purple-sparkly Sirius Black. Something even more wicked is on the horizon, however, with tomorrow's start of the game's limited-time Halloween Special Assignment!
This holiday event will run from 11 a.m. PDT Wednesday through 11 a.m. PDT Friday and... Did you just hear something whispering in the plumbing? Anyway, a number of special surprises are in store:
Slytherin's Basilisk, which will be lurking about in the Harrowing Halloween Chamber inside Fortresses. The more Dark Arts Runestones you use - and the higher their levels - the better chance you'll have of encountering the fearsome beast. Dark Arts Runestones will also unlock other unique enemies, including a Dark Witch and Dark Ministry Official. All special foes will grant increased Dark Arts Family XP.
A new Title and Badge for your Minister ID
A free bundle in the Diagon Alley Shop, which includes Dark Arts Runestones and Spell Energy
Bonuses via Partner Fortresses, including increased chances of encountering Slytherin's Basilisk, bonus Dark Arts Family XP, and increased Spell Energy in Level 4 and higher Chambers
Increased sightings of all Dark Arts Family Traces as well as Moaning Myrtle and Young Ginny Weasley
Sightings of Moaning Myrtle and Young Ginny Weasley Foundables have been on the rise. Could this be a sign of something else to come? #WizardsUnite #DarkArtsMonth pic.twitter.com/NXJZrucvMR

— Harry Potter: Wizards Unite (@HPWizardsUnite) October 29, 2019
Make sure to use the hashtag #WizardsUnite on social media as you battle your way through all the things that go bump in the night!
Meanwhile, Wizards Unite has also updated to Version 2.5.0 since our last update, and you can peruse the latest features below.
Wizarding Challenges: Chamber Lobbies now allow solo players to skip past the timer by tapping "Start." Additionally, those fighting with friends can tap "Ready" to let their fellow wizards know they're ready to fight.
Greenhouses: Greenhouses now always provide Spell Energy along with ingredients.
Photo Mode: A Photo Mode has been added for the Golden Snitch Foundable.
Potions: When using Dawdle Draught, a pop-up will appear to let you know if the potion has prevented the Encounter from being whisked away.
Ministry ID Portrait: House-specific items are now grouped together. Gryffindor House items will be visible; to see the same item in the colors of the three other Houses, tap the Gryffindor item. All items rewarded during events will also be grouped.
General Update: A "Download Essential Assets" option has been added to the settings menu to allow players with limited device storage to load some of the game's assets ahead of time. Not all assets will be downloaded.
Hogwarts Mystery Update
Hogwarts Mystery has also been celebrating Dark Arts Month, and it's been, in a word, beautiful. This year's Halloween decorations have spilled out of the Great Hall and common rooms and into all of Hogwarts' corridors. The effect is so lovely, we wish it could stay October forever!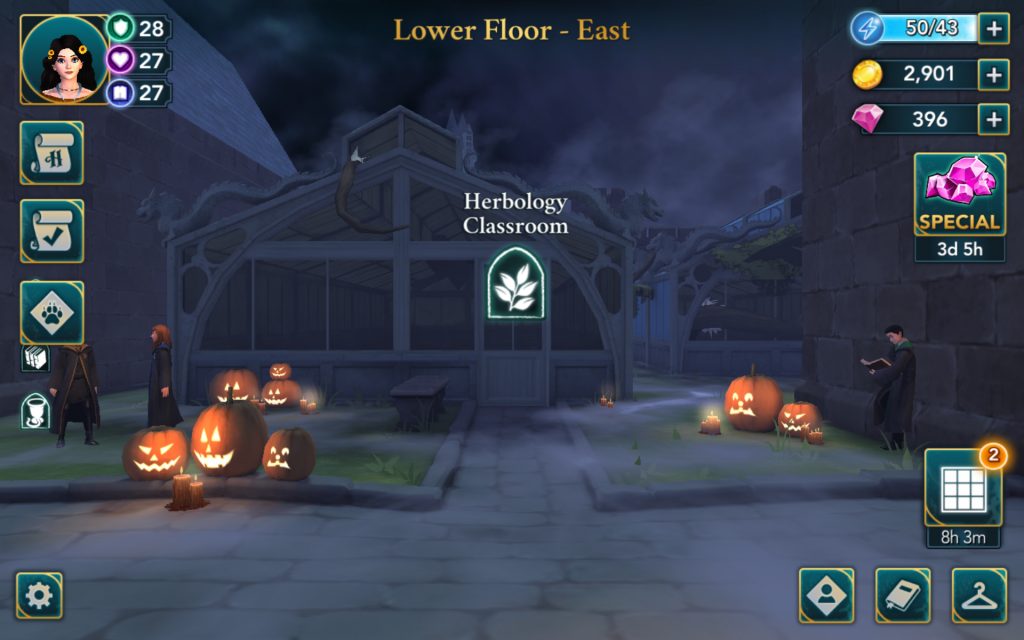 But although Halloween is just a few days away, it seems there's still more in store for us. Hogwarts Mystery has reported that werewolf jerk extraordinaire Fenrir Greyback will be making a "terrifying" return, and your character will also be charged with helping Chiara Lobosca through her transformation pains as the full moon approaches. And while all of that sounds great, two other simple words have us absolutely giddy: Remus Lupin. The Marauder and best darned Defense Against the Dark Arts professor Hogwarts has ever seen will also be appearing, so charge up your energy and get ready for a howling good time!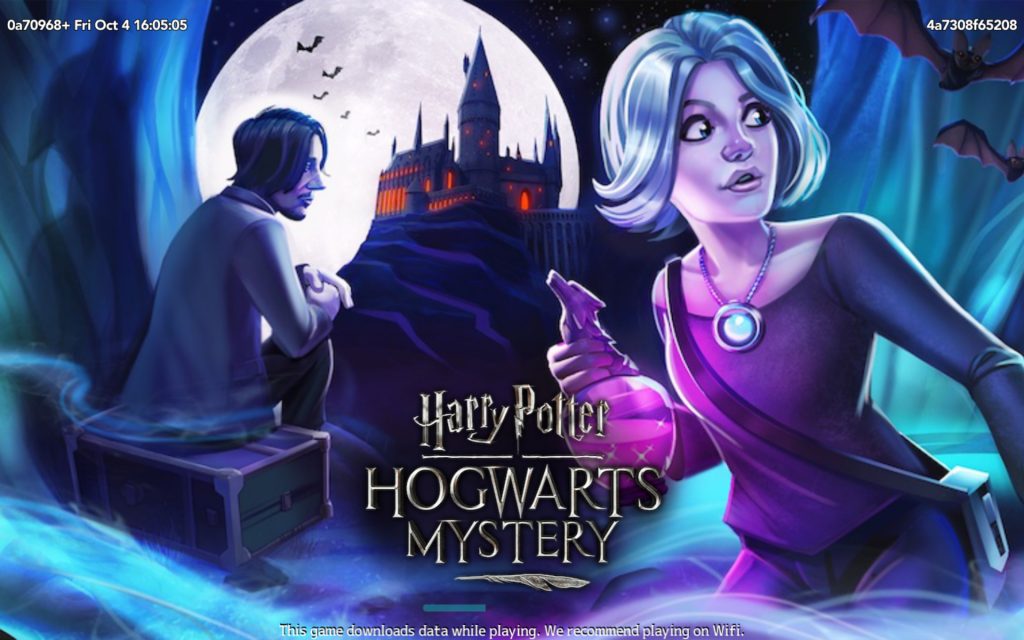 'Tis the spookiest time of the year...are you prepared for #DarkArts at Hogwarts? #HogwartsMystery pic.twitter.com/yRj262Dzkq

— Harry Potter: Hogwarts Mystery (@HogwartsMystery) October 24, 2019
Aside from Chiara's side quest, the Hogwarts Mystery team has also teased the appearance of a certain cloak...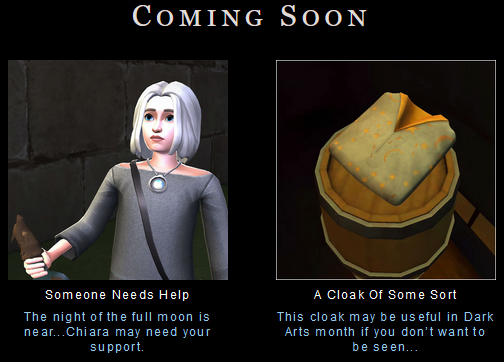 Some spooky new Halloween face paint is additionally currently on offer as part of a special bundle, so be sure to pick that up if you really want to get your character in the spirit.
Even ghouls gotta look good. pic.twitter.com/d1XnU6yWHK

— Harry Potter: Hogwarts Mystery (@HogwartsMystery) October 27, 2019
Elsewhere in Hogwarts Mystery, your Quidditch story is about to continue with Chapter 8: The First House Match. As you learned at the culmination of the first Quidditch side quest, team captain Orion Amari is tasking you with making the decisions in your official match debut, and to further complicate matters, he, Skye Parkin, and Murphy McNully all have incredibly compelling reasons why you should do things their way. You can check out a brief rundown of the situation in the gallery below.
And with McNully going around saying things like this, the decision hasn't got any easier. How are we supposed to refuse that adorable motormouth?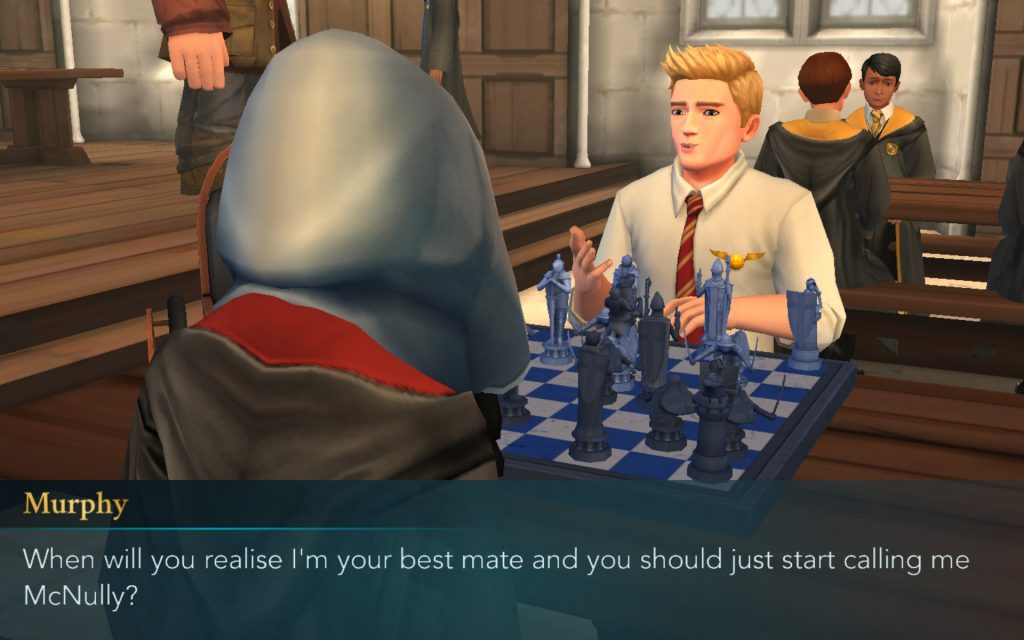 Elsewhere, Bill Weasley has returned to Hogwarts and is firing up the wizard fight club you never knew came between the Order of the Phoenix and Dumbledore's Army, a disgraced Mahoutokoro student is apparently running around frightening Mundungus Fletcher, and your dorm room has been undergoing a few upgrades. You can now add a bit of personal style to some aspects of your room's décor and take adorable snapshots of yourself as you lazily shift between your human and Animagus forms while seated in the midst of your growing menagerie of pets. Oh, and Fred and George are missing.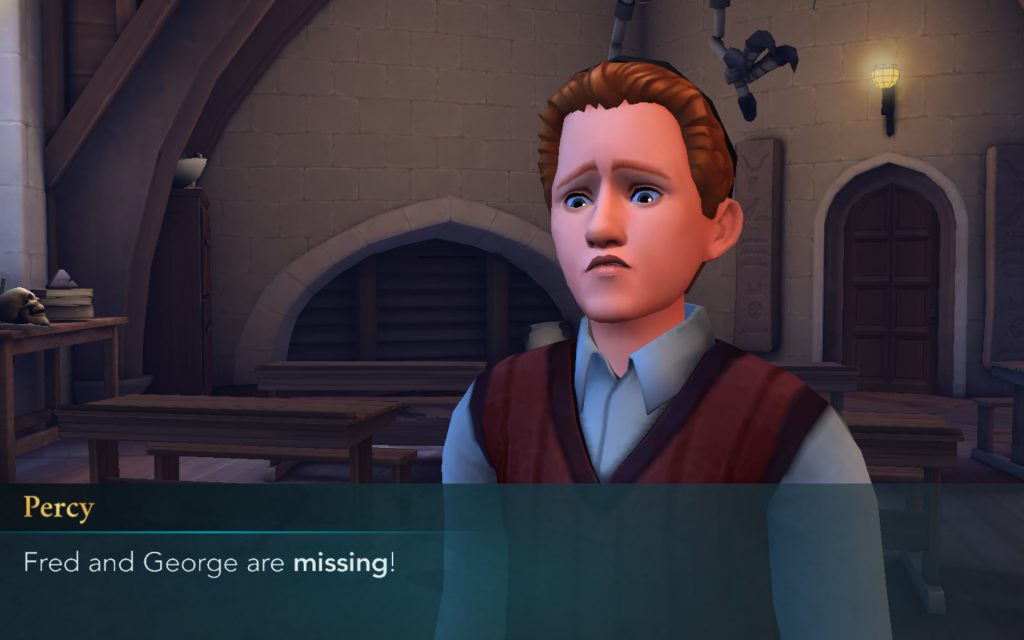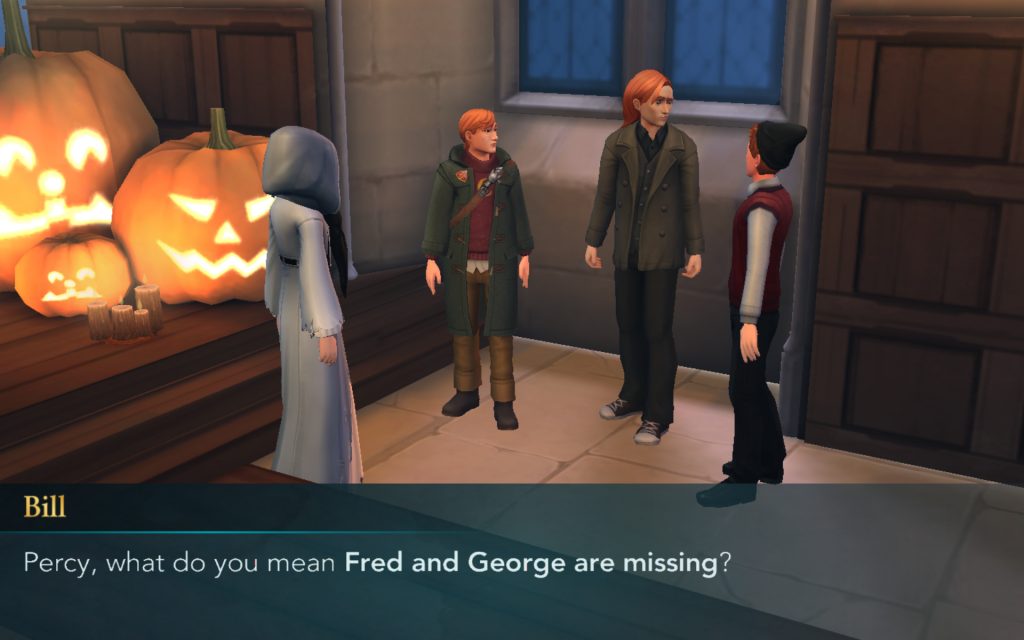 He means Fred and George are missing! See if you can find the time to locate the Weasley twins in between all of the above plus the unending cycle of garment competitions. We've got to go now. We have to tap our way through ten more classes before the Full Marks Event ends. Happy gaming!