Warner Bros. Studio Tour London Unveils Amazing New Addition
At the beginning of this year, Warner Bros. Studio Tour London – The Making of Harry Potter hinted that it was adding something exciting to its tour. Potterheads immediately started speculating what it could be, with many hoping for the tour to add Hogsmeade, the Chamber of Secrets, or Gringotts Bank to its range of Harry Potter locations. Gringotts ended up being the winner, but now the studio is opening yet another addition.
The studio announced that it will be opening two contemporary classrooms next year. This will serve as an expansion of its existing education program to include STEM (science, technology, engineering, and mathematics) subjects. We can't help feeling a bit jealous that we didn't have this cool opportunity back when we were still in school. Science and math seem like a lot more fun when there's magic involved.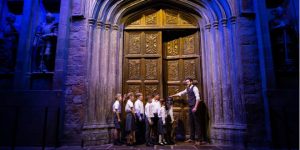 This new attraction will include a single 45-minute lesson for pupils paying a visit with their classmates. The purpose-built classrooms will be filled with exclusive props and costumes (what a dream come true), and the classes will be taught by qualified teachers. We'd gladly switch jobs to go teach there, wouldn't you?
Even though the classes will be taught in what looks like the world of Harry Potter, the usual lack of technology will be nonexistent. High-resolution screens and interactive tablets will be used to create a magical learning environment. The program will feature two STEM offerings, The Art of Foley and Movie Mathematics. The former will allow students to discover the importance of sound in film, while the latter will show how Hagrid was created to scale on-screen. More sessions will be offered, including Costume Characterisation and Script to Screen. Each of these classes will also involve props from the film. Honestly, we'd like to attend these classes too. Is there an age restriction for this?
It's great that the studio is giving back. Using Harry Potter to encourage young students to explore the magic that is moviemaking while sneaking science and math into the experience is nothing short of brilliant. We'd love to be young once more just to experience this new type of magic.
What do you think of this new attraction? Would you like to attend some of the classes even though you're above the "recommended" age? Let us know in the comments.