Butterbeer Buttermilk Pancakes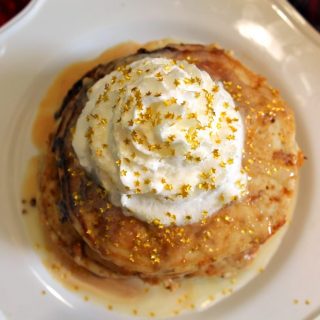 Butterbeer Buttermilk Pancakes
Natasha
Whether you're making them for breakfast, dessert, parties, or any meal of the day, these pancakes are sure to bring a magical smile to your face.
Ingredients
Pancakes
1 1/2

cup

all-purpose flour

1/2

cup

butterscotch chips

(adjust for desired sweetness)

1/4

cup

sugar

1/2

tsp.

baking soda

1 1/2

tsp.

baking powder

1/2

tsp.

salt

1

cup

buttermilk

3/4

cup

caramel coffee creamer

2

egg

3

Tbsp.

butter

unsalted, melted
Syrup
1/3

cup

buttermilk

1/4

cup

butter

1/2

cup

sugar

1/2

tsp.

baking soda

1

tsp.

butter extract
Instructions
Pancakes
Optional: Heat your oven to 250°F, which will allow you to keep your pancakes warm while you cook all of them.

Whisk together flour, butterscotch chips, sugar, baking powder, baking soda, and salt in a large bowl.

In a medium bowl, whisk together buttermilk, caramel creamer, eggs, and melted butter.

Add wet ingredients to bowl of dry ingredients and whisk them together until evenly blended. Be sure not to overmix!

Once batter is ready, set aside. Heat a griddle or non-stick skillet to medium heat. Lightly oil the griddle with non-stick cooking spray.

Use ¼ measuring cup to pour batter for each pancake onto griddle or skillet. Cook for about 3 minutes or until air bubbles start to form. Bottom of pancakes should be golden brown. After flipping pancakes, cook for about 2 more minutes or until golden brown.

Once pancakes are done, transfer to an oven-safe plate and place them in the warm oven. This will allow them to stay hot and fresh while you make the syrup.
Syrup
Combine buttermilk, butter, and sugar in a medium saucepan. Stir while cooking over medium heat until the butter has melted and the sugar has dissolved.

Let this come to a boil for about one minute and then remove from heat.

Stir in baking soda and butter extract. This will create a bubbly foam. Let sit for a few minutes before serving.
Serving
Stack your pancakes one at a time, drizzling the caramel or butterscotch sauce in between each one.

Pour butterbeer syrup on top and finish it off with some whipped cream and sprinkles. Accio magical breakfast!
Notes
Whole milk can be substituted for the buttermilk if desired, but the flavor will be duller. In the sauce, it helps to cut the overbearing sweetness.
Be aware that the butterscotch chips may make your pancakes darker in spots - this is normal!
Natasha would love to see how these turn out for you! Be sure to tag her on Instagram @natashasfoodadventures or use her hashtag #natashasfoodadventures.