Both Divisions of European Quidditch Cup Postponed
The 2020 US Quidditch Cup was canceled due to COVID-19 and isn't the only Muggle quidditch tournament that won't happen as planned. Both divisions of the European Quidditch Cup 2020 were postponed.
The EQC is the main tournament for teams in Europe and was split into two divisions last year due to the large number of teams. There are 32 teams in Division 1 and 24 teams in Division 2. How many of them will come to the tournament depends on the number of teams in each country. Teams compete in regional tournaments to qualify for the EQC.
Division 2 was postponed to September.
EQC Division 2 was postponed first. This tournament should have been held in Brescia, Italy, March 28–29. The problem was that Brescia is in the region of Lombardy, which is the coronavirus's epicenter. Several teams have problems with traveling to Italy because they would have to stay in quarantine or could put their families in danger. Some teams would not even make it because their flights were already canceled and governments have talked about closing borders. There was also a possibility that the local council could have to cancel the EQC as it had done with many other sports events in Lombardy.
The EQC committee had countless meetings. The final decision was announced on March 2, with the committee deciding to postpone the tournament to September 12–13. The team fee, which teams already paid, remains and doesn't change. It's the same for rosters of players. Teams cannot add or remove any players, with some special exceptions. Only one thing will change and that's the new "Stay & Play" policy. All teams will be required to book a minimum of two nights in a hotel room in one of several tournament-approved hotels. That didn't apply in March, and teams could stay in any hotels or Airbnbs.
As a funny replacement for the tournament, the EQC committee put names of teams into a random generator to decide who won the EQC D2 2020. The result was posted on the EQC's Instagram stories. Until real matches in September begin, team Lumos Compostella is the winner of the EQC D2 2020.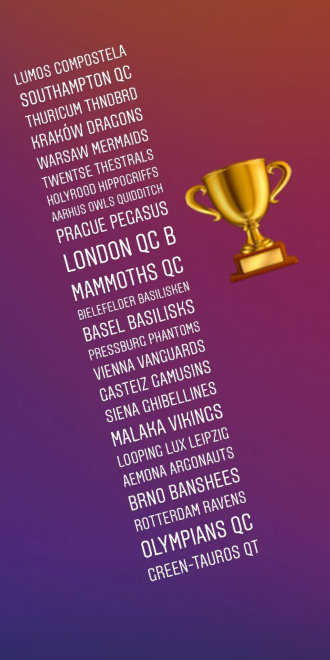 It isn't clear when Division 1 will happen.
After the decision about D2 was made, the discussion about Division 1 started. D1 should have been held in Ghent, Belgium, May 2–3.
On March 18, group activities, including sports events, were banned in Belgium until April 5. The EQC D1 committee wasn't sure if the government would extend these precautions in April. On March 19, they decided to postpone the EQC D1. If they had waited until April to make a decision, they would have risked losing a lot of money from players' fees. It's not clear when the event will be held because they haven't announced any new date yet.