Mini Treacle Tarts (GF)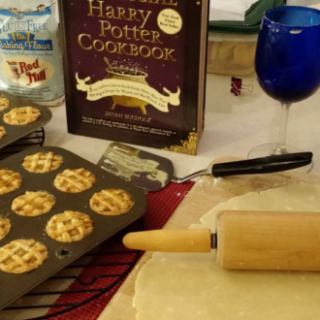 Mini Treacle Tarts
Sue Peterson
These gluten-free mini tarts could easily have been served at Slughorn's Christmas party since they're a great grab-and-go item. (They're also good for snacking on lazy fall days.)
Ingredients
Treacle Filling
4

gluten-free hamburger buns

1

cup

corn syrup

light

1

cup

corn syrup

dark

3

lemons

juiced and zested
Tart Dough
2 1/4

cups

gluten-free flour

1

cup

powdered sugar

1/2

tsp.

salt

1

cup

butter

cubed, cold

1/3

cup

heavy cream

cold

2

egg yolks

cold

1

tsp.

vanilla extract
Instructions
Treacle Filling
Break the gluten-free hamburger buns into crumbs by hand or with a food processor.

In a large bowl, mix together crumbs and corn syrups.

Add lemon juice and zest to filling and mix well.

Pour filling into a large zipper bag or piping bag. Allow to sit in refrigerator at least until firm, ideally overnight.
Tart Dough
Whisk together flour, powdered sugar, and salt into mixing bowl. Add cubed butter.

Use paddle on low speed to break up butter cubes until mixture resembles course crumbs.

In seperate bowl, beat together egg yolks, cream, and vanilla extract.

Pour liquid ingreidents into mixer over dry ingredients. Mix only until liquid is incorporated; be careful not to overmix. If the dough is dry, add 1 tsp. heavy cream at a time.

Divide dough into thirds, shape into disks, wrap in plastic, and refrigerate for at least 2 hours.

Roll out dough on a floured surface to about 1/8" thick. Cut out rounds using 2 3/4" cutter.

Grease mini cupcake pans with preferred cooking spray.

Do not push the rounds into the molds. Instead, place the dough over the cavity and turn the dough using four fingers positioned on the outside rim of the round. Do this until dough stretches into the cup. Once the dough is mostly in the pan, push with fingertips carefully to fill the corners.

Making 48 tarts will use about three-quarters of the dough. Return the remaining dough to the refrigerator until it's needed to top the tarts.
Egg Wash
Beat egg and water together until smooth. Set aside.
Assembly
Preheat oven to 400°F.

Fill the tarts with treacle filling almost to the top and level the filling so it's flat.

Roll out the remaining dough as before. Tops can be either lattice or any shape for which a cutter is available.

Brush the tops of the tarts with egg wash and cover with top crust.

Bake tarts about 15–20 minutes, or until lightly brown.

After the tarts are cool, remove from pan by placing four fingers at the 2, 4, 8, and 10 positions and gently twist to loosen. Then, use a knife to remove each tart from the pan.
Notes
Hamburger buns can be replaced with another similar gluten-free bread product.
The two corn syrups can be replaced with golden syrup, if available.
Tart dough can stay refrigerated for up to 3 days. Freeze it if you're keeping it any longer.
Gluten-free pie doughs tend to be drier than wheat flour doughs, meaning they are more likely to crack while shaping. Be careful when handling this dough.
Be careful not to get the filling outside of the shells. It will make them very hard to remove from the pan.