Dumbledore's Lemon Drop and Honey Cocktail
'Would you care for a lemon drop?'
'A what?'
'A lemon drop. They're a kind of Muggle sweet I'm rather fond of.'" (SS 10)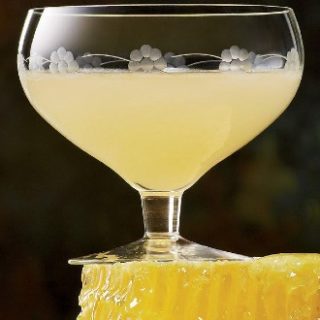 Dumbledore's Lemon Drop & Honey Cocktail
Sophia Jenkins
Dumbledore would think that this cocktail is the bee's knees. Lemony and mixed with honey to represent Dumbledore's bumblebee name, this drink is bound to be a party favorite.
Ingredients
ice

2

oz.

gin

3/4

oz.

lemon juice

fresh

1/2

oz.

honey syrup
Instructions
Fill cocktail shaker halfway with ice. Add remaining ingredients.

Shake vigorously and strain into cocktail glass.

Garnish with a twist of lemon.
Notes
To make honey syrup: Combine equal parts (by volume) water and honey in a pot. Heat until the honey is dissolved. Cool and store in the refrigerator. Use as needed.
This is an alcoholic drink and not intended for minors. A mocktail could be made by replacing the gin with lemon-lime soda or soda water.