Pumpkin Pasties by Rita
'Hungry, are you?'
'Starving,' said Harry, taking a large bite out of a pumpkin pasty." (SS 101)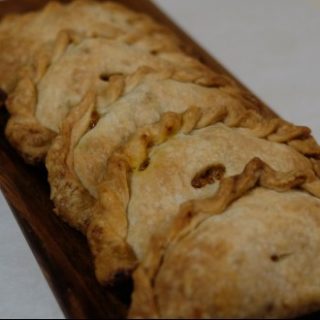 Pumpkin Pasties by Rita
Rita Mock-Pike
A magical must-have, pumpkin pasties are an autumnal tradition. Warm, packed with pumpkin flavor, and immensely satisfying, these iconic treats are sure to be a crowd-pleaser. Plus, thanks to the fact that they're encased in a delicious golden crust, they are super portable. Perfect for a train ride!
Ingredients
Pastry Crust
1 1/4

cup

all-purpose flour

1

Tbsp.

sugar

1/4

tsp.

salt

5

Tbsp.

butter

unsalted, cold, cubed

3

Tbsp.

shortening

chilled and cut into chunks

6

Tbsp.

water
Filling
1

cup

pumpkin puree

1

apple

green, minced

1/4

cup

sugar

pinch

nutmeg

ground

pinch

cinnamon

ground
Instructions
Pastry Crust
Combine flour, sugar, and salt into a food processor bowl. Pulse several times to combine.

Scatter chunks of butter and shortening over flour mixture and pulse about 15 times until everything is combined and resembles a coarse meal. No powdery bits should remain.

Transfer mixture to a large mixing bowl.

Sprinkle 4 tablespoons of ice water over mixture, and toss it with a spatula until it starts to clump together. If mixture is too dry, add 1 tablespoon of water at a time, until the texture is smooth.

Gather all the dough into a ball and pat down into a disc.

Wrap disc in plastic wrap and chill refrigerator for 1 hour.
Filling
Combine all ingredients in mixing bowl, mixing well until everything is thoroughly incorporated.
Shaping & Baking
After dough has chilled, preheat oven to 400°F.

Roll the dough to 1⁄8-inch thickness.

Use a saucer, small plate, or bowl to cut out 6-inch circles.

Put 1 to 2 teaspoons of filling into each circle, and fold the dough over into half circles.

Moisten edges of each circle with ice water and crimp with a fork to seal.

Cut small slits into each pasty to make vents.

Bake pasties on an ungreased baking sheet for 30 minutes, or until browned.