Pepperup Potion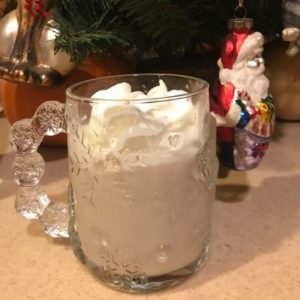 Pepperup Potion
Emily Strand
This potion is prized in the wizarding world for instantly curing the common cold, clearing one's head, and improving vision. It is also great for entertainment by making steam come out the drinker's ears for several hours.
Ingredients
6

cups

water

8

bags

peppermint tea bags

1/2

cup

sugar

2

cups

milk

whole or 2%

ginger

ground or fresh grated

6

oz.

peppermint schnapps

whipped cream
Instructions
Bring water to a boil in a kettle. Place teabags in a heat-proof container.

Pour boiling water over teabags, and steep for about 10 minutes. Once tea has steeped, carefully remove bags and discard.

While tea is steeping, heat milk and sugar until sugar is dissolved, stirring constantly to prevent burning.

Remove milk mixture from heat and grate in fresh ginger. Save a bit of ginger for garnish.

Pour steaming milk mixture into tea. Add peppermint schnapps and stir.

Ladle into mugs and top with whipped cream. Garnish with a bit of sprinkled ginger.
Notes
This is an alcoholic drink and not intended for minors.
If serving at a party, the Pepperup Potion may be placed in a slow cooker on low/warm and served as desired.