Adoptive Parents Post Adorable "Harry Potter"-Themed Gender Reveal
Charlette and Dan Fontaine posted a video of their Harry Potter-themed gender reveal party with a twist on TikTok, and it has since been called "the only gender reveal I wholeheartedly approve of" by commenters.
Charlette and Dan are from Manitoba, Canada, and have been fostering their 12-year-old daughter Bianca for four years. Recently, they officially adopted her and decided to put a spin on a traditional gender reveal party to commemorate the occasion. Instead of the parents popping the balloon, Bianca walks into the picture and does the reveal for herself!
The video shows Charlette standing next to her husband, Dan, both sporting Potter-themed T-shirts. Charlette's T-shirt reads "she's a catch" while Dan's states "she's a keeper." In the background, a banner filled with magical references hangs on the wall. On Charlette's cue of "I wonder what it is," Bianca jumps in the frame holding a sign and shouting, "It's a 12-year-old girl!" Do you want to know the most adorable part? Bianca's Potter T-shirt declares that she is "the chosen one," just like Harry himself.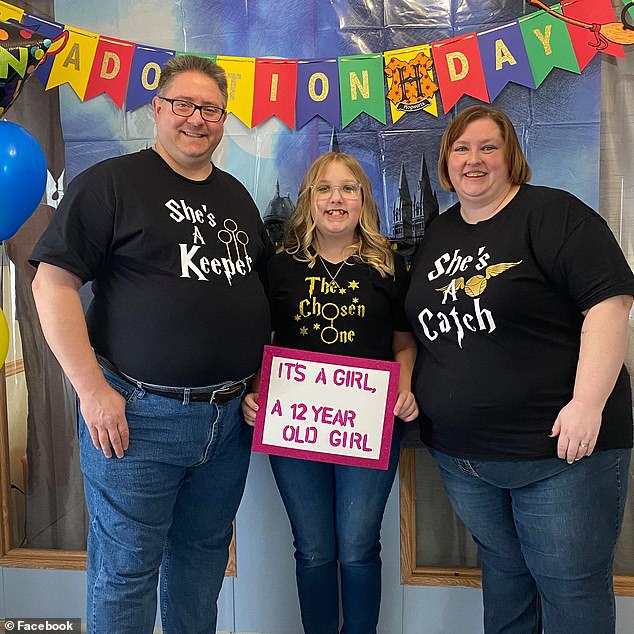 The TikTok has been viewed over 1.6 million times, and comments on Charlette's TikTok are all in favor of this new style of gender reveal parties, with most congratulating the family. Many comments are talking about the importance of adopting older children. Some share personal stories, including one commenter who recounted how her friend was adopted at 12 and another telling the comments section how she was adopted at 15. Other comments mention how wholesome this story and video are, with one saying it's the only gender reveal they will support and many others exclaiming that this is the best reveal they've seen. One commenter asked Bianca's newly adoptive parents to "give her the biggest hug from me."
The Harry Potter community isn't new to adoptions; the work of the nonprofit Potter-based organization Transfiguring Adoption has helped many traumatized children fit into their new homes. Transfiguring Adoption communicates with both adoptive and foster parents to aid them in understanding their children's needs and has useful online tools, and a recently released book, to give them all the advice they need.
Adoption brings many children and parents joy, as this TikTok shows. This video is sure to bring a smile to your face and brighten up your day!
Want more posts like this one? MuggleNet is 99% volunteer-run, and we need your help. With your monthly pledge of $1, you can interact with creators, suggest ideas for future posts, and enter exclusive swag giveaways!
Support us on Patreon