CC #451: Week of July 11, 2021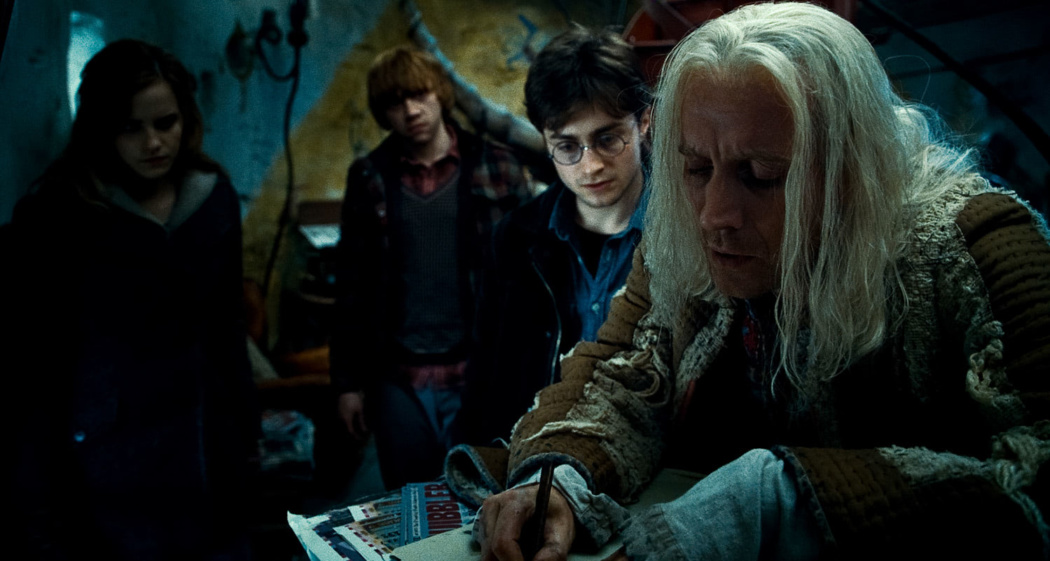 ---
⬇️⬇️ Scroll down in the below area to read all captions from this week! ⬇️⬇️
---
Harry: "Draw faster, Mr. Lovegood. I can't let Hermione beat me at Pictionary again!"
—Andromeda
---
Xenophilius: "A seven-letter word meaning 'held against your will.'"
Harry: "'Enslave'?"
Hermione: "Can't be. The second letter is an O. It has to be 'hostage.'"
Xenophilius: "It fits! Now then, a 15-letter word meaning 'stalling for time.'"
—Troi
---
Harry: "Huh, didn't expect Xenophilius to dot his i's with hearts."
—Rachel
---
Daniel Radcliffe: "You're not spelling my name right."
Rhys Ifans: "I'm Welsh. We don't do vowels."
—Friend of Fawkes
---
"There! I've filled out subscriptions to the Quibbler for all three of you! You're welcome!"
—Carol P.
---
Xenophilius: "It's my job to print the stories that the mainstream media is ignoring."
Harry: "Yes, but you've got to stop it with the anti-vaxxer propaganda!"
—Sam
---
Xenophilius: "Here is the Elder Wand. The Cloak of Invisibility. The Resurrection Stone. The Fuzzy Slippers of Harry Styles. Together, these make up the Deathly Hallows."
—Emma
---
Ron: "Hey, that looks like a pepperoni pizza."
Hermione: "No, it does not. It looks like an ice cream cone."
Harry: "STOP TALKING!"
—Luna
---
Harry: "Look, we're in kind of a hurry right now. Will you help us after you're done with your screenplay?"
Xenophilius: "Maybe."
—Sam
---
Xenophilius: "Here are the ingredients to my tea, if you need to give them to the poison ward at St. Mungo's."
—Mary
---
Xenophilius: "You see, it's spelled X-E-N-O-P-H-I-L-I-U-S. Xenophilius!"
Hermione: "You lost me at H."
Harry: "You lost me at O."
Ron: "You lost me when you inhaled to start speaking."
—S.B.
---
The trio thought Xenophilius had lost it when, after drawing the Resurrection Stone, he sneezed on the parchment and said that it was a part of it and the drops were all the dead people to have come out of the stone.
—Marcus
---
Harry: "He says he'll help us once he's done with his Reylo fanfic."
Hermione: "Honestly, I always said that ship was trouble!"
—Sam
---
"…and that's what a Crumple-Horned Snorkack looks like."
—Cassidy
---
Harry: "L."
Xenophilius: "Sorry, no L. You lose Hangman."
—Kyle
---
As Hermione wasn't that important in the scene, she didn't get to be under any light.
—Marcus
---
"Not now. I'm hard at work on Harry Potter and the Cursed Child 2, in which Neville becomes a Death Eater because he got a paper cut one time."
—Sam
---
"Here's my number. Call me, maybe."
—Jennie
---
After an unsuccessful lemonade-selling business, Mr. Lovegood takes on making people self-portraits to raise awareness against Nargles.
—Blossom
---
Return to Caption Contest Home
Want more posts like this one? MuggleNet is 99% volunteer-run, and we need your help. With your monthly pledge of $1, you can interact with creators, suggest ideas for future posts, and enter exclusive swag giveaways!