"Welcome to Earth" Screens at NYCC, Promising Magic to Rival That of "Harry Potter"
Which celebrity makes you think of Harry Potter? No cheating – you can't pick someone associated with the franchise.
Before Thursday, I would probably have named Ed Sheeran. He's an obvious choice, being Rupert Grint's doppelgänger and all. After my first day of virtual attendance at New York Comic Con, my answer has changed dramatically.
Today, I am nominating Will Smith.
No, really. Hear me out.
Once upon a time, a half-giant led a scrawny lad to a brick wall tucked behind a pub. After he tapped out a pattern on the bricks, "an archway large enough even for Hagrid" opened onto a hidden world (SS 71).
In Thursday's virtual screening of Welcome to Earth, a new Disney+ original series from National Geographic, I saw the show's trailer. In it, Will Smith says, "We think we know our planet. But there's still a secret world to be discovered. If you go to the right place with the right guide, you just might find a portal into it." This was my first clue that Will Smith, starring in Welcome to Earth, might have some real magic up his sleeve.
Just as the witches and wizards at the Leaky Cauldron were eager to rub elbows with the Boy Who Lived in Harry Potter and the Sorcerer's Stone, the panelists seemed to have been somewhat starstruck when filming first started. Who wouldn't be? According to IMDb, "he is the only actor to have eight consecutive films gross over $100 million in the domestic box office, eleven consecutive films gross over $150 million internationally, and eight consecutive films in which he starred open at the number one spot in the domestic box office tally."
The panel was made up of 2020 National Geographic Emerging Explorer Diva Amon, mountaineer Erik Weihenmayer, polar expeditionist Dwayne Fields, and National Geographic Explorer Albert Lin, Smith's guides into the aforementioned secret world. All of them were clearly happy to be part of Welcome to Earth.
Journalist Charles Thorp, who hosts the podcast Great Adventures, asked them what makes Welcome to Earth different from other nature shows. When the camera switched to Diva Amon, she was beaming with obvious delight. She explained that Welcome to Earth focuses on the senses while taking us places we likely have never been.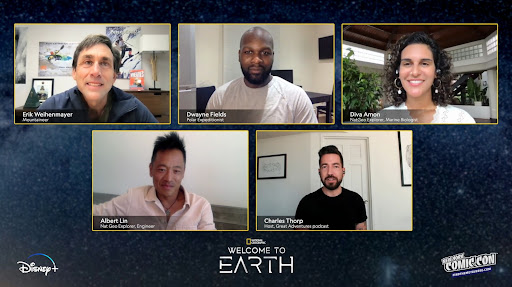 With the unique perspective of someone who is blind, Erik Weihenmayer agreed fully with Amon's assessment. He said he likes "this concept that [we] can explore the earth in a nonvisual way."
Albert Lin was quick to point out that Will Smith, someone he watched and admired throughout the latter's career, is another notable difference from other shows. He was amazed by Smith's desire to go to "the most extreme parts of the world" and said we will see the superstar experiencing nature at its most visceral level.
According to Dwayne Fields, the show is also layered throughout with the use of technology, and the human experience of it all. In the show, we are almost a part of Smith's experience of it all for the first time, rather than having it narrated for us. Writers might recognize this difference as "showing, not telling."
Like the other guides, Fields started out thinking of Will Smith as a "larger-than-life" figure – one of the biggest A-list celebrities of them all. It didn't take long, however, before he recognized a kindred spirit. Said Fields of Smith, "[He] is exactly the kind of person I am when I get out here. I instantly turn into a kid again. That 11-year-old who lives in all of us starts to come out."
It may not be every day your young man turns 11, but Dwayne Fields and Will Smith apparently know the trick of it.
This isn't movie magic, though. According to Erik Weihenmayer, Smith found these adventures to be more challenging "by far" than making a hit movie. While every step of a movie is scripted, in Welcome to Earth, we have "the real Will […] exploring the real world with real curiosity."
Unfortunately, the Potterverse, including Hagrid and his pink umbrella, is entirely fictional. This December, look to Welcome to Earth for a taste of the magic hidden within our own world.
Want more posts like this one? MuggleNet is 99% volunteer-run, and we need your help. With your monthly pledge of $1, you can interact with creators, suggest ideas for future posts, and enter exclusive swag giveaways!
Support us on Patreon