Sorting Even More Unsorted "Harry Potter" Characters
Sorting characters is a tradition within the Harry Potter fandom, and here at MuggletNet, we have previously Sorted unsorted characters from the series into their Hogwarts Houses. Since there are so many unsorted characters, we thought that we would Sort some more of them.
Ted Tonks – Hufflepuff
Though Ted is a character who appears only briefly in the series, it is hard to argue that he is not a perfect representation of a Hufflepuff. In fact, this is an idea that is widely accepted within the fandom, with both artists and fan fiction writers commonly Sorting him into Hufflepuff.
Much like his daughter, you can tell he is a kind and caring person from the interactions he has with Harry during Harry Potter and the Deathly Hallows. After the Battle of the Seven Potters, he tends to Harry's and Hagrid's injuries before sending them on the next part of their journey. Ted is also an extremely loyal character, as demonstrated through his dedication to his family. He is prepared to do anything to keep them safe. The most notable example of this is when he goes on the run to keep them safer in Book 7. Even though this results in his death, it is clear to see that no matter what, his family comes first, and everything he does is for the ones he loves.
Professor Cuthbert Binns – Ravenclaw
Binns is arguably one of the most boring professors of one of the most boring classes in Hogwarts, but taking all factors into careful consideration, it is hard to disagree with the fact that Binns would have been a Ravenclaw when he was a student at Hogwarts.
Those who are in Ravenclaw value learning and intelligence over other Houses and can be more academically motivated. Looking at this in conjunction with what we know about ghosts within the wizarding world – that those who return as ghosts often feel as they cannot leave the world since they have unfinished business – it is clear that Binns is a Ravenclaw. His desire to teach and pass on his knowledge is something that even death cannot stop.
Madam Rolanda Hooch – Hufflepuff
Hooch was potentially one of the hardest characters to Sort on this list, but for someone who is not only the flying instructor at Hogwarts but also the referee for the House Quidditch matches, there's no better House for her than Hufflepuff. With a game as intense as Quidditch, the referee needs to be just and fair to ensure that a clean game is played and whoever wins truly deserves to win. Hooch is fair and just within her job and always ensures that the teams are playing by the rules, and she isn't afraid to call out those who aren't. Because of this, there is no other House for her than Hufflepuff.
Kingsley Shacklebolt – Ravenclaw
Kingsley is a strong example of a Ravenclaw within the series. As an Auror and someone who later becomes Minister of Magic, it is clear that he is extremely intelligent since both of these professions are not easy. In regards to being an Auror, hard work and intense exams are needed – and with Kingsley being extremely successful in his job, it's clear he is an intelligent character who studied hard during his time at Hogwarts.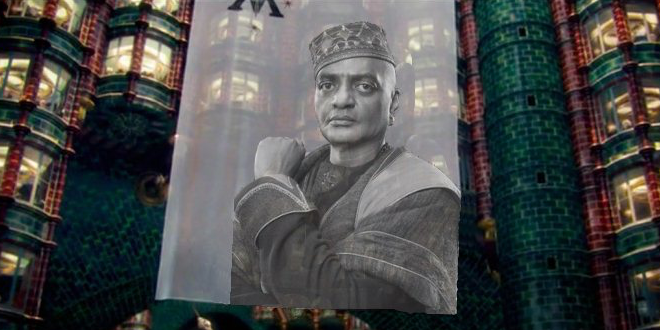 Kingsley is also an accepting character, a trait that Pottermore said was one that Ravenclaws valued. The main example of this is the friendship that he had with Remus Lupin even though the vast majority of the wizarding world saw him as an outcast due to being a werewolf. With Kingsley's calm but powerful presence and his desire to do the best for the wizarding world as a whole and not just himself, it is evident that he embraces and values everything Ravenclaws stand for.
Cornelius Fudge – Slytherin
From when we are first introduced to him, it is hard to argue that Fudge is not an ambitious and determined man. He's first introduced as the Minister of Magic, one of the most powerful positions within the wizarding world. It is clear that someone who is ambitious would strive to achieve this position, especially for their own gain as Fudge does – an obvious contrast when you compare him to Kinglsey.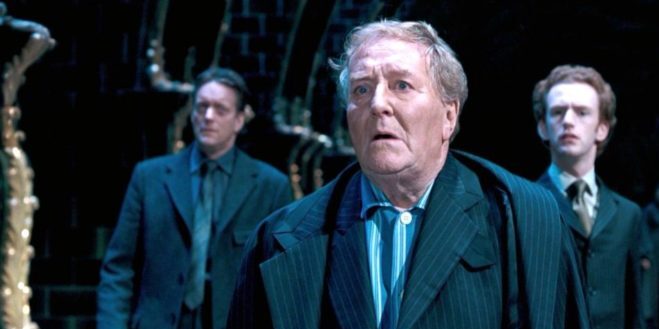 When he does hold this position, it is one that he is determined not to lose, no matter the cost. To keep hold of the power he has worked to achieve, he lied to the wizarding world and denied Voldemort had returned. He put his position above all else and refused to admit that he was wrong, even though it cost the lives of many people.
Do you agree with our list, or do you think they should be Sorted differently? Are there any more characters you would like to see us Sort? Let us know in the comments.
Want more posts like this one? MuggleNet is 99% volunteer-run, and we need your help. With your monthly pledge of $1, you can interact with creators, suggest ideas for future posts, and enter exclusive swag giveaways!
Support us on Patreon