Theater Review: Tom Felton in "2:22 A Ghost Story" Will Make You Afraid of the Dark
Last night, I had the absolute pleasure of attending a night at the theatre to see one of our Potter favorites perform in his newest venture. Tom Felton is starring as Sam in 2:22 A Ghost Story, as previously announced by MuggleNet, and wow, did his performance shine despite the play's dark subject matter.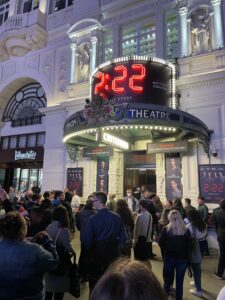 2:22 A Ghost Story is a play written by Danny Robins that centers on Jenny, Sam, and their daughter Phoebe. Sam has been away on a trip, and Jenny has been left alone in their new house. While she's been alone, she's experienced some strange things happening every night at (you guessed it) 2:22. When Sam arrives home, his skepticism leads him and Jenny, and their two friends to say up until 2:22 so that Sam can see for himself.
This play felt like a horror film, but it was hilarious in a laugh-out-loud way. I am not a fan of horror or suspense, but I enjoyed myself immensely. Everything worked together to create an environment filled to the brim with tension. The set design immediately made you feel uneasy with the use of high ceilings and a lot of empty space. It didn't help that the skylights built into the set always made you think someone was watching. Maybe they were.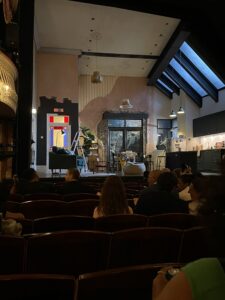 I thought it would be hard for me to see Tom Felton as someone else because, in my head, he has always been Draco Malfoy. But he embodied the role of Sam perfectly. I know he got some advice from former Potter costars. The whole cast, which included Mandip Gill (Yaz from Doctor Who), worked seamlessly together. I felt like I was peeking in on a real group of friends spending the night together. There were moments of inside jokes and laughter and moments of real-life problems and altercations. Everything felt very natural, which isn't something I see in a lot of plays. Even the moments of unsaid words still conveyed loads of meaning. What was most impressive was how believable it was. You walk into the theatre a skeptic, but you're a believer by the time you leave.
I could go on and on and rave about this play. I did no prior research because I wanted to be surprised, and I recommend that to anyone who can see it. It truly is one of the best pieces of theatre I have seen in a long time. Plays are hard! There are no musical numbers to spice things up; you have to rely on the acting alone. Tom and the whole cast sold the show to me in the first five minutes. It's a lot to carry, and they did it very well.
If you have the opportunity to see 2:22 A Ghost Story, I highly suggest you do. Even if you don't like ghost stories (like me), I think you'll find it's really not just about a haunted house. It's about so much more than that. It's about believing.
Want more posts like this one? MuggleNet is 99% volunteer-run, and we need your help. With your monthly pledge of $1, you can interact with creators, suggest ideas for future posts, and enter exclusive swag giveaways!
Support us on Patreon