Ten of the Most Powerful Scenes in "Harry Potter"
It is undeniable that there are many powerful and moving scenes in the Harry Potter movies. Transferring books to the screen might seem impossible, but it's something that an incredible team of directors managed to do over the years. We have handpicked the most powerful and emotional scenes from the films to reminisce on how great they truly are.
1. Harry's First Look at Diagon Alley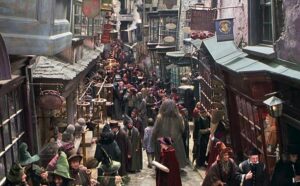 This is one of the most special scenes of the franchise because it's not just Harry's first look at the wizarding world — it's also our very first glimpse of it. Harry's facial expression alongside the joyful music as he and Hagrid walk through Diagon Alley is priceless; he can barely believe his luck. It is such a moving scene because it shows how magical this franchise is going to be.
2. Sirius Black and Remus Lupin Seeing Peter Pettigrew for the First Time in Years
This is such a tense scene and always feels as if it's the first time we're watching it. Three of the Marauders standing together in one room is something that we aren't blessed with seeing often, but this encounter was not pleasurable in the way it should've been. Sirius's rage and grief are so prominent in this scene that it tugs on your heartstrings and makes us empathize with him even before we know his full truth.
3. Harry Casting His First Corporeal Patronus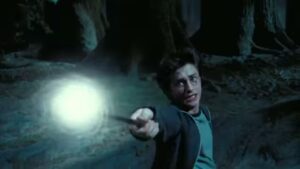 Harry finally producing a Patronus is the part we'd all been waiting for in Harry Potter and the Prisoner of Azkaban. When the stag appears and saves Harry's life, it's like a sigh of relief. It's such a powerful scene because it's the first time we see Harry master the spell, proving how much of an amazing wizard he is and that he really is capable of loving — even after all of his built-up anger throughout his third year.
4. Hermione Coming Down the Stairs at the Yule Ball
The Yule Ball scenes definitely still have the entire fandom in a chokehold, but one particularly memorable part is seeing Hermione coming down the stairs. It was a chance for the audience to see a different side of Hermione, who has never dressed up in that manner before. It never fails to show how much power her character holds.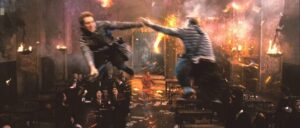 This scene is another fan favorite, and it's not difficult to see why. The fireworks exploding and the students cheering on Fred and George are pretty self-explanatory as to why this scene is so powerful. It's a fun scene, and the music reflects this incredibly well. It's also a revolt against Professor Umbridge, so what could be better?
6. Hogwarts Mourning Dumbledore's Death
The majority of the wizarding world relies heavily on Dumbledore, and his passing shows that even the strongest succumb to death. The Hogwarts students and teachers mourning Dumbledore by raising their wands is a great sign of respect that in itself is so powerful. The students realize they'll never have a better leader than Dumbledore.
7. Dobby Telling His Old Masters He Is a Free Elf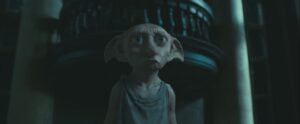 Dobby standing up to his old master is incredibly brave, and this scene proves how much of a compelling character he is. The few lines he says are so powerful because he says them with so much might and truly means them.
8. The Entirety of the Battle of Hogwarts
This isn't just one scene, but the entire Battle of Hogwarts is phenomenal. No matter how many times you watch it, it always keeps you engaged and on the edge of your seat. The CGI used to bring the battle to life — such as the magical creatures, the giants, and the explosions — are all incredible and coincide so well with the music in the background. Everything in Hogwarts crashing down symbolizes the film (and the series) coming to an end.
9. Neville Longbottom's Incredible Speech to Voldemort's Army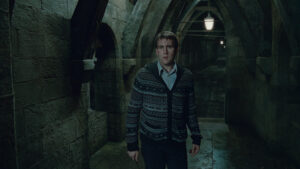 It's the unsung hero of Harry Potter. Neville Longbottom is never given enough credit, but this speech really allows him to be heard in such an important moment. One particular line that Neville says to Voldemort — "They didn't die in vain… but you will! Because you're wrong!" — is so authoritative, and the audience would never expect this from him. It shows us that Neville has a certain amount of power that he's been hiding away. Can you imagine first-year Neville standing up to Voldemort like that? It wouldn't happen. But fast-forward six years later, and he isn't even stuttering.
10. The Final Tense Duel Between Harry and Voldemort
Just like the Battle of Hogwarts, this scene is so powerful because you're basically biting your nails watching it, especially when the duel stops for a split second. We all want Harry to finally win this war, and when he does, we still breathe a huge sigh of relief. It is such an amazing, gripping scene.
Did we include what you think is the most powerful scene from the Harry Potter movies? If we didn't, let us know your favorite in the comments below.
Want more posts like this one? MuggleNet is 99% volunteer-run, and we need your help. With your monthly pledge of $1, you can interact with creators, suggest ideas for future posts, and enter exclusive swag giveaways!
Support us on Patreon