Fun and Games at Harry Potter: Magic at Play
A fantastic interactive journey through the wizarding world, Harry Potter: Magic at Play is by far the most fun my kids and I have had since going to the Wizarding World of Harry Potter at Universal Orlando Resort for the first time. And I definitely got brownie points for letting them come with me on this adventure in Chicago.
From the moment we entered the building, the kids were amazed by how cool everything was, and we were thoroughly impressed with the attention to detail. Harry Potter: Magic at Play takes you through Harry's journey, so naturally, it begins at Privet Drive. As you walk through the Dursleys' living room, there is an explosion of letters, and you even get a glimpse of the cupboard under the stairs.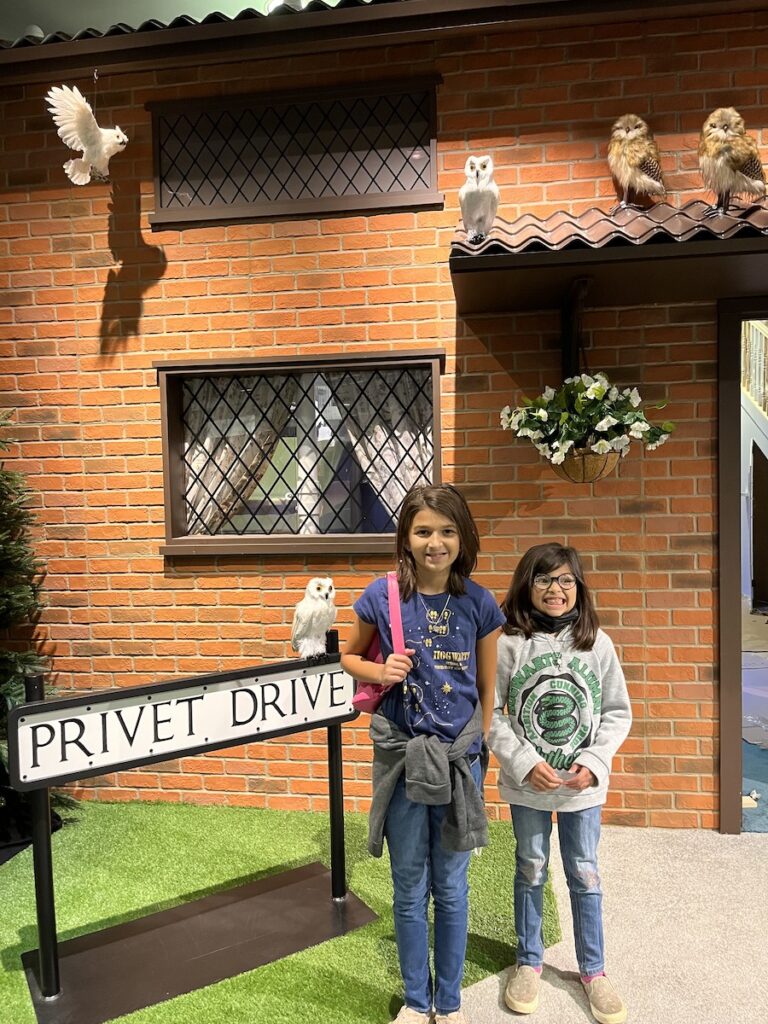 Like Harry, your magical journey continues at King's Cross station. You get to push a trolley onto platform nine and three-quarters, which my kids had a lot of fun trying. You also see the Hogwarts Express, complete with steam, floating luggage, and a trolley laden with treats that would make first years' mouths water.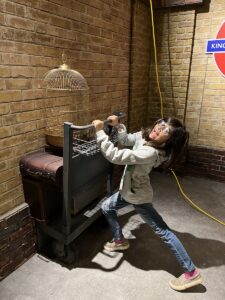 From there, you get to ride on boats to get to Hogwarts. If you're lucky, you may catch a glimpse of a mermaid. Once you've stepped out of the boats, you move on to the Great Hall, which has floating candles and is filled with information about all four Houses. The Sorting Hat can be found at the staff table, and this is the first of three locations where you can have a photo taken. Just beyond that room is a Marauder's Map and portraits as you enter another photo area where you can sit under a Sorting Hat to have a second photo taken with House-themed borders if you wish.
As you progress through the story, you can attend Divination, Charms, Potions, and Defense Against the Dark Arts classes. All four classes have interactive elements to them. My kids loved making the feather fly in Charms and catching pixies in Defense Against the Dark Arts. When we were in Potions, there were tons of things to smell and see, and we were pleasantly surprised by the smell of Polyjuice Potion.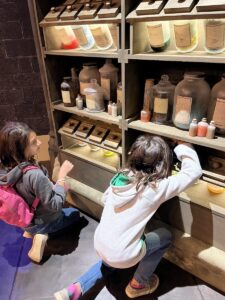 After class, you need to try out for your Quidditch team. There are three interactive games where you can test your skills as a Seeker, Chaser, and Beater. We had a lot of fun testing our Seeker and Chaser skills. We finished off Quidditch practice with a photo of us on our brooms, looking ready to fly off down the pitch. After Quidditch, we stopped at the Mirror of Erised. This is a fun LEGO section where you get to design your own minifigure that then pops up in the mirror and matches your movements and spells in a way that is uniquely LEGO.
The Forbidden Forest has plenty of secrets to share if you can find them. While both my children had fun in this section, it's dark here and could be a bit scary for really little ones. That said, the prize at the end of that trip was Hagrid's hut, complete with a pumpkin patch.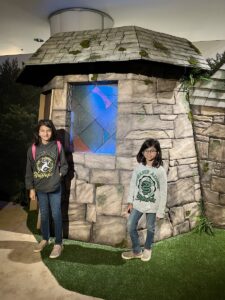 The last spot you get to visit is a maze full of surprises from Harry's story as well as Newt Scamander's, if you can spot them all, that is. There's even a really fun climbing activity that looks like the Burrow. My kids' favorite was climbing through the Devil's Snare. Every time they got through, they would run around and start again. The whole experience is filled with music and sound bites from the films that add to the magic.
Harry Potter: Magic at Play is clearly geared toward young kids but is so full of magic and wonder that it is absolutely enjoyable for all ages. As someone who is a fan of the book series with kids of my own who now love them too, I can honestly say that this is something you will not regret seeing if you get the chance. The experience has varying open times each day, with longer hours on the weekend. Standard tickets start at $37.50 for guests ages 10 and up, and tickets for children ages 3–9 start at $29.50.